Mudiay and Nuggets Turning a Corner? Takeaways From OT Loss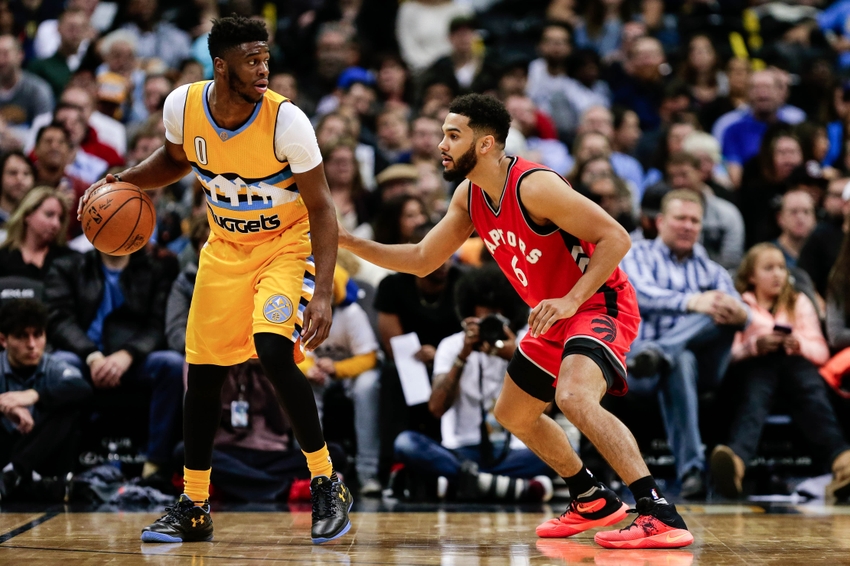 The Denver Nuggets saw another close game end in a loss; but all in all, fans should be looking up. This Nuggets team is turning a corner.
11/18/2016, the Denver Nuggets lost in OT to the Toronto Raptors 111-113.

111

113
The loss will not be taken lightly by fans, some of which are already starting to jump ship. Emmanuel Mudiay, in particular, has been taking some serious heat. This comes especially from his struggles with committing turnovers. The young PG had 5 turnovers in the over-time loss, and he certainly deserves some criticism.
However, like the rest of this Nuggets team, he took noticeable steps of improvement against the 8-4 Raptors, who currently rank 4th in the East.
Want your voice heard? Join the Nugg Love team!
This game came down to the buzzer as a Wilson Chandler missed free throw could have sealed the deal late in the fourth quarter. Along with several unforced errors, the Nuggets doomed themselves in this OT heartbreaker.
Before discussing the positive takeaways, the true issues of these Nuggets must be addressed.
First and foremost are their boneheaded three-point attempts. Against the Raptors, the Nuggets shot 4-25 from beyond the arch. That not only attests to the poor shot selection, but also to the repetitiveness of the issue. This has been a problem for all of this season and last, as the young Nuggets players are yet to show the required composure for consistent shot-discipline throughout the entirety of games.
Emmanuel Mudiay has been the leading culprit, and was again in Friday's game, going 0-7 from three-point range. This is a telling weakness for the guard, as his three-point attempts made up for all but one of his missed shots, as he ended the night with 25 points on 10-18 shooting. Along with this, Turnovers have been a clear issue of Mudiay's, and the team's as well. Fortunately, the unintelligent three-point attempts are a much easier fix. The rest will require some patience.
Less turnovers should come as the team continues to adjust throughout the season. A key to solving this will be sticking to a controlled and calculated offense throughout entire games. The Nuggets have shown that they can create and score, but once players get too comfortable, they nearly always seem to fall into a slump of overzealous and frigidity possessions, which produce much of the team's turnovers.
An overall increase in the team's collective offensive IQ will help the Nuggets get the wins that they need, and it was already starting to show against the Raptors.
There were times when the Nuggets fell back into their bad habits, but for the most part, from an offensive standpoint, they functioned pretty well.
Once again, Gallinari was attacking the basket and getting dunks, which is always a welcome sight.
Denver Nuggets: DFS Picks for the Season Opener against the Pelicans
The team always seems to get better looks when he drives with the intention of scoring, rather than drawing fouls. He needs to let the three-game come to him, as he, like Mudiay, was to blame for some poor shooting from deep. But still, Gallo and the rest of the Nuggets were able to create offense, and even seemed to have the win in sight on a couple of occasions. Unfortunately, these leads were all ultimately blown by poor defense.
Much of this "poor defense" came at the exploitation of Denver's inability to switch off of picks effectively. With both Will Barton and Gary Harris out, this weakness makes sense. In fact, for good chunks of this game, Emmanuel Mudiay and Jameer Nelson were left to defend Kyle Lowry and Demar DeRozan, a mismatch which any NBA fan should be able to identify as being in Toronto's favor. With this in mind, it seems unjust to bash the Nuggets' defensive effort. In containing Demar DeRozan especially, Barton and Harris were sorely missed. But even through all of this, the Nuggets managed to bring a winning team into a hard-fought over-time brawl, and for that they deserve some applause, as does Mudiay's noticeable effort to up his game.
After a rough game against Portland, in which he failed to record a single assist, scored only 8 points, and turned the ball over twice, Mudiay has averaged 7.5 assists, 20 points, and 2.5 turnovers per-game.
Sure, Emmanuel Mudiay turned the ball over 5 times, but he also racked up 9 assists. For the first time all season, this guard is now starting to set up his teammates with near double-digit assist numbers. He is certainly taking steps in the right direction.
While watching him play in Friday's game, Mudiay seemed almost completely transformed. Had he maintained enough composure to control his shot-discipline, more positive remarks would likely come Mudiay's way. But he did take ill-advised shots, and he did have a healthy serving of turnovers. Mudiay wasn't quite there on Friday night, but he came close, and more importantly showed drastic improvement. The raw stats may not back this up, but seeing is believing, and I liked what I saw, and I have a feeling that Emmanuel Mudiay is turning a corner.
If Emmanuel Mudiay can hold his composure from tip-off till final buzzer, this team will start getting wins. They have the offensive firepower, headed by Mudiay and forwards Gallinari and Chandler, all three of which scored 20+ points against the Raptors, which was displayed through their ability to make a close game out of a clear mismatch going in.
Once Will Barton returns, and Gary Harris too, this team will be one that can put up a fight against any other team on any given night. Upping the on-court maturity will be their key in raking in some wins, which could easily string up, and lead to a spot in the playoffs.
This article originally appeared on