More injuries for the Detroit Pistons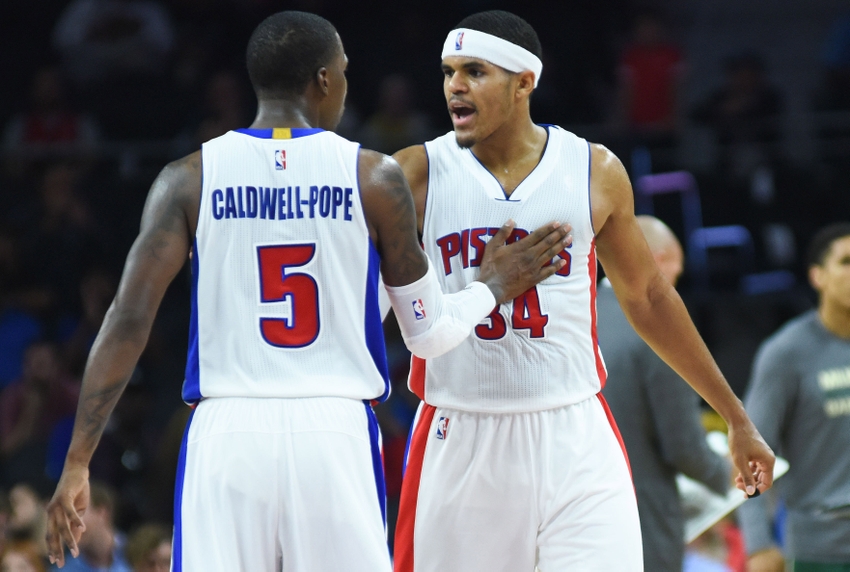 Already down Reggie Jackson for the first 15-20 games of the regular season, the Detroit Pistons had more injuries to report after practice on Tuesday.
The Detroit Pistons haven't been able to shake the injury bug since the beginning of training camp. Before the preseason began, Reggie Jackson was diagnosed with knee tendinitis and rules out for the first 15-20 games of the regular season. The injuries haven't stopped there.
Marcus Morris has dealt with knee tendinitis and a finger issue since before the preseason started, Aron Baynes was almost held out of Monday's game against the Milwaukee Bucks with back spasms, and Stanley Johnson has dealt with foot pain since camp began.
On Tuesday the Pistons announced that Tobias Harris suffered a broken nose in Monday's game, and Aron Baynes suffered a broken nose in practice. Henry Ellenson was the perpetrator as he cleared out space for a layup against Baynes.
Baynes wasn't pleased, as Stan Van Gundy goes on to say.
Per Perry Ellis of the Detroit Free Press:
"He got hit in the nose early in practice. He didn't come back. He got hit in the face inadvertently. Henry sort of cleared him out going for a lay-up on a fast-break drill. He was not happy. He got hit pretty good. It takes a lot for Aron to even go down or walk off for a repetition in practice. The fact that he didn't come back meant he must have taken a pretty good shot.''

For a tough guy like Baynes to go down at the elbow of a rookie …

"He hasn't had the misfortune of running into Aron yet,'' Van Gundy said of Ellenson. "I think Aron knows it wasn't intentional. He's pissed off that it happened. It wasn't like Henry was throwing an elbow at him. Aron was doing a good job coming defensively, and it definitely was an offensive foul. … I don't think Aron's going to harbor an ill will. I don't think so.''
Baynes and Harris saw a specialist today for treatment for their injuries and to be fitted for masks, and Harris seems in good spirits according to his Twitter.
As for Stanley Johnson, the Pistons got him to change his shoes and all now seems well.
Per Aaron McMann of MLive:
Johnson returned to practice Tuesday wearing a pair of all-black Nike KD 9s, a departure from the Kobe-style sneakers he's grown accustomed to wearing most of his life.

Johnson sat out Monday's preseason win over Milwaukee with pain in his left foot, with Van Gundy poking fun at the 20-year-old forward for not being willing to switch.

"It's one of those situations where I'm not accustomed to wearing these shoes," Johnson said. "I think the Kobes I wore before are so thin, I didn't know it. I wore (them) all my life. So I guess now it's time for a change and see how it works."
Hopefully the KD 9s will do the trick. Marcus Morris and Johnson are expected to play heavy minutes in the preseason finale on Wednesday if they are ready to go.
Johnson has had an uninspired preseason thus far after an offseason that got fans excited, but he's been playing with pain throughout. We may see a completely different Stanley Johnson on Wednesday against the Toronto Raptors.
This article originally appeared on