Moose On The Loose: Mike Muscula's Vital Role for 2016-17 Hawks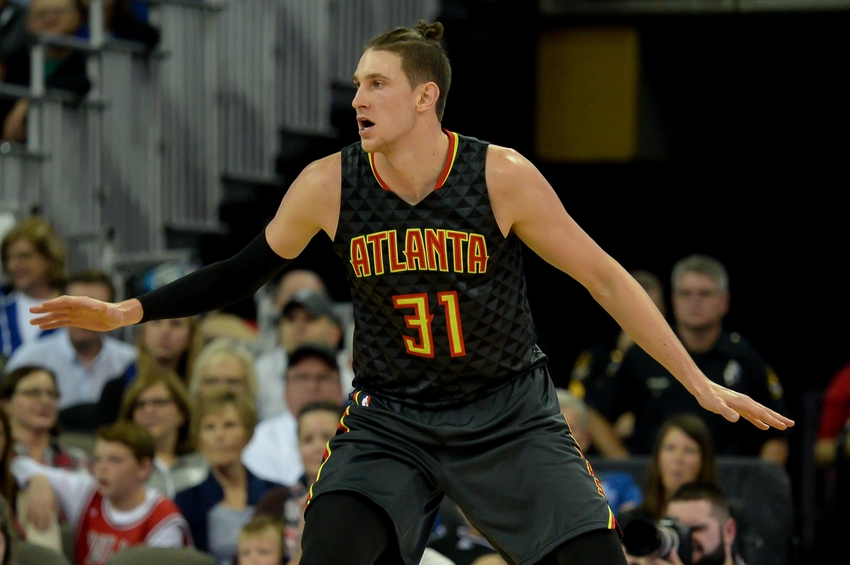 The Atlanta Hawks currently hold the top spot in the Eastern Conference standings with a record of 9-2; Mike Muscala is part of the reason why 
The hot start is quite surprising to many considering the wild offseason the Atlanta Hawks had. First, they unloaded former All-Star Jeff Teague and allowed Dennis Schroder to become the new starter. In free agency, they let star big man Al Horford walk to the Celtics and brought in hometown hero Dwight Howard to replace him.
Atlanta has actually been receiving contributions everywhere this season despite the personnel changes. Paul Millsap has continued to be his brilliant self whilst Schroder and Howard have fit in quite well into their new roles. Howard especially has been a revelation in what has been somewhat of a renaissance season thus far for the center.
Even Kyle Korver is starting to find his shooting stroke again after an abnormal poor shooting season in 2015-16. Tim Hardaway Jr is also finding ways to contribute off the bench with three 20-point performances to his name already.
More from Sir Charles In Charge
However, outside the confines of Atlanta, Georgia, not many people are taking note of the performance of one of the lesser known names on the Hawks roster.
Affectionately referred to by Hawks fans as "Moose," center Mike Muscala is contributing in a big way for the 2016-17 Atlanta Hawks.
A few nights ago, against the Milwaukee Bucks, Moose made his first start since 2014-15, filling in for the injured Dwight Howard. He posted 16 points, 5 rebounds, 3 assists and 1 block in a cool 33 minutes.
But Muscala has been vital to the Hawks success all season long, regardless of the fact that he has only been playing 21.6 minutes a game.
A quick look at the NBA statistical leaders would allow you to discover that, among qualified players, Mike Muscala leads the entire NBA in field goal percentage at 63.8 percent. Just behind him is his own teammate Howard (62.2%).
As well as being incredibly efficient in the limited minutes he does play, Muscala has provided Atlanta head coach Mike Budenholzer with flexibility. The ability to play him at either power forward or center and remain effective.
In the 11 games he has played this year, Muscala has cracked double-digits in points seven times. He has also hit at least one 3 six times. In retrospect, he has only cracked 25 minutes played twice all season.
Muscala doesn't just get it done on the court though. Off the court, he's showing y'all he can spit hot fire.
(Just watch the video below to see Muscala rap and the NBA on TNT crew react)
All jokes aside, Muscala has carved a role not only in the Hawks rotation as a valuable bench player but also in a place in Hawks' fans hearts with his interesting hobbies and choice of hairstyle.
In late October, I myself picked up Mike Muscala off the waiver wire in my 20 team Yahoo fantasy league. I had little expectations.
Nearly three weeks later, that pick up is more than paying its dividends for my team.
Now it's time that NBA fans outside deep fantasy leagues and the city of Atlanta realise just how special Muscala is and how crucial he has been and will continue to be in the Hawks success.
After all, Mike Jawz is the best kept secret, coming from Atlanta where the Hawks stay screeching.
(If you didn't get that reference, you really should go back and watch Mike Muscala rap. I promise it won't disappoint.)
This article originally appeared on