Minnesota Timberwolves: The Wolves Don't Need A Major Trade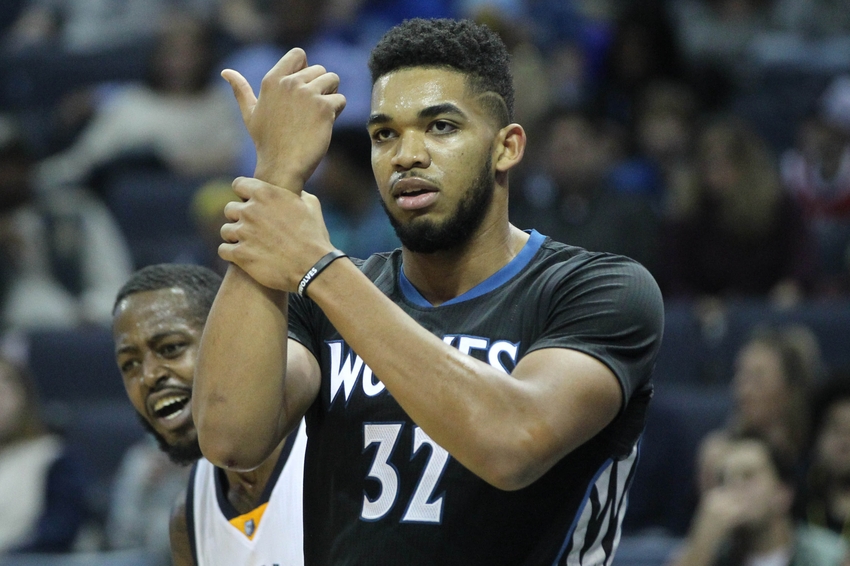 With three of the team's best players under the age of 22 and youth up and down the rotation. A big trade doesn't make sense for the Minnesota Timberwolves.
The Minnesota Timberwolves entered the 2016-17 NBA season as preseason darlings. Between the addition of Tom Thibodeau as the team's head coach and president of basketball operations and Karl-Anthony Towns emerging as one of the best young players in the league, those two pillars were good enough for postseason expectations from a pretty young roster.
So imagine the surprise of opening the season with a record of 5-10. According to Bleacher Report's Ric Bucher, that slow start could result in a trade for some veteran players who can help them turn this around now. Real or fake, the Wolves have been playing poorly and head coaches like Thibodeau often think in the short-term, as opposed to the long-term.
But I just don't understand why the Minnesota Timberwolves would do that.
Improving the team is understandable, but the nucleus is still young. Towns, Andrew Wiggins and Zach LaVine are all 21 years old. Even expecting Towns to take the leap into a top-10 player in the league, in retrospect, feels like a stretch. The Wolves are still on the way up, but the road continues to be bumpy.
The 12th-ranked offense is hardly being buoyed by the 21st-best defense in the league, sitting at 105.3 points allowed per 100 possessions. It's two-pronged. Again, young players aren't great on defense right away and the Wolves have been without Ricky Rubio, one of the more under-appreciated perimeter defenders in the league. Rubio doesn't change the fact the team defense waxes and wanes on a nightly basis, though.
On court/off court defensive stats – Via NBA.com/stats
Player
On Court
Off Court
Difference
Andrew Wiggins
106.0
99.2
-6.8
Karl-Anthony Towns
108.9
92.4
-16.5
Zach LaVine
106.9
98.3
-8.6
Kris Dunn
103.9
104.5
+0.6
I added Dunn into the mix because he's played the fifth most minutes on the roster and as the fifth overall pick in the 2016 NBA Draft — and expected Rubio replacement — he'll be thrown into the mix of future "core" players.
It's not good for their young pups, at the moment. The lack of defense is only reinforced with both Wiggins and LaVine ranking in the 400s of ESPN's defensive real plus-minus statistic this year. Towns ranks last in DRPM among the 67 centers ranked.
But then again, you hope for improvement. We're just 15 games into the season. Teams grow from December to March all the time. Wiggins has some issues overall, but he's still a solid offensive player. You wouldn't know it without looking it up, but he's knocking down 39.1 percent of his threes to start the season.
With Thibodeau, I'm hoping that defensive improvement can come in time, but his lack of other skills — not a good defender, not a good rebounder — is quietly coming to the forefront.
The second question surrounds the return. What, or who are you targeting in a trade? Specifically, who is changing the team's fortune this season? The Kings seem interested in moving Omri Casspi, who I like. Minnesota could play him at either forward spot and he's a solid shooter and defender. He's not going to be expensive, either. He's a veteran who can at least help with some wing depth, but he isn't a bigger piece that changes a team's fortune. 
One more player for the Wolves; I did like Courtney Lee for them this offseason. The Knicks appear to be teetering between solid and decent, so I don't know if he's available at the moment Still, it's the Knicks and if they have plans of acquiring a max player this offseason, or even deciding to go and build around Kristaps Porzingis (something they should do), he'd be an interesting player to pilfer from New York.
A bigger move? I just don't see it. Are the Wolves trading for Eric Bledsoe? He'd be an upgrade at point guard, but I'm not exactly sure how much he's changing on this team. Also, you'd probably have to move a key piece to make it work. I'm just not sure if that's the way to go.
The Minnesota Timberwolves are a team on the rise, but it doesn't happen overnight. This post in the preseason by Jared Dubin suggested that the Wolves were on the track to be a fine team, but not a superpower. Fifteen games in, that premonition has come to roost. It's still a young team with a new coach trying to figure themselves out. The results aren't pretty at the moment, but there are still 60-plus games remaining in the season.
I would much rather try to continue to develop Towns, Wiggins and LaVine and hope that the defense can turn around, rather than make a big trade and try to win now.
This article originally appeared on