Minnesota Timberwolves Have No Reason To Panic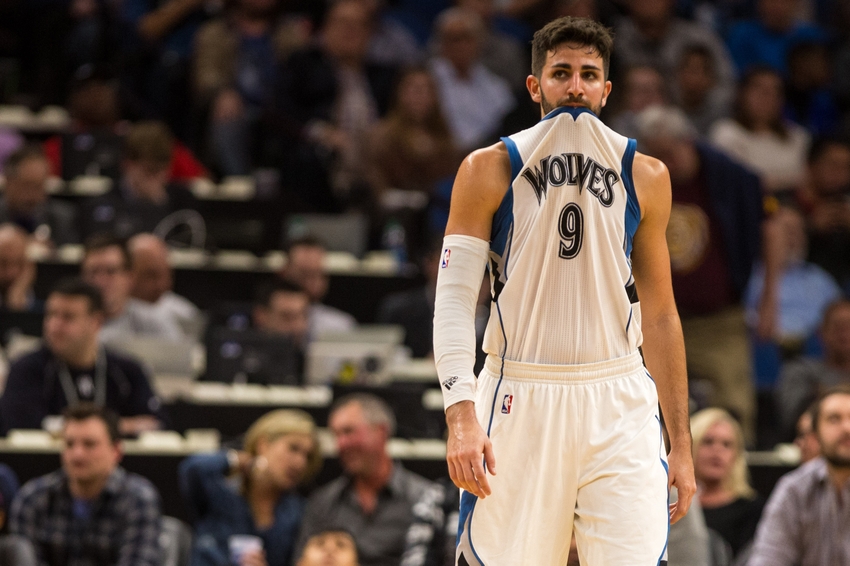 The Minnesota Timberwolves look as though they are on a path for another losing season. But it doesn't mean that they aren't on the right path.
This is not the way many saw this season starting for the Minnesota Timberwolves. Despite an easy opening schedule (24th in strength of schedule), the Wolves are off to a dismal 5-13 start.
With talented youngsters in Karl-Anthony Towns, Andrew Wiggins and Zach LaVine, the playoffs seemed like a realistic target. When you dig deeper, that may have been an unrealistic goal.
If this team made the playoffs this season, it would mean that they were well ahead of the curve in their development. This start is just fine and not a major cause for concern.
So why exactly are the Wolves struggling? Why is it that other young teams like the Los Angeles Lakers and Denver Nuggets have experienced more success early on? The simple answer is the youth that the Wolves are counting on in comparison with those teams.
Luke Walton has done a tremendous job with the Lakers, getting players to buy in and commit to a system. But beyond youngsters like D'Angelo Russell, Julius Randle and Brandon Ingram, the Lakers are relying on older, more experienced players to get the job done.
Their leading scorer is 30-year-old Lou Williams, contributing 16.7 points per game. They have Nick Young (31) having one of the best seasons of his career. In addition to that, veterans like Timofey Mozgov and Luol Deng both play important roles in their rotation.
Live Feed

Minnesota Timberwolves
Even Jordan Clarkson is 24 years old, three years older than the Wolves' trio of Towns, Wiggins, and LaVine.
For the Nuggets, their leading scorers are Danilo Galinari and Wilson Chandler. They also have veterans like Kenneth Faried and Jameer Nelson helping their young core along. This is why the notion of college teams beating a pro team is simply ridiculous.
Even with incredibly talented players like the Wolves had, you need players with physical and mental maturity to defeat a team of pros.
These are luxuries the Wovles don't have. Outside of Ricky Rubio and Gorgui Dieng, the Wolves have no veterans providing serious contributions. Rookie Kris Dunn is their sixth man if you go by minutes per game and he's been over-matched early on, shooting 31.3 percent from the floor.
The offensive abilities of Towns, Wiggins and LaVine have been incredibly impressive up to this point. For the limitations Wiggins has with dribbling and shooting, he has found a way to be a consistent lead option offensively.
This season he's even displaying much improved shooting from deep, converting 41.4 percent early on. Towns is coming along nicely and already looks like a top-15 player in the league and LaVine is proving to be a dynamic and consistent scoring threat.
Where this team consistently struggles is on the defensive end of the floor.
The Wolves currently are ranked 23rd in defensive efficiency. Going by defensive real plus-minus, Towns (minus-0.93), Wiggins (minus-2.36), and LaVine (minus-2.35) are all very poor defensive players. They were negative defenders last season and that has carried forward to this season.
In the cases of Towns and Wiggins, this might feel surprising to some given their physical profiles and reputations entering the league. But this is fairly typical for young players.
Both Towns and Wiggins play pretty good on-ball defense. They have tremendous ability to stay in front of a defender and are capable of making spectacular defensive plays.
But an understanding of team defense, defensive systems and the maturity to become a truly great defensive player takes time to develop. As recently as 2014, strong defenders like Steven Adams, Tristan Thompson and Khris Middleton were negative players when it came to DRPM.
All played good individual defense, but needed time to become good team defenders.
No amount of schemes or coaching can completely cover up for a lack of experience. If there was one place where the Wolves should be expected to struggle, it would be defense. For Wiggins and Towns to be plus players offensively at this point is incredibly encouraging.
If there's one area you can count on both players to improve, it would be their defense. With that in mind, the Wolves essentially have two locks for cornerstone pieces. That's more than most young teams can say.
As the season progresses, things will likely improve for the Wolves. Consistency has been one of their biggest issues. According to ESPN research, the Wolves were fourth in first half effective field goal percentage and 30th in the second half.
Their point differential of minus-1 is reflective of a team that is better than their record and seventh in the West. There's no microwaving a team's development, you must bake it with care. You can't come up with a supplement for a lack of experience.
The Wolves still have as promising of a future as ever and will only continue to get better.
This article originally appeared on