Minnesota Timberwolves @ Golden State Warriors: Game 17 Preview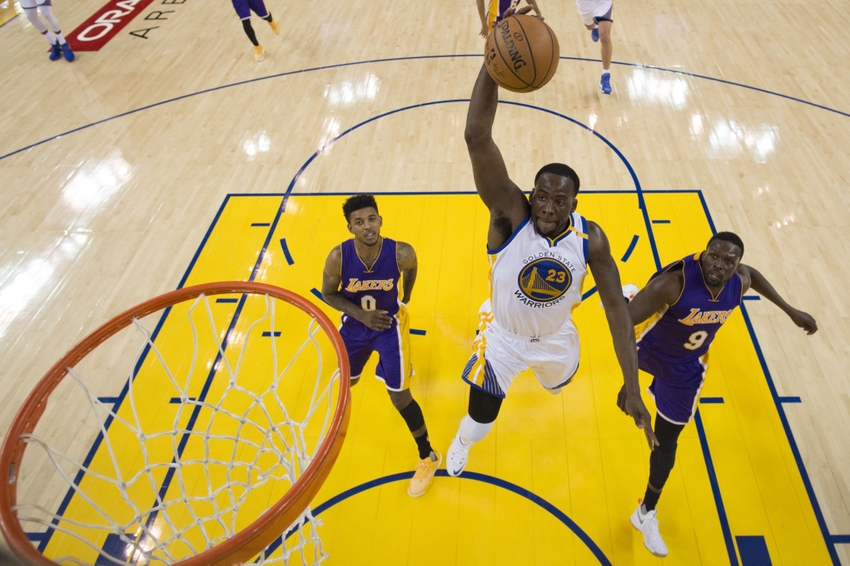 After clinching their 14th win of the season against Los Angeles, the Warriors will play the Timberwolves in Oracle Arena tonight.
Tip-off : Saturday/ November 26th /10:30 p.m.
Where to watch: CSBA, FSN
Game Notes
Warriors' Forward, Draymond Green (twisted ankle), suffered a minor injury last night against the Los Angeles Lakers. Warriors' guard, Ian Clark (concussion), also suffered a minor injury in a collision during last night's road game. After a negative X-ray for Draymond Green and a successful concussion protocol for Ian Clark, both players are expected to be ready for tonight's home game against the Minnesota Timberwolves.
The Warriors will be coming off of a 109-85 road victory versus the Los Angeles Lakers. Kevin Durant, Stephen Curry, and Klay Thompson were the three leading scorers. Kevin Durant posted 29 points on 57 percent from the field. Stephen Curry added 24 points, 5 rebounds, and 5 assists. Klay Thompson added 18 points and shot 16.7 percent on 3 point field goals. The three players combined for 8-22 on three point field goals for the night.
The Timberwolves (5-10) will be coming into the game after winning at Phoenix 98-85. Karl-Anthony Towns led the way with 22 points and 10 rebounds. Andrew Wiggins added 25 points and 7 rebounds. Zach LaVine and Ricky Rubio also scored 13 points and 11 points.
The Warriors have had 2 consecutive games with 30 plus assists. They had 46 assists against the Lakers at Oracle Arena and 31 assists against the Lakers at the Staples Center last night.
Starting Line-ups/Team Stats Comparison
Golden State Warriors
118.6 Points Per Game (1st), 44.0 Rebounds Per Game (14th), 105.4 Points Allowed (19th), 31.9 Assists Per Game (1st)
Draymond Green is cleared to play thus far. There should be no changes to the Warriors' Starting 5 for this game to be expected. The Warriors dodged a huge bullet last night as they would have a hard time without their all-star Power Forward being available.
Point Guard- Stephen Curry
Shooting Guard- Klay Thompson
Center- Zaza Pachulia
Power Forward- Draymond Green
Small Forward- Kevin Durant
Minnesota Timberwolves
103.1 Points Per Game (19th), 42.7 Rebounds Per Game (26th), 102.7 Points Allowed (12th), 21.5 Assists Per Game (19th)
The Timberwolves, led by Karl-Anthony Towns will be looking to win two in a row. They have a tough test ahead, especially for a young and developing team. Here is who they are coming in with tonight.
Point Guard- Ricky Rubio
Shooting Guard- Zach LaVine
Center- Gorgui Dieng
Power Forward- Karl-Anthony Towns
Small Forward- Andrew Wiggins
The Warriors' Kevin Durant and Draymond Green will have an entertaining match-up with budding stars Andrew Wiggins and Karl Anthony-Towns.
The Present Vs The Future
Andrew Wiggins is having a breakout season. At the moment he is averaging well over 20 points per game and is really taking some of the offensive responsibilities outside of play-making. Kevin Durant can surely put the young and budding star to the test. We should expect to see some box-office possessions between the two of these high-volume scorers. Andrew Wiggins also has some defensive ability that will be tested against the smooth game of the former MVP who is currently the leading scorer of the Warriors. While there is no doubt the perennial all-star is at an advantage in experience, don't expect him to give the young aspiring star any breaks.
KAT will duel Draymond Green
Draymond Green is one of the premier Front court players in the NBA. Karl-Anthony Towns shows promise and is definitely breaking out this season. Draymond Green will be probably the best defender that KAT has faced and the toughest cover for the young Forward. Draymond runs the offense for the Warriors and the second year player will be testing his progress in trying to win this match-up alone. Draymond is obviously the better player at this point, but this will tell us a lot about how Towns has progressed this season. Just like Kevin Durant, don't expect the Warriors' star Forward to pull back any punches on the sophmore (no pun intended) for this game.
Keys to the Game
Warriors
Cut down on turnovers
Strong Interior Defense
Good Execution
Timberwolves
 Control the glass, control the pace
Defend the 3-point line
Increased output from their second unit
Predictions
This is a should win game for the Warriors. Barring any catastrophe or really really bad play, the Timberwolves will keep it interesting for at least three and a half quarters. The Warriors will pull away. the final score will be 110-96  Golden State Warriors.
More from Blue Man Hoop
This article originally appeared on