Milwaukee Bucks: Who Will Lead The Team In Assists?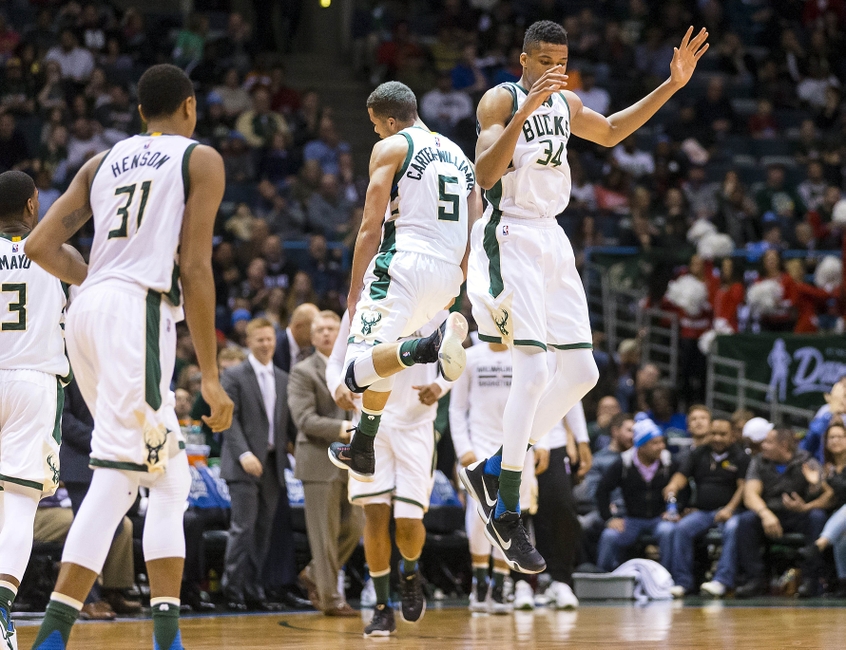 Although it would be freakish if one candidate didn't win out, we took a look at the four players most likely to lead the Milwaukee Bucks in assists for the 2016-17 NBA season.
The Milwaukee Bucks should be a fun passing team to watch next season. With Giannis Antetokounmpo running the point forward position, three talented passing guards in Michael Carter-Williams, Matthew Dellavedova and Khris Middleton in the rotation and Jason Kidd's fondness for three-guard sets, the Bucks shouldn't have many problems dishing the rock.
Since it's the offseason and there's a lot of time to kill, it's time to think about things like the meaning of life, and which member of the 2016-17 Milwaukee Bucks will lead the team in assists.
This article is more focused on the latter issue. Obviously there's an odds-on favorite to lead Milwaukee in passing–Point Giannis was dynamic after the All-Star break, and should win out here by a landslide.
Just in case something weird happens, we have to know who would be ready to step up and lead the offense. So we'll go through four candidates who all have at least some chance at being Milwaukee's leader in assists per game.
The players will be listed from least to most likely to accomplish that feat, so the last player up is the favorite to be the best passer on the team.
Khris Middleton
Khris Middleton making this list at all is a testament to how much improvement he showed last season. He went from never averaging more than 2.3 assists per game in his first three seasons to managing 4.2 assists per game last year with the Bucks.
Even after Giannis began running the offense, Middleton continued to be an excellent passer. In fact, his assist numbers went up once Point Giannis took over, from 4.0 assists per game before the All-Star break to 4.6 per game afterwards.
Middleton will probably act as a secondary distributor for Milwaukee this season, a sort-of safety valve to dump the ball off to if Giannis or whoever has the ball gets in trouble. Khris proved he's more than a three-and-d player, and that he too can run Milwaukee's offense at times.
That ability is huge for the Bucks. The only reason Middleton isn't higher on this list is because he's also such a great shooter. Many of his touches are going to be shots, which is how it should be. But if the Bucks felt like making Middleton their point forward, he could probably rack up some impressive assist totals.
Michael Carter-Williams
With Matthew Dellavedova being hand-picked as a point guard to accommodate Giannis Antetokounmpo running the offense, Michael Carter-Williams is likely going to end up coming off of the bench this year. That might not be the worst thing for him.
Even if he doesn't end up being the NBA's best sixth man, he could still excel in the role. He won Rookie of the Year in his first year with the Philadelphia 76ers because Philly allowed him to run the team–he was the first and often last option on offense.
That was never feasible as long as MCW was starting next to Giannis, Khris and Jabari Parker, but in a bench role he can probably up his usage percentage while some or all of those main cogs catch their breath on the bench. Carter-Williams taking touches away from John Henson, Malcom Brogdon and Mirza Teletovic is a lot easier to stomach than the Bucks big three watching him drive into a wall of defenders.
He should be able to rack up some pretty nice assist numbers with more shooting around him this season as well. It's tough to say the Bucks leading assists man last season will finish in a distant third this season, but that's just the situation the team is in at this point.
Matthew Dellavedova
Typically a team's starting point guard is the most likely player to lead said team in assists, but the Milwaukee Bucks are very atypical. Dellavedova will probably snag a silver medal for second place however, just thanks to the other players around him.
Dellavedova isn't an overly gifted distributor, but he doesn't need to be. Many of his possessions begin as Delly getting a pass from someone while standing behind the three-point line. He's not a good inside scorer, so he typically exercises one of two options at this point.
He either takes the three, or dishes the ball to somebody equally or more open than he is. This will probably be a very common occurrence in Milwaukee's offense next season.
Imagine Giannis bringing the ball up the floor and probing the interier defense of the opposing team. He starts to drive, and some defender edges over to help out. Giannis throws the ball back to Delly at the top of the key, who then dishes to whoever's man moved to help on Giannis. That player, whether it be Khris Middleton or Jabari Parker, now has space to either shoot the ball or attack the basket.
Giannis is the one who really made it happen, but Delly gets the assist since he got the ball to that player. There are all sorts of variations of that that Bucks fans could see next season, but the main point is this: Dellavedova is a willing if not overly gifted passer who will be able to find open players next season.
Even though he won't be running the point, he'll get some decent assist totals from simply being an important part of a (hopefully) much-improved Bucks offense.
Giannis Antetokounmpo
There doesn't seem to be much chance that Point Giannis doesn't lead the Milwaukee Bucks in assists per game next season. Whereas three players have realistic shots at being Milwaukee's leading scorer, this was ultimately a list of three guys fighting for second place, plus Giannis.
Detractors like to point to career or even 2015-16 numbers to shoot down this possibility. Yes, Giannis only averaged 4.3 assists per game last season and has a career average of just 2.9 assists per game. The problem is, probably 80 or 90 percent of his career Giannis has not been playing point forward.
More from Behind the Buck Pass
He is now. And looking at the post-All-Star break numbers gives a much more accurate depiction of what Giannis' assist numbers will look like over a whole season of running the show in Milwaukee.
Giannis averaged 7.2 assists per game in just over 36 minutes last season. That supporting cast was weaker than the one he'll be playing with this season, and also contained less legitimate shooting threats. The new additions, plus another year of growth for both Jabari and Khris, means that Giannis will be in a position to really dish the rock this season.
It's hard not to get excited about the future of the Milwaukee Bucks when looking at how good this core unit has been. Giannis Antetokounmpo may lead the way, but the contributions of Jabari Parker and Khris Middleton will be invaluable to both the team's success and Giannis' shot at leading Milwaukee in assists next season.
This article originally appeared on