Milwaukee Bucks: What If Giannis Antetokounmpo Was Never Drafted?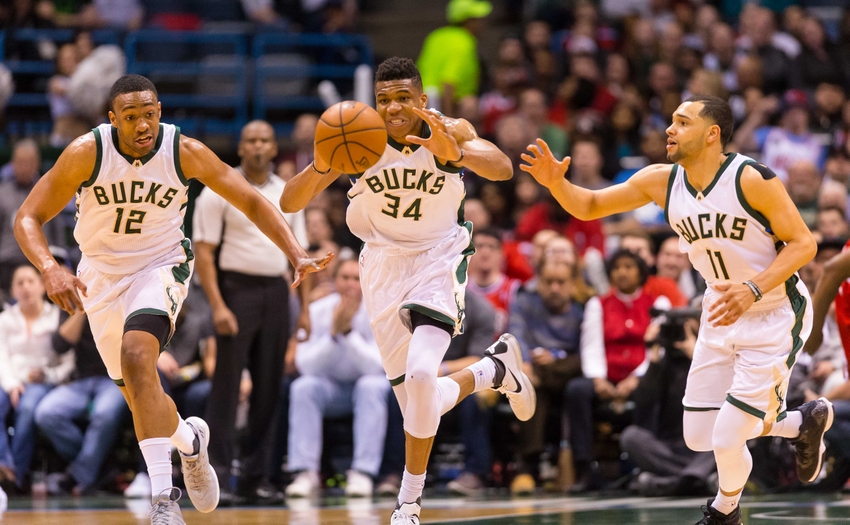 The Milwaukee Bucks have come to rely heavily on the unique skills of Giannis Antetokounmpo. What would the team look like had they drafted someone else?
June 27, 2013 wasn't supposed to be a franchise-changing day for the Milwaukee Bucks.
Picking 15th in the league-wide draft that night meant the Bucks would likely end up with a role player or contributing asset; after all, the potential stars such as Victor Oladipo or Otto Porter Jr. would be off the board quickly in a weak draft class.
What a difference three years makes.
The Bucks used their pick that day to select an 18-year-old from Greece's second division by the name of Giannis Antetokounmpo. Antetokounmpo was little-known even among those die-hard NBA fans, as he only snuck into the first round of most mock drafts about a month before the actual event.
Taking him 15th wasn't an excessive reach; DraftExpress' final mock had the Greek going at pick 17 to the Hawks, but opinions still varied greatly regarding the Bucks' selection. Many remained cautiously optimistic or reserved judgment, such as Bucksketball, but still others condemned Antetokounmpo as a future bust, such as this article from Sheridan Hoops from shortly after the draft.
While Adetokunbo (sic) has a nice frame and foundation to build upon, nothing about his skill set suggests he is an NBA caliber player. He is a sub-par outside shooter, has no jump shot off the dribble and overall struggles with decision-making. For a player who is supposed to be a point forward, it is concerning that in the 2nd division in Greece, he gets more turnovers than assists.
We obviously now know the type of player Giannis has turned out to be; taken first overall in multiple redrafts, putting up unprecedented numbers, and most recently, compensated with a four-year, $100 million contract extension.
Because of Giannis' prowess, the team in its current state is largely built around him, so it may be difficult to imagine life without Antetokounmpo on the Bucks. But let's say the front office wasn't so lucky (or skilled) and went with another option at pick 15. What effects would this have on the direction of the franchise?
DraftExpress' last mock the day of the draft had the Bucks taking Russian swingman Sergey Karasev, who eventually went 19th to the Cavaliers.
The Bucks' pre-draft primer mentioned the need for a guard with only one such player under contract entering free agency, so German point guard Dennis Schröder may also have been a secondary option.
Schröder was eventually taken 17th by the Hawks, and has put together a fairly successful career thus far, primed to take over the Hawks' starting point guard position this year in place of the traded Jeff Teague.
Karasev's NBA career has been far less prolific thus far, scoring 2.4 points in only 10 minutes per game for the lowly Brooklyn Nets last year. He signed a free agent contract with B.C. Zenit Saint Petersburg of the Russian VTB United League this offseason and looks to be done in the NBA.
Obviously, had the Bucks taken Karasev, the move would have to be considered a loss even when not compared to Antetokounmpo's standard. Schröder represents somewhat of a best-case scenario for the Bucks picking 15th; no other available option save for some second round gambles of Rudy Gobert or Solomon Hill would give even a positive return back in terms of performance.
Even if the Bucks had taken Schröder, the team would likely still have gone through with the Brandon Knight Trade, which brought over future core piece Khris Middleton as a throw-in option.
As a then-20 year old, Schröder posted a paltry 86 offensive rating and 110 defensive rating his rookie year, not numbers worthy of a starting gig even for a team with the worst record in the league.
Much like he has done in Atlanta, the German would likely have backed up the starting point guard (in this case Knight) for a couple years until he was deemed "ready" for the lead spot.
Schröder's presence and performance would have likely meant that the Bucks would not have traded for Michael-Carter Williams, and could have dealt the expiring contract of Knight for other assets.
Schröder would likely have been ready to take over in a starting role last season; his per-36 averages of 19.5 points, 7.8 assists, and 1.6 steals were a major factor in the Hawks' decision to trade incumbent starting point guard Jeff Teague for a draft pick and name Schröder the starter heading into the upcoming season.
Without Giannis at the small forward position, at which he played 35.3 minutes per game last year, the Bucks would need depth on the wing in a bad way. Perhaps Rashad Vaughn would have been forgone in last year's draft for a prospect such as Sam Dekker or Justin Anderson, or maybe Knight could have been dealt for another wing talent.
More from Behind the Buck Pass
It's likely Jared Dudley would have been brought back in a larger capacity last offseason, or maybe some other free agent could have been signed to fill the void (breakout Atlanta Hawks winger Kent Bazemore comes to mind).
Beyond simply filling an empty roster spot, the absence of Giannis would change the entire makeup and strategy of the Bucks' roster. I mentioned last week how every recent Bucks roster move centers around Giannis, so an Antetokounmpo-less franchise is borderline impossible to imagine.
Without Giannis, the Bucks almost surely do not make the playoffs in 2015, which may have meant that Greg Monroe never would have signed with Milwaukee in free agency, as he specifically stated a desire to compete.
Incidentally, without Giannis, the Bucks would likely have found themselves drafting this summer someone other than Thon Maker, who in terms of initial detractors and potential rivals Antetokounmpo's status at the same time in their careers.

The possibilities are too broad to imagine, which underscores the effect Giannis truly has on the franchise – a future without him is incomprehensible, so it's imperative we as fans do not take him for granted.
This article originally appeared on