Milwaukee Bucks: Tony Snell's Shot Has Yet To Make The Trip To Milwaukee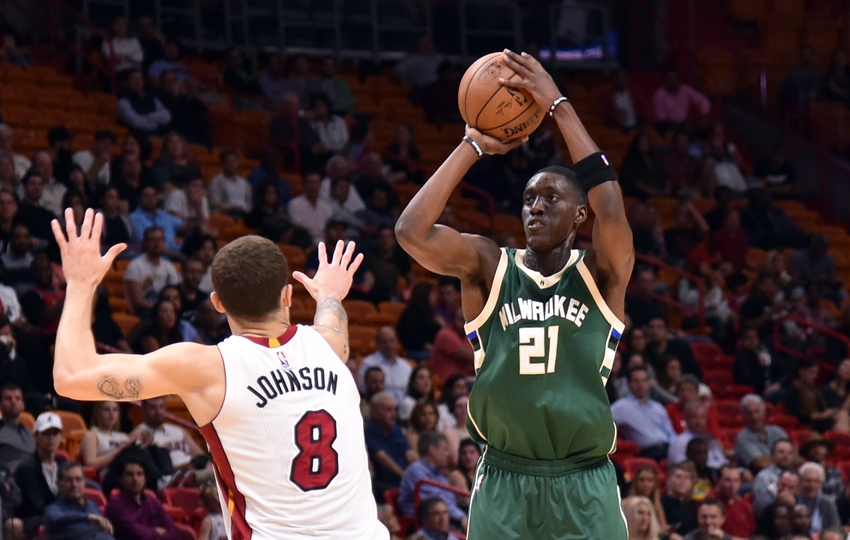 Although he fits the Milwaukee Bucks well in theory, Tony Snell has yet to hit his stride as a shooter yet in Milwaukee.
The Milwaukee Bucks meant to find a shooter to replace Khris Middleton in their starting five. It was always going to be impossible to truly replace Middleton, simply because he contributed so much.
The Bucks looked to find a simplified version of Middleton who could do some of what he can do. The most important parts of Middleton's game for Milwaukee are his shooting and his wing defense.
Tony Snell is billed as a shooter and defender, and has been for most of his career. He was meant to come in, hit some threes in the space created by Giannis Antetokounmpo and Jabari Parker, and then defend well on the other end.
His defense has been pretty good thus far, but Snell's shot has yet to arrive in Milwaukee. He's currently hitting just 29.7 percent of his threes and 41.2 percent of his field goals. Snell's two-point percentage is excellent, but considering the sample size is just 33 shots that doesn't mean a whole lot just yet.
Besides, Snell does most of his shooting from long-range. Some 66 percent of his field goal attempts have some from beyond the arc this season, making his three-point percentage far more important than what Snell does when he takes the ball closer to the rim.
Snell shot 36.1 percent from three-point territory last season, so why isn't he making threes with the Bucks? His increased shooting volume might have something to do with it. Snell is currently taking 6.7 three-point attempts per 36 minutes, the most he ever has.
The closest Snell came to that many three-point shots was his rookie season, when he took 5.2 threes per 36. Likely not coincidentally, that was Snell's second-worst season in terms of three-point percentage.
More from Behind the Buck Pass
In the two years where he took 5.0 and 4.7 threes per 36, Snell made 37.1 percent and 36.1 percent of his threes, respectively. In the two years where he took 6.7 and 5.2 threes per 36, he made 29.7 percent and 32.0 percent of his triples, respectively.
The honest truth might be that Snell just isn't that good at shooting threes. When he's tasked with doing a lot of shooting, Snell's numbers start to slip. The best way for him to save his three-point percentage this season might be for Snell to hold up on some of the shots he's been taking.
He's still provided positive boosts to the Bucks, through his rebounding and the threat of his jumper, even if they aren't falling at the moment. If he continues to clank misses though, teams will start to sag off of the former Chicago Bull.
The lack of efficiency from Snell is troubling. As previously discussed, his three-pointers aren't falling. In addition, through 12 played games Snell has attempted a grand total of four free throws.
That's not good for the Bucks offense. If he can't pull his offensive game together soon, Tony Snell might find himself on the bench before Middleton returns.
Rashad Vaughn is currently in the D-League, but he could be back any day to challenge Snell for the starting spot at shooting guard. Plus we all know how much coach Jason Kidd loves Jason Terry.
This article originally appeared on