Milwaukee Bucks: The Growth Of The Greek Freak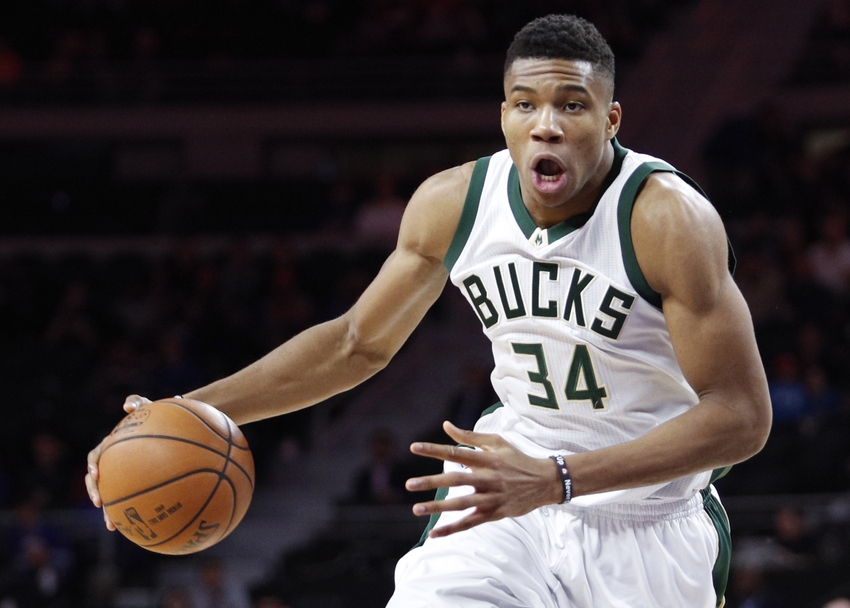 With every passing game, Giannis Antetokounmpo is looking more and more impressive. We take a closer look at the Milwaukee Bucks' young star.
Giannis Antetokounmpo is in his fourth year of the league but he is 21 years young. I REPEAT: He's only 21 years of age. Watching his growth from being a scrawny 18-year-old averaging six points per game to now, a strong-wirey point-forward averaging 23- 8.5- 6 has been incredible to watch.
The crazy part is, he's only scratching the surface.
Watching Giannis year by year, it seems one aspect of his game grows leaps and bounds over everything else. From his rookie year to his sophomore season, it was his rebounding. Part of that was him just not being done growing yet, which is crazy to think about.
More from Sir Charles In Charge
He grew two inches during his first two years, standing at 6-foot-11 now with a 7-foot-3 wingspan; his rebounds increased by three more per game.
Between year two and year three, it was his defense that stood out to be an obvious improvement.
He grabbed 70 more boards, had 21 more steals, and 28 more blocks than the previous year.
After year three, the league started to take notice of what this Freak of nature had in store.
This year, Giannis made the move to running the offense as a point guard in multiple sets. Milwaukee Bucks head coach Jason Kidd gave the reins over to the Greek Freak in the offseason, saying it would be a matchup nightmare; he wasn't wrong.
So far, his points, rebounds and assists have skyrocketed over the previous years. This is a direct correlation between his usage rate, and the amount of possessions he's counted on to be a playmaker in their offense.
Last week, the Bucks played LeBron and the Cavs and going in, I thought this would be a must-watch game. I wanted to see how the Greek Freak matched up with the best player on earth, and he didn't disappoint.
Giannis tied his career high with 34 points, and added 12 boards and five assists in a 118-101 route against the defending champions. Stats are one thing, but if you watched the game, you had an even greater appreciation for Giannis' development.
He was going at LeBron. He didn't care that he's the future G.O.A.T. He treated him like he was just another wing that he was trying to destroy.
His competitiveness and the "competitor" in him was more visible in that game than I've ever seen. Some people have "it", some people don't. Giannis has "it", and the league should be terrified.
Live Feed

Milwaukee Bucks
What if Giannis develops a three point shot?
What if? We've seen it a lot the past couple years with highly athletic wings in the league. Two young stars come to mind when talking about this three-point jumper weakness. Kawhi Leonard and Andrew Wiggins.
All three are not from this planet athletically, but opposing defenses could neutralize their athleticism by going underneath every ball screen, begging them to shoot from outside.
Kawhi came into the league shooting 37 percent from the arc, but focused every summer to change his mechanics and improve his three-point consistency.
He's now a three-point sniper who was 3rd in three-point shooting percentage (43.3%) last season.
Andrew Wiggins' recent transformation has been eye popping. Shooting 31 percent as a rookie, he has spent multiple summers working with Drew Hanlen on his shooting mechanics. Now in his third year in the league, defenses have to keep Wiggins honest on the perimeter with his ability to pull up off the dribble beyond the arch.
Earlier this season, Wiggins was shooting a league high 47 percent from three (he's settled in at 39%).
Seeing similar players have this success form 23 feet and beyond as their careers develop is very promising for Giannis Antetokounmpo. If he indeed does follow in Kawhi and Wiggins' footsteps and acquires a consistent three-point shot, the NBA has a new giant problem on their hands.
This article originally appeared on