Milwaukee Bucks: Takeaways In Win Over New Orleans Pelicans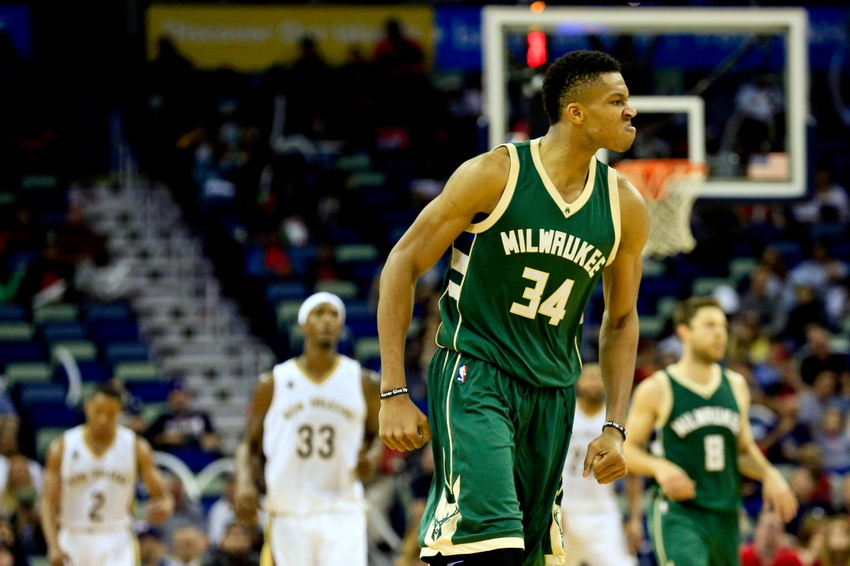 In a hard fought game, the Milwaukee Bucks edged the New Orleans Pelicans 117-113 Tuesday night.  With that, we take a look at what worked and what didn't work for the Bucks in the win.
They may have needed all 48 minutes, but the Milwaukee Bucks came out with a nail biting victory over the New Orleans Pelicans Tuesday night, winning 117-113.
The win-which marks the first victory for the Bucks in New Orleans since January 27, 2003- was a true collective effort.  When it was all said and done, the Bucks had six players scoring in double figures and even a few others managed to make an impact in other ways, in spite of shots not falling their way.
While it may have been their most cohesive victory of the young season, that certainly doesn't mean it was perfect performance by any means.
To their credit, the Pelicans delivered a similar performance to that of the Bucks, getting multiple contributors to pitch in around their star Anthony Davis (Davis finished with 35 points, 15 rebounds and 3 steals and blocks, respectively).
In the end, however, the Bucks ultimately came out on top to get themselves back to .500 on the season.  Even though it was a true team win, who stood the most for the Bucks?  Were there any surprise performances that could maybe be a sign of things to come?
With that and a bit more, let's dive in to the biggest takeaways for the Bucks in their win over the Pelicans.
TONY! TONI! TONE!
He may still be integrating himself within the team, but Tony Snell filled the role we and the Bucks have been expecting him to on Tuesday night.
In his third game with the team, Snell delivered a double-double performance, scoring 13 points and 10 rebounds, while adding in two assists and having a plus-minus of 12 in 33 minutes.
The bulk of his scoring came off of three-pointers as he hit three shots from beyond the arc.  Although Snell was certainly not bashful in his attempts from deep (Snell attempted nine three-point attempts), he played a huge part in giving the Bucks the perimeter scoring punch they've needed.
Where Snell made his biggest impact on the night arguably lay on the defensive end.
For example, in the 15 minutes Snell was off the floor, the Bucks were 30.1 points per 100 possessions worse defensively compared to the time he was on court, per NBA.com/stats.  Yes, it's just one game, but it's still encouraging to see Snell make an impact in more ways than traditional box score numbers may tell.
By default, this was the best game for Snell in a Bucks uniform.  Of course, there are ways for him to improve, but we'll be happy if we continue to see performances like this from him in the future.
Keepin' It 1600
Being on the subject of newcomers, it's time we turn our attention to Malcolm Brogdon.
In the wake of the Michael Carter-Williams-Tony Snell trade, Brogdon's taken up backup point guard duties behind starter Matthew Dellavedova to open the season.  While he's shown flashes of promising play with the regular season finally here, he hadn't put it altogether like he did against the Pelicans.
In his 23 minutes, Brogdon did a little bit of everything as he scored 14 points, grabbed 4 rebounds, dished out 4 assists and swiped 4 steals.
Brogdon's play made such a huge mark that he even saw the floor during crunch time minutes, due to Giannis' foul trouble (more on that later).  During that time, Brodgon continued to impress, with the biggest highlight being this impressive And-1 (shouted in a Greg Monroe voice) in the mid-to-late fourth quarter.
With all the talk of how poised and mature he is even as a rookie, it's great to see him not get overcome by the moment and deliver what's asked of him at any time, especially this early in the season.
Jabari Busting Loose
Of all the early disappointing signs so far this year, the one that got the biggest reaction was the play of Jabari Parker.
After an encouraging preseason, Parker never really made his mark in the team's opening three games.  That wasn't the case Tuesday night as Jabari scored 21 points, going 7-of-14 from the field.
As we know very well by now, if Jabari's going for 20 or more on the night, you know we're in for emphatic slams like this one he had in the middle of the second quarter.
But Parker managed to pack his scoring punch in different and encouraging ways against the Pelicans.  He was perfect from the free-throw line, going 7-of-7 and was money on a pair of jumpers as well.
With that said, there wasn't too much more to Parker's game last night other than his scoring.  He only grabbed two rebounds and despite his encouraging game offensively, he finished with -5 plus-minus in 29 minutes.
Given his first three games, it was encouraging to see Jabari start to show more signs of life last night.  Whether it results into something more consistent, we'll just have to wait and see.
Two Thumbs Up For Giannis
Once again continuing his early season tradition, the most dominant player for the Bucks Tuesday night was one Giannis Antetokounmpo.
Giannis gave another great all around performance and finished the game off with a double-double as he scored 24 points and grabbed 10 rebounds in 33 minutes.
Aside from his usual effectiveness around the rim (Giannis went 9-of-11 on attempts by the rim), Giannis made a point to attempt shots in or around the perimeter in hopes to keep the defense honest.  Although he failed to hit from range efficiently for most of the night, the one make he did have couldn't have come at a better time.
In addition to his double-double, Giannis dished out 7 "official" assists, two of which were three-pointers for Delly that were a part of the team's scoring attack in the second quarter (the Bucks outscored the Pelicans 34-22 in the second quarter).
Even as strong as his performance was in the time he was on the court, Giannis likely would have seen more time had he not gotten into foul trouble.  Yes, a call here or there were suspect, but it ultimately put the Bucks in a tough position as the game was winding down.
Luckily, the Bucks found contributions in that tight spot and avoided disaster.  Other than that, it's hard not to be impressed by what's been a great start so far for Giannis for the season.
Now with a win to carry them over as they return home, we'll have to wait until Thursday night to see if the Bucks can parlay this into a budding winning streak once they face the Indiana Pacers.
More from Behind the Buck Pass
This article originally appeared on