Milwaukee Bucks: Takeaways From Loss To Toronto Raptors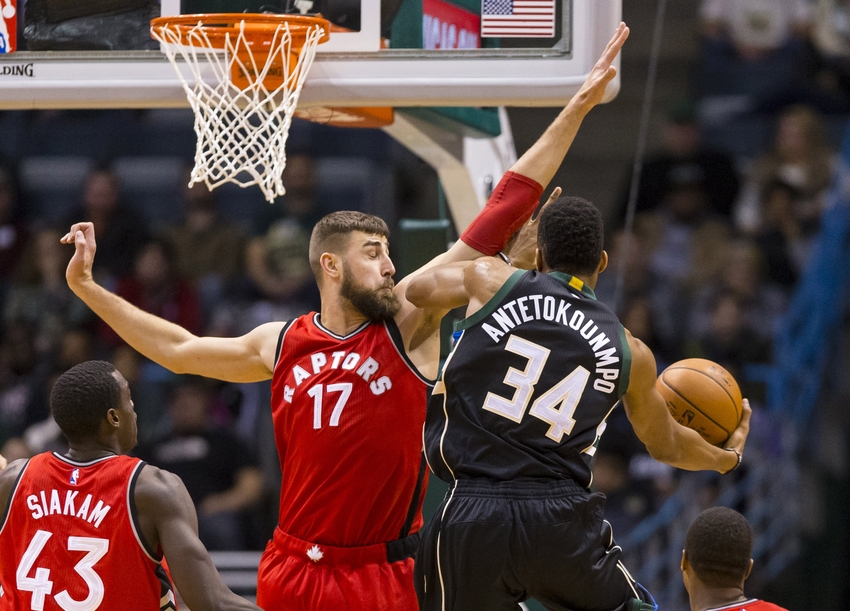 The Milwaukee Bucks were unable to keep their winning streak alive against a tough Toronto Raptors team, even though some Bucks were fantastic.
The Milwaukee Bucks need to keep on beating the bad teams they get shots at, because really good clubs just don't leave much room for error. The Bucks actually looked pretty good overall on Friday night against the Toronto Raptors.
The Raps still won though, with their star backcourt coming up huge time and time again late in the game. DeMar DeRozan and Kyle Lowry are legitimate studs, and they took over the action late in the fourth quarter.
Honestly, that should be expected to a certain degree. Toronto is a really good team, and their record reflects that despite the Raptors dealing with one of the toughest schedules in the NBA early on.
Now that we've got the Raptors talk out of the way though, let's get to the Milwaukee side of things. The Bucks got a superstar performance from one of their young stars, a player who had struggled recently looked better, and threes were falling.
There were a ton of notable happenings in this game–these four are the biggest and most important from a riveting game in Milwaukee.
All Hail Giannis
Giannis Antetokounmpo is still really, really good. He's had some rough spots in his game early on this season, but he smoothed them all out for his best performance of the year against the Raptors.
Giannis finished the night with 29 points on just 17 shots, plus six rebounds, 11 assists and a steal. It may not have been a triple-double, but the manner in which Giannis got a lot of his points made his night super impressive.
These weren't just transition buckets in the second quarter. Giannis went toe-to-toe with DeMar DeRozan, and the two traded buckets for large stretches of the fourth quarter. Eventually Toronto pulled away thanks to a deep Lowry three and a late Giannis turnover, but damn was he good.
The Greek Freak also got to the line six times, and he made five of those foul shots. That brings Giannis' free throw percentage up to 78.9–if he holds there, that'd be yet another career high for the young Buck.
Jabari Parker had a relatively bad game by his standards with just 14 points scored on 14 shot attempts, but the numbers would definitely look better if some more of his threes had fallen. Parker went one-for-five from three-point territory against Toronto.
He's liked shooting them for the last few games. Jabari now has six games (out of 14) in which he's taken at least four three-point attempts. Unfortunately, he's only made more than one three in a game three times, and he's made zero of them seven times.
Although those numbers don't sound promising, even directly following a bad game from beyond the arc Jabari's still hitting 36.4 percent of his 3.1 attempted threes per game. Both of those numbers are career highs by a mile.
Getting Jabari accustomed to shooting threes–and making them–will be huge for the Bucks. Giannis is proving he can do work without a serviceable jumper, but having two stars who can't shoot puts a lot of stress on the rest of the team.
If Jabari can become a verified threat from long-range, that will help out everybody on the Bucks. There will be nights like tonight where he's a bit off, but they'll be worthwhile in the long run once he really hits his stride.
The Shooters Are Shooting
After some concerns were brought up about the role players on the Bucks not exactly pulling their weight, Bucks fans saw a great shooting performance by the team on Friday. Although Jabari's touch was off from deep, he was virtually alone in that regard.
Matthew Dellavedova made three-of-five threes, Tony Snell made four of his 10 attempts, Mirza Teletovic made two-of-four threes, and Malcolm Brogdon sank both of his attempted threes against the Raptors.
That kind of production is fantastic from this bench unit, and it kept the Bucks in the game. Giannis will get all the credit, and he probably deserves it, but this game isn't nearly as close if these guys don't have great nights from beyond the arc.
The Bucks won't be beating many good teams without their bench showing up like they did on Friday. The Raptors were still too much, but if Jabari had been slightly more in rhythm this game could've turned the other way.
Lack of Adjustments
DeMar DeRozan is virtually unstoppable. He dropped 26 points on the Bucks on some incredible shots, including one in the fourth quarter over two Bucks defenders that didn't even seem physically possible.
Even if he's unstoppable, I'd rather see Giannis Antetokounmpo attempting the feat than Tony Snell. Yet Snell drew the cover all night, even when Giannis was guarding ineffective offensive players like DeMarre Carroll and Cory Joseph.
Even if Giannis couldn't shut down DeRozan, his length and quickness would've likely given him some trouble, especially in those late game situations. I'd argue making that change would've been even more important earlier, though.
The Raptors hit 14 threes against Milwaukee, with several coming after DeRozan drew a second defender to him which subsequently left a Raptor wide open on the perimeter. Again, having Giannis guard DeRozan might've lessened the need for that.
It seems as though Jason Kidd isn't interested in using Giannis like the San Antonio Spurs use Kawhi Leonard though, as a stopped assigned to the other team's best offensive player. Too bad. It might've really helped on Friday night.
The Bucks will be back in action on Sunday night when they take on the Orlando Magic in Orlando at 5 p.m.
More from Behind the Buck Pass
This article originally appeared on