Milwaukee Bucks: Takeaways From Loss To New Orleans Pelicans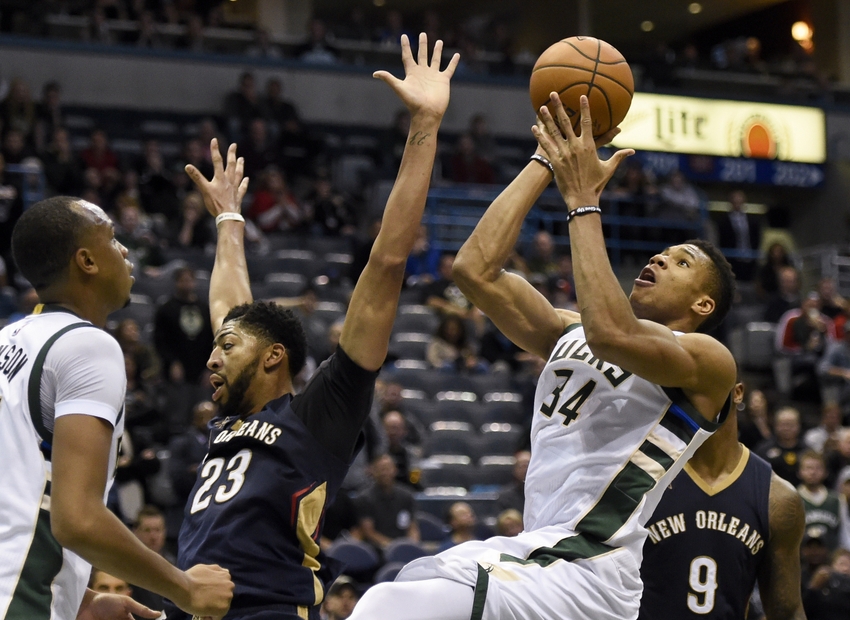 The Milwaukee Bucks lost to a second consecutive winless team on Thursday, gifting the New Orleans Pelicans their first win. Here are the main takeaways.
Remember that three-game winning streak the Milwaukee Bucks were on? It's almost hard to, after the team dropped back-to-back games to winless teams.
Both the Dallas Mavericks and New Orleans Pelicans had lost all of their games this season before they got a chance to match up with the Bucks (for the second time, in New Orleans' case.) All losses count the same in the standings, but dropping games to winless teams is extra tough.
The Bucks played better than they did late in the game this time around. The Mavericks loss included Milwaukee scoring just one point in overtime, which is less than ideal. At least this loss included some excitement in the final period.
Unfortunately, it was the wrong fanbase getting really excited. The Bucks could've been one of the top teams in the Eastern Conference Standings if they could've beaten two winless teams, but instead they're back down to .500 after two rough losses.
One Buck rose up, several others fell down, and the Pelicans were lifted high enough by Anthony Davis to collect their first victory of the season. It was a Herculean effort to be sure, but here we're focused on the Milwaukee Bucks above all else.
So with that, let's go into what stood out the most for the Bucks in their loss to the New Orleans Pelicans.
Even though he cooled off slightly in the last few minutes of this game, Jabari Parker came out and dropped the best game of his career against the Pelicans. It wasn't a career-high in scoring for Jabari, but it was a better game overall than the time he dropped 36 points on the Houston Rockets.
Jabari scored 33 points in this game, to go along with nine rebounds, one assist, one steal, one block and no turnovers. He shot 50 percent from the field, 50 percent from three-point territory and 100 percent from the free throw line.
He was nothing less than dominant all night. One of the most encouraging parts was he did not need Giannis Antetokounmpo on the court to facilitate for him–he did a lot of his work without his fellow young star on the floor.
Jabari and Giannis being able to play well together is great, but them being able to play well both together and without each other on the floor unlocks a lot more in Milwaukee's potential.
In the future, seeing Jabari get the most shots on the team might be the best thing for the Bucks. Part of that is due to how damn good he is at scoring, but there's another reason as well.
Giannis Was Getting Distracted
At one point in the third quarter of this game, Anthony Davis hit Giannis with a little dribble move than sunk a jumper in his face. Davis grew up short and played guard, so his handle is unfairly good for someone who's just about seven feet tall.
Giannis responded by wasting at least two of the next three Bucks possession by getting the ball, dribbling down court, trying to cook Davis and pulling up for a long, contested jumper. He missed both of them, and a few more after that.
There is not a single result opposing teams would love more than Giannis taking the ball, not passing it at all, and then settling for a contested jumper from inside the arc. It's the least efficient thing he could do, save just handling the ball to the other team.
Especially when Jabari is so red-hot, there's no reason Giannis should be playing that way. He hasn't looked like a point forward this year, as evidenced by his one assist and 16 shot attempts in this game. Thankfully Matthew Dellavedova played some real point guard, dishing 12 assists in this contest.
The Bucks Centers Struggled
The Milwaukee Bucks have three centers that make over $40 million combined this season. Having all three of Miles Plumlee, John Henson and Greg Monroe has actually been worse for all three of them–it's like when depth goes wrong.
Having too many centers means nobody gets enough minutes if they all play, which was what happened on Thursday. In a combined 48 minutes, Plumlee, Henson and Monroe combined to score 12 points, nine rebounds, two assists, one steal and two blocks.
That's not much production at all, especially considering the price tag that comes with it. Plumlee weighed down those numbers heavily. He played 11 minutes, and managed no statistical contributions outside of three missed shots (all blocked by Davis) and three personal fouls.
This situation is ugly, and it needs to be somehow resolved soon. Either one guy needs to catch a DNP-Coach's Decision every night so the other two can play, or a move has to be made. Nobody is winning from having all three centers–especially not the Milwaukee Bucks.
Not Shooting Enough
This was the first game the Bucks lost in which they shot better than 30 percent from three-point range. The reason for that was although they shot a fairly efficient 33.3 percent from deep, Milwaukee only attempted 18 triples and thus made just six.
More from Behind the Buck Pass
That's not much of a difference, not compared to the Bucks other victories at least. Milwaukee attempted 22, 32, 27 and 33 threes in their four wins this season. Making 33 percent of 30 threes is worth 30 points. Making 33 percent of 18 threes is only worth 18. The Bucks lost by six. You can probably do the math.
Jabari being a better shooter than expected is great, but he made half of the Bucks threes. Dellavedova, Tony Snell and Mirza Teletovic need to combine for more than two made threes, like they did against the Pelicans.
What Jabari Parker did against New Orleans was inspriring, but unfortunately most of the other Bucks were disappointing, Hopefully Jabari can keep going and the other Bucks can get up to his level soon.
Now we'll have to wait until Saturday to see how the Bucks follow up this loss when they take on the Memphis Grizzlies at 7:30 p.m.
This article originally appeared on