Milwaukee Bucks Rumors: Michael Carter-Williams For Tony Snell?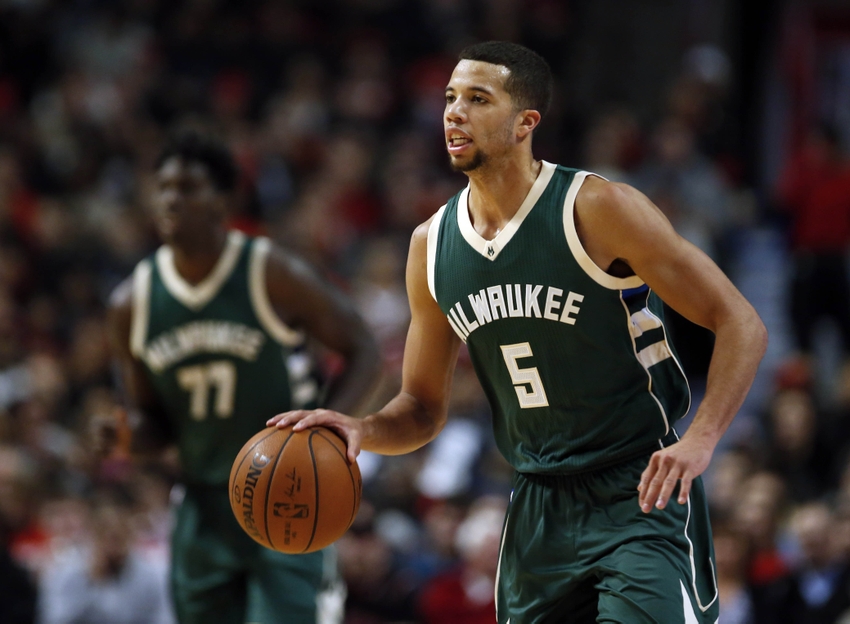 After months of Milwaukee Bucks rumors, it appears as if a Michael Carter-Williams trade could finally become a reality in the coming days.
When discussion surrounding a potential trade for Ben McLemore seemed to fizzle out a little over a week ago, for all intents and purposes it seemed as if 25-year-old point guard Michael Carter-Williams would at least start the new season wearing a Milwaukee Bucks jersey.
With the clock ticking down to find a deal for a player who appeared to be in very low demand, in spite of being the league's Rookie of the Year in 2014, the consensus among fans, media and even Milwaukee's coaching staff appeared to be that MCW would continue to have a role to play with the team, albeit in a reserve capacity.
With a slew of reports breaking and being confirmed by multiple outlets close to the relevant parties late on Saturday night, it now looks likely, though, that MCW will see his time as a rumor mill mainstay come to an end, as the Bucks finally find a trade they're prepared to pull the trigger on.
BREAKING: League sources tell @ZachLowe_NBA and me that Bucks and Bulls are in deep talks on a Michael Carter-Williams-for-Tony Snell trade.

— Marc Stein (@ESPNSteinLine) October 16, 2016
First established in a joint report from ESPN's Marc Stein and Zach Lowe shortly after the conclusion of Saturday night's game between the Bucks and Bulls in Milwaukee, the two teams are said to be at an advanced stage of discussions over a deal that would see Carter-Williams and swingman Tony Snell swap teams.
As explained by Lowe and Stein in the report, it has been common knowledge in the aftermath of Khris Middleton's potentially season ending injury that the Bucks were eager to bolster their options on the wing, and in Snell they could acquire a young player who would seem capable of helping to fill that void.
"Sources said the Bucks, who have been openly looking for more shooting and defense on the perimeter in the wake of a long-term injury suffered by starter Khris Middleton just days before the start of training camp, have targeted Snell to give them some much-needed help on the wing."
An interesting wrinkle to monitor, if the deal comes to pass, could also be the Bucks' apparent eagerness to lock the extension eligible Snell up as a part of their team in the longer term.
"But the Bucks, sources say, are intrigued by Snell's potential — both as a fill-in for Middleton and as a potential backup — after he shot 35 percent from long distance last season. Should the deal be consummated, Milwaukee is expected to open contract extension talks with Snell, sources told ESPN's Brian Windhorst."
Although there was never any reason to doubt the ever-reliable duo of Stein and Lowe, the manner in which a number of local beat writers provided further confirmation of their story later that evening provided an even greater sense that a deal could be imminent.
Source confirms MCW being traded to Bulls for Tony Snell. Not done yet but could be done by Monday.

— cfgardner (@cf_gardner) October 16, 2016
That sentiment from the Milwaukee Journal Sentinel's Charles Gardner was also supported by the Chicago Tribune's K.C. Johnson, who wrote in his report:
"Barring a late snag, a trade call with the league will take place Monday, one source said."
As a player who has divided opinion throughout his time with the Bucks, the feelings on this potential deal will likely be no less mixed between now and its eventual completion, but there's at least evidence of a clear thought process from Milwaukee's perspective.
The Bucks entered the summer intent on improving in terms of shooting and defense, and there can be little argument that Snell should be able to help the team in both departments.
Is this a deal that would have happened if Khris Middleton had stayed healthy? Probably not, but considering how Rashad Vaughn has followed up a lackluster rookie season with grim displays in Summer League and preseason to date, it could well be for the best.
More from Behind the Buck Pass
This article originally appeared on