Milwaukee Bucks Reportedly Adding Stacey Augmon To Coaching Staff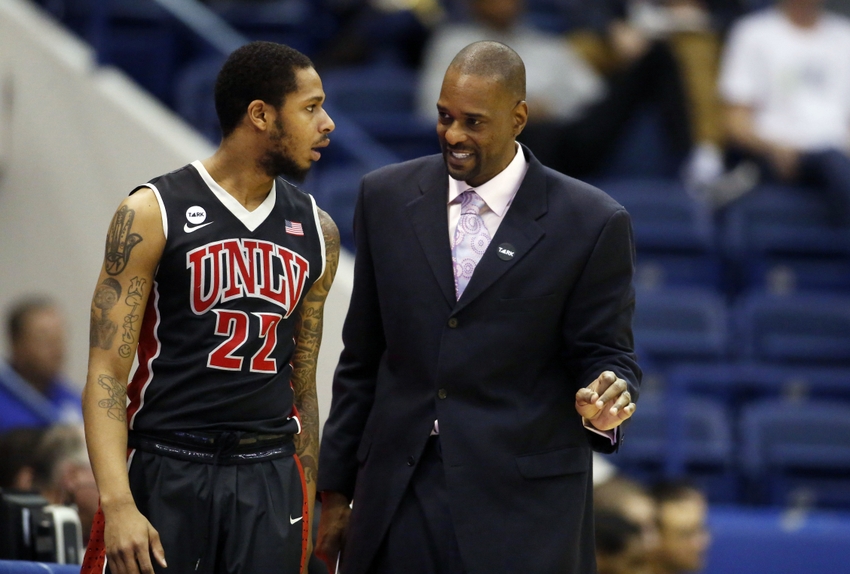 The Milwaukee Bucks are reportedly signing Stacey Augmon as an assistant coach for the coming 2016-17 NBA season.
The Milwaukee Bucks apparently weren't satisfied with their coaching staff for the 2016-17 NBA season, as the team is reportedly adding Stacey Augmon as an assistant for the coming season.
According to ESPN's Marc Stein (and verified by the Milwaukee Journal Sentinel's Charles Gardner), Augmon and the Bucks are closing in on a contract so he's with the team by training camp.
Story going online now: Milwaukee is closing in on the addition of Stacey Augmon to the Bucks' coaching staff, according to league sources.

— Marc Stein (@ESPNSteinLine) September 7, 2016
Augmon isn't new to the Bucks–he worked with Milwaukee a bit during the Las Vegas Summer League. That didn't require a lot of traveling on Augmon's part–his last coaching gig was as an assistant at UNLV.
According to a piece by Ed Graney and Mark Anderson of the Las Vegas Review-Journal, Augmon wasn't happy about being passed over as a head coaching candidate at UNLV.

"I was disappointed when I didn't get the head job," Augmon said. "But as the process went on and on and new candidates became public, I figured it wasn't going to happen. I felt that I had put in so much blood and sweat for the program and deserved the chance to be the head coach and turn the program around. I kept hope alive, but I wasn't feeling it there at the end. I figured if they kept adding names, they weren't satisfied with what was already there.
According to that same piece, Augmon thus decided he'd head back to the NBA for his next basketball coaching job.
And so here we are. The Bucks will reportedly be adding Augmon over the coming weeks, and he'll be on board for the rest of the season. Augmon isn't the first big name Milwaukee added in a front office/coaching role this summer–the team hired Craig Robinson as their VP of Player and Organizational Development back in August.
Although Robinson has a complicated job title and description, Augmon's role seems to be easier to nail down. According to Stein's report, he's a straight-up assistant coach.
More from Behind the Buck Pass
The Bucks should be getting maximum effort for Augmon, who seems determined to prove that he's a legitimate NBA level coach. He'll have the chance to do so in Milwaukee, as the Bucks are determined to prove their a legitimate NBA franchise with a real shot at contending for a title in a few seasons.
If Stacey Augmon ends up playing any sort of important coaching role on a team that becomes very good in a couple of years, he'll probably get his shot at being a head coach somewhere.
Augmon's former collegue at UNLV, Todd Simon, thinks he's deserving. Simon, who currently serves as the head coach at Southern Utah University, said Augmon will be a huge benefit for the Bucks.
"Coach Augmon brings a wealth of experience and will be a tremendous asset for the Bucks," Simon said. "His demeanor and ability to relate to players is a strength that will translate to helping the Bucks with their young talented team."
Teams love stealing assistants from successful franchises–just try finding all of the former Gregg Popovich disciples from the San Antonio Spurs organization scattered across NBA coaching staffs and front offices.
This article originally appeared on