Milwaukee Bucks: Player Power Rankings (Feb. 2-Feb. 8)
Lukas Harkins/FanSided via Behind the Buck Pass

Fansided
Over the course of the past week, the Bucks went 1-2, added a D-League team, got Khris Middleton back from injury, and lost Jabari Parker to an ACL. Let's check out our Player Rankings as a summary of the play on the court.
Week in Review (1-2)
L: Milwaukee Bucks, 117 @ Denver Nuggets, 121
W: Milwaukee Bucks, 137 @ Phoenix Suns, 112
L: Miami Heat, 106 @ Milwaukee Bucks, 88
Milwaukee Bucks Tweet of the Week
12
Thon
Maker
PF
Last week:
2 GP: 4.0 mins/3.0 pts/0.0 rebs/0.0 asts
Last rank:
6
Like Vaughn, Thon Maker didn't receive a ton of minutes this week, just eight total over two games. But, in that time, Maker flashed that smooth jumper from behind the arc, knocking down both of his three-point attempts. For the season, Thon has lived up to the name of Maker, as he has buried 11 of his 18 three-point shots, which is good enough for 61.1 percent. Everybody knew that Maker had a soft stroke entering the draft, but it is hard to imagine that anybody expected him to be this adept from deep so early in his career.
Now, as I did with Vaughn, let's see what the roster shake-ups could do to Maker. As Maker plays completely in the frontcourt, the addition of Khris Middleton into the lineup does not impact Maker's minutes. The Jabari Parker injury, however, could allow Thon to snag some more minutes and quite possibly even a starting position alongside Giannis. However, although they have not played for the team yet, both Roy Hibbert and Spencer Hawes will likely be joining the rotation soon and could leapfrog Thon on the depth chart.
11
Khris
Middleton
SG
Last week:
1 GP: 15.0 mins/5.0 rebs/2.0 rebs/2.0 asts
Last rank:
Welcome back Khris!
WELCOME BACK KHRIS! From all Bucks' fans, it was special to see Khris Middleton back on the floor after his hamstring injury left him out for much of this season. His quick recovery is a huge deal, as it could hopefully stabilize the team with his defense and three-point shooting. Middleton, however, cannot fix all the problems on his own, and the loss of Jabari makes things even harder to handle.
In his first game back, Khris played 15 minutes (right about what was expected) and flashed the all-around play that we are accustomed to seeing from him, with five points, two rebounds, and two assists. Once Middleton gets fully reinstated into the lineup, his consistency and play style could be just what the Bucks need.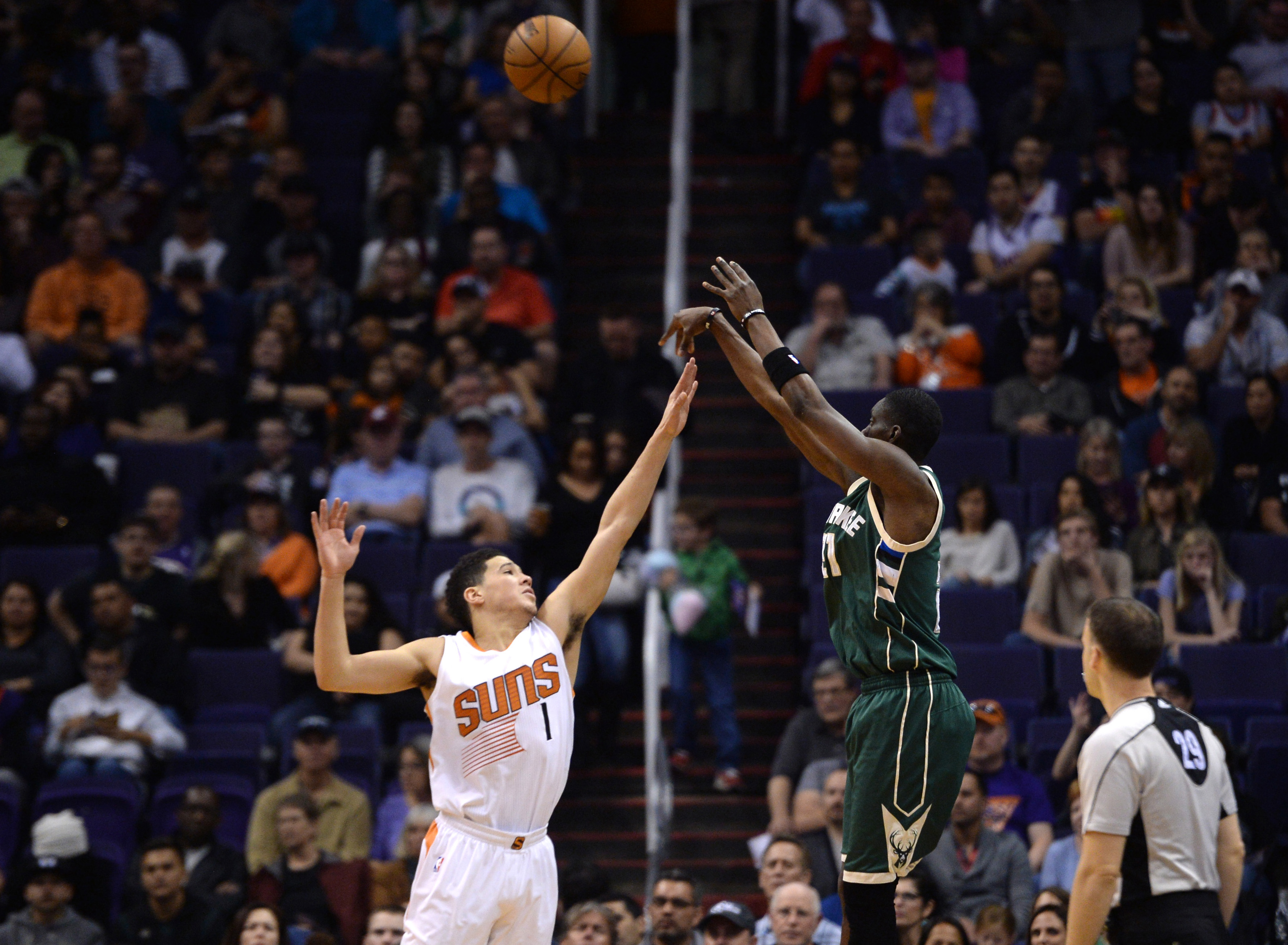 10
Tony
Snell
SG
Last week:
3 GP: 26.0 mins/5.3 pts/1.0 reb/0.7 asts
Last rank:
4
Snell has had a really good season so far this year, but this was not his best week. He finished his time just 5-16 from the field (31.3 percent) and could only muster up five points per game, despite playing close to 30 minutes in each contest. For the rest of the year, Snell is the player that is likely most affected by the return of Khris Middleton, who will likely take over the starting job as the shooting guard. Still, Snell has a very similar play style to Khris on the whole, and will make an excellent back-up who has proven already this season that he can handle big-time minutes and knock down much-needed shots. It would be no surprise if the Bucks trotted out both Middleton and Snell in crunch time of a game in the near future.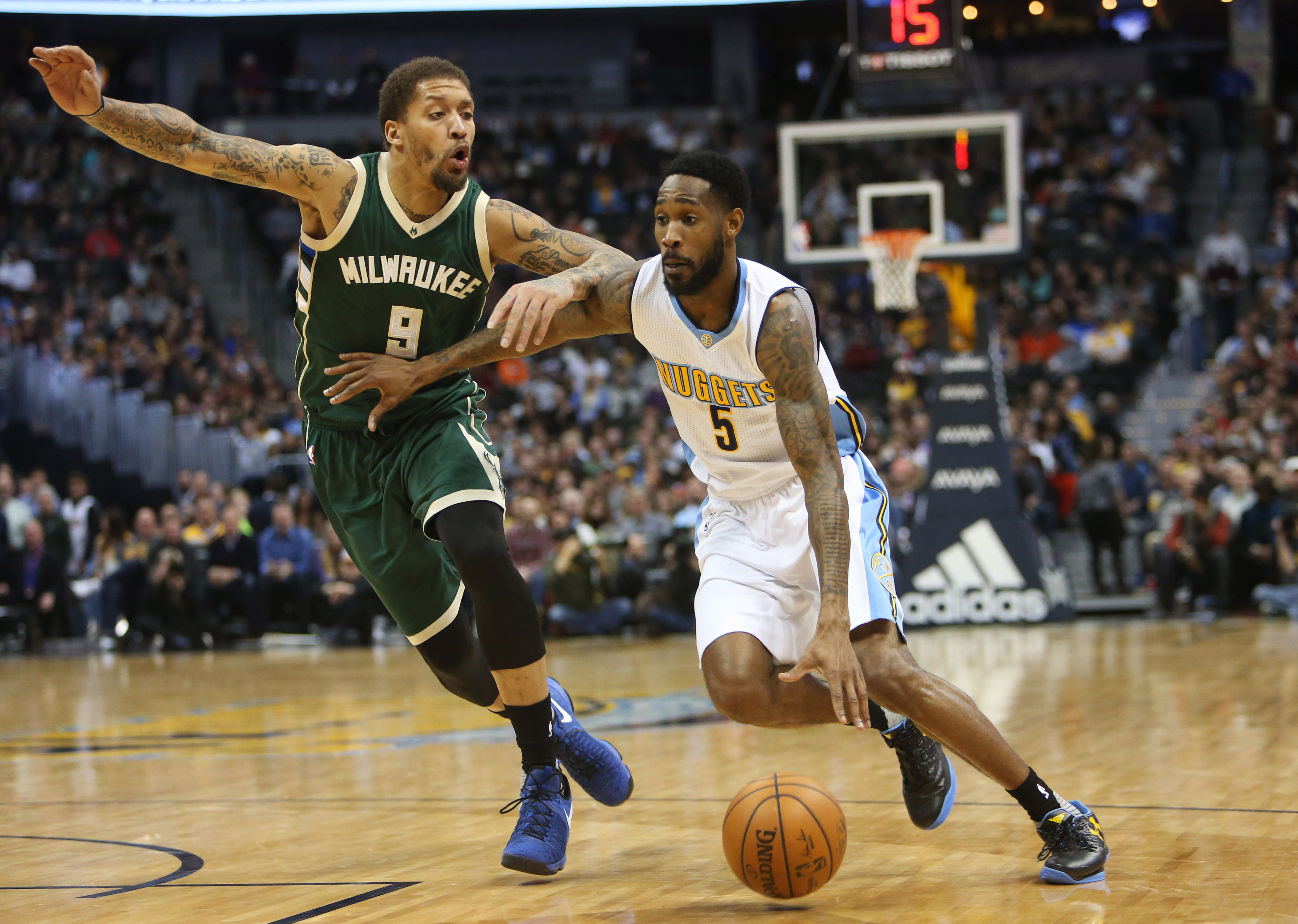 9
Michael
Beasley
PF
Last week:
3 GP: 11.0 mins/8.3 pts/2.3 rebs/0.0 asts
Last rank:
8
With Jabari Parker going down, it is likely that Michael Beasley will be called upon to play more minutes off the bench. Like Jabari, Beas is a high-volume scorer, even though he is not as versatile in doing so. Over the past week, Beasley shot just 5-11 (45.5 percent) from the foul line, which was surely a rough week, but his shooting from the floor was just fine. For a look as his efficiency from the floor, B-Easy was 10-17 (58.8 percent) and averaged a little under a point per minute this time around.
As his minutes increase, it would be a huge help to the Bucks is Beasley continued to shoot the ball with such high-efficiency and at the same volume.
8
Mirza
Teletovic
PF
Last week:
3 GP: 15.7 mins/9.0 pts/2.3 rebs/1.3 asts
Last rank:
11
In the same way as Beasley, Teletovic will also likely see an increase in minutes due to the injury of Jabari Parker. In a reasonable amount of minutes last week, Telly was just fine, knocking down four of his 11 three-point shots for 36.4 percent from deep. It was, however, what he did inside the arc that was more notable this time around. Although not typically his style of play, Mirza went 5-8 inside the three-point line, which pushed his FG% for the week up to 47.4 percent.
Mirza has had a rather shaky season this year, and has not received very consistent minutes, but that might change soon. It is painful to say, but without Jabari Parker, there are minutes to be had, and Mirza could collect a fair number of that time on the floor.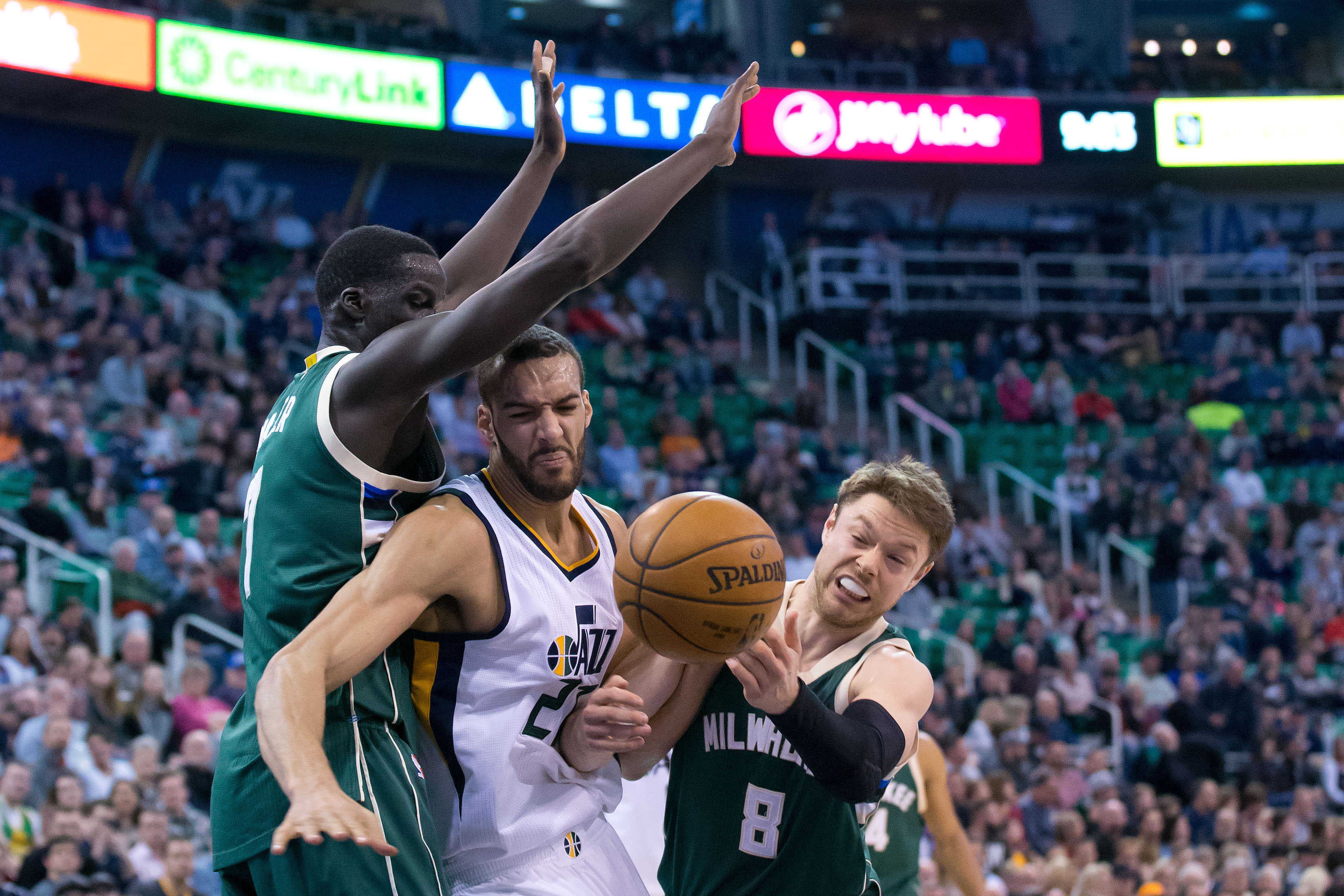 7
Matthew
Dellavedova
PG
Last week:
22.7 mins/6.0 pts/1.7 rebs/5.3 asts
Last rank:
7
50 percent, 50 percent, 50 percent. Those are the numbers across the board in FG%, 2P%, 3P% for Delly this week. Although these are very solid numbers in general, I just thought that those numbers were interesting to take note of. In addition to his shooting percentages, though, Delly was tied as the team leader for assists this week at 16 total. That assist number is very solid, but it is even better when taking into account that Delly had just five turnovers.
Along with Malcolm Brogdon, who we will get to later in the article, the Bucks point guard duo might not be flashy, but they are very consistent and both fit in their role quite snugly.
6
Jason
Terry
SG
Last week:
3 GP: 19.7 mins/7.3 pts/1.3 rebs/2.0 asts
Last rank:
9
It is hard to argue with 5-7 from three. Terry was very solid this week, knocking down the three, limiting the turnovers, and being the all-around leader on and off the court that we have seen al season. Yet, this was by far and away the Jet's best week so far this year. With Khris Middleton coming back, it will be interesting to see what happens to Terry's minutes, as he could be relegated to the third-string position at the shooting guard.
Terry seems to still have plenty of energy left for the rest of the year, and his ability to bury open jump shots is still there for the Bucks.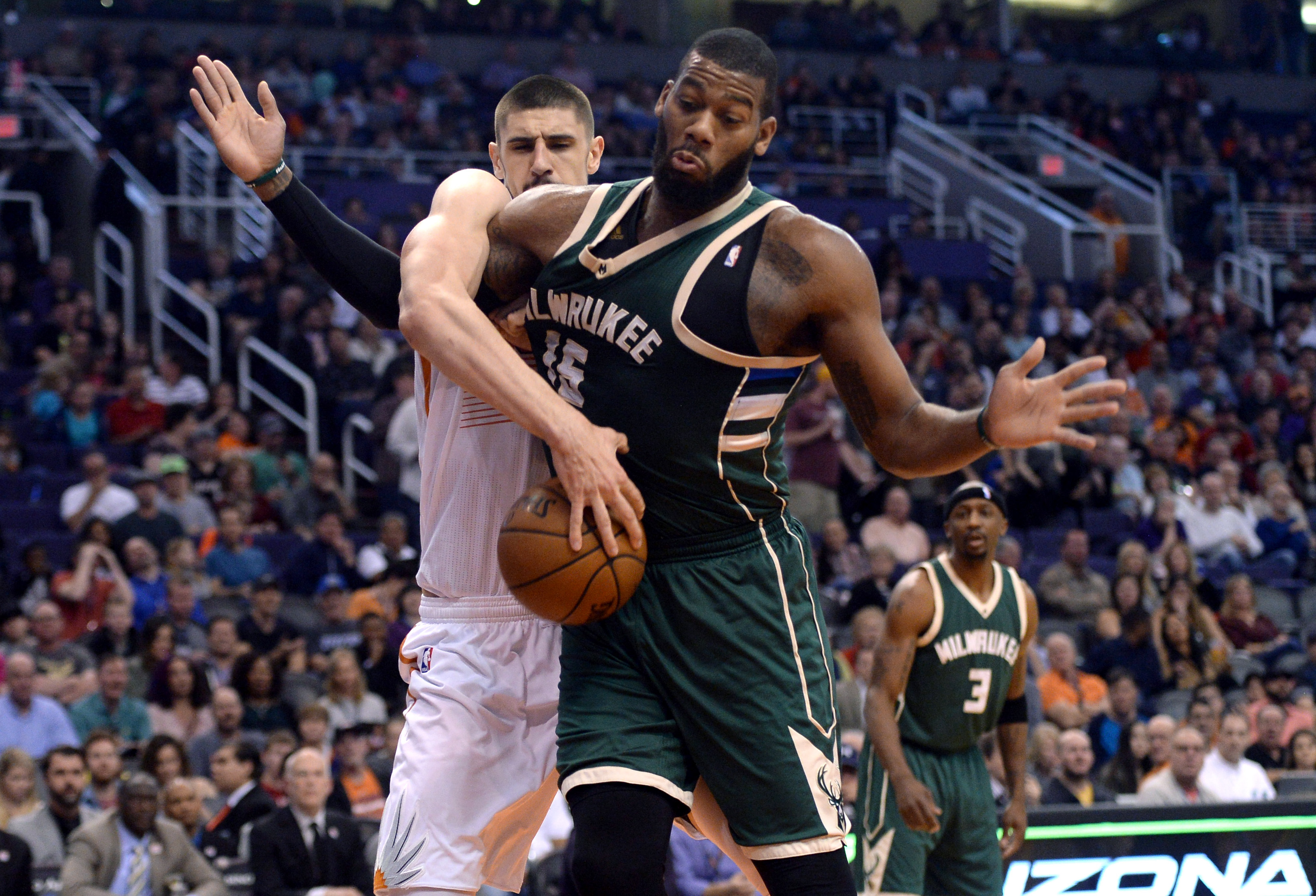 5
Greg
Monroe
C
Last week:
3 GP: 18.3 mins/9.0 pts/4.3 rebs/1.7 asts
Last rank:
2
It was not the best week we have seen from Greg Monroe this season, but it was solid yet again. Moose was 10-16 from the floor (62.5 percent) and only turned the ball over once over all three games. Even with Hawes and Hibbert joining the program soon, those two will stay below Monroe on the depth chart, as Moose has been a top-notch bench player for the Bucks who, despite the Bucks overall struggles as a team this season, should be in the discussion for the Sixth Man of the Year Award.
Even though he is not holding down a starting spot, many have speculated that this was due to not wanting both Jabari Parker and Monroe on the floor at the same time for defensive purposes. Now without Parker, could we see Monroe join the starters? Doubtful, but the question is at least worth asking.
4
John
Henson
C
Last week:
3 GP: 27.0 mins/12.0 pts/5.7 rebs/0.3 asts
Last rank:
13
Henson had a very good week this time around. He finished third on the team in rebounding and was also solid on the offensive end. J-Hook has actually had a very efficient year in the post, and that continued during this week, where he was 14-23 from the floor for 60.9 percent. After missing the starting lineup a couple of times a week ago, Henson was the starter for all three games this week, and proved that he belonged.
J-Hook will likely stay as the starter for much of the rest of the season and if he can keep up this high level of play, hopefully the rest of the team will go with him.
3
Malcolm
Brogdon
President Guard
Last week:
3 GP: 27.3 mins/8.7 pts/2.7 rebs/5.3 asts
Last rank:
5
Like every other week this season, Malcolm gonna Malcolm. Brogdon attempted the majority of his shots inside the arc this week (18 inside, four outside), and was solid on those attempts, going 9-18. In addition to his shooting, Brogdon was on par with Delly as the two lead men in the assist category, at 16 for the week. The President Guard also only committed four turnovers and continued to show his poise on the court.
Now with Khris Middleton rejoining the backcourt, things might start to get a little congested with Delly, Snelly, Khris, and Brogdon.
2
Jabari
Parker :'(
PF
Last week:
3 GP: 28.7 mins/19.7 pts/7.0 rebs/2.7 asts
Last rank:
3
Jabari Parker's injury is an absolute crusher, and there is not doubt about that. Jabari was having a great season and was in the midst of another very solid week. He has been a 20 points per game man all year long and making up not only for his scoring output but also for the minutes he played will be a tough challenge for Jason Kidd's roster. Making up for the loss of Major Cat is going to be a Major Challenge that will be interesting to follow for the rest of the year.
With the next year to cover from his second ACL injury, the hope is that Parker can come back just as strong and ready to contribute alongside the rest of the roster.
1
Giannis
Antetokounmpo
SF
Last week:
3 GP: 35.0 mins/25.0 pts/9.3 rebs/4.0 asts
Last rank:
1
Yet again, we take a look at where Antetokounmpo stood on the team in terms of rankings for the week to get a grasp of how strong his play.
Minutes: 1st.
Points: 1st.
Rebounds: 1st.
Assists: 3rd.
Blocks: 1st.
FTM and FTA: 1st.
Although the Bucks struggled on the whole, Giannis Antetokounmpo continues to show his capabilities as the All-Star the Bucks have. Without Jabari Parker for the rest of the year, Giannis will need to play at an even higher level to get the Bucks back on track for wins.
Check back next week for another edition of the Bucks' player power rankings!
More from Behind the Buck Pass
This article originally appeared on