Milwaukee Bucks: Player of the Week (Oct. 30 – Nov. 5)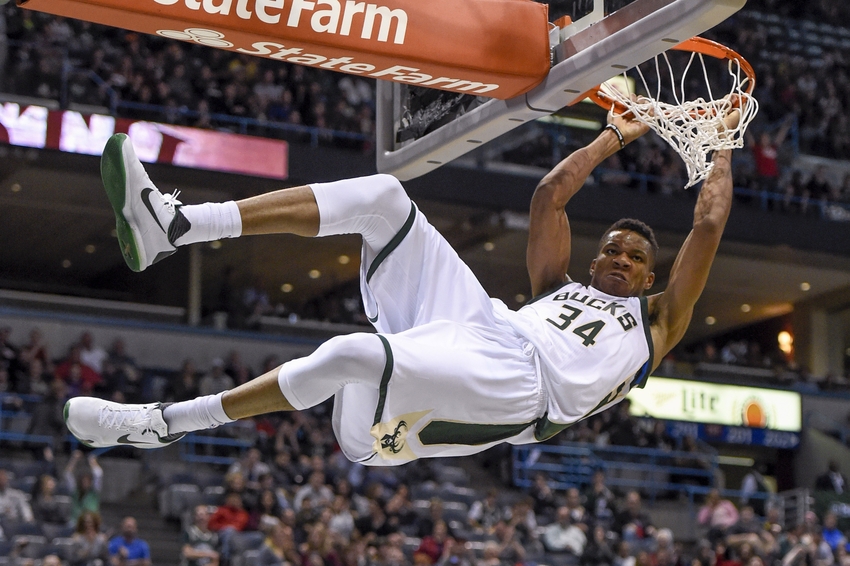 The Milwaukee Bucks played four games in week two. They won three of them and now have a cumulative record of 4-2. The team looked really good and three players were a big reason for that success.
After a workman like week one the Milwaukee Bucks exceeded expectations in week two.
They played four games, two of which were against teams they should beat and two of which were against teams they should lose to. They beat the teams they should beat, the New Orleans Pelicans and the Sacramento Kings, and split with the teams they should lose to, losing to the Detroit Pistons and beating the Indiana Pacers.
It was a great week for Bucks basketball. Beyond the wins, the team just looked pretty darn good. Different players seemed to step up in each game and the young franchise cornerstones took it to their opponents every night. If this team continues to play like this the rest of the association is going to be in trouble.
The most notable team stat was three-point shooting. Over the past four games the Bucks attempted 27.3 threes per game, 14th most in the NBA, and made 36.7 percent of those threes, ninth highest in the NBA. For a team that struggled with shooting and making a league average amount of threes last year this is a really positive sign.
The top two players of the week easily differentiated themselves from the pack. Choosing the third guy was hard, however. There were six candidates who had a reasonable chance to earn that third spot. All six had resumes marked by some positives and negatives throughout their performances. One had just the right mix of solid traditional stats and strong advanced stats to take the cake.
Let's see who that was.
Milwaukee Bucks Player of the Week Rankings
???
???
Greg Monroe
Moose played in all four games this week and averaged 18.1 minutes, 9.8 points (on 48.3 percent shooting), 8.8 rebounds, and 3.5 assists. He was first on the team in rebounds, third in points, and tied for third in blocks.
Five Bucks played more minutes than Greg Monroe this week and yet none of them were able to accumulate rebounds like he did. Monroe gobbled up 16.8 rebounds per 36 minutes. In fact, in the last four games, Greg leads the NBA in rebounds for players who have played less than 20 minutes. Sometimes less is more and so far that has been true with Monroe and playing time.
Another impressive contribution from Moose came in the form of dishing the rock. Greg Monroe is tied for first in the NBA with Joakim Noah over the past four games for centers in assist percentage with 26.4 percent. He is a major contributor on the offensive end in terms of getting his teammates in the right positions to score.
As usual Greg's offense was solid. He scored the third most points on the team this week and did it efficiently in short bursts of time. There wasn't much playing time to get a real rhythm going on, but he still got over seven shots up per game, connecting on about half of them. He also went to the free line the third most on the Bucks this week, with 3.0 attempts per game. And when he went there he connected, hitting over 91 percent of his attempts.
Finally, we have to touch on Moose's defense. It wasn't as sharp as week one but it got the job done most nights. He averaged 0.8 steals and 0.8 blocks per game this week. Of the players who played less than 20 minutes per game, only Rashad Vaughn had more steals and only Miles Plumlee had more blocks than Monroe. He did not accumulate defensive stats as effortlessly as last week but his presence was felt in limited playing time.
Through two weeks of the season Moose 2.0 still exists. It appears the new Monroe will play fewer minutes and impact the game with energy, effort, and the throwback post up game we know and love. His role with the Bucks is so much more defined this season and it is working out well for everyone.
Milwaukee Bucks Player of the Week Rankings
???
Jabari Parker
Greg Monroe
Major Cat played in all four games this week and averaged 29.2 minutes, 20 points (on 49.2 percent shooting from the field and 40.0 percent shooting from three), 5.5 rebounds, and 1.0 steal per game. He was second on the team in points and third in rebounds.
After a so-so first week of the season Jabari Parker was back with a vengeance in week two. He was far and away the Bucks second best player edging out Monroe by a significant margin. His scoring, floor spacing, and rebounding were the major contributions he brought to the Bucks.
Let's start with the floor spacing because it seems to have materialized out of thin air. We all knew Jabari had three-point range going back to his time at Duke. But he has yet to start firing up treys in the NBA at a rate that most would expect of an above average college shooter. It appears the Bucks coaching staff has finally given Jabari the green light from three.
Parker attempted 2.5 threes per game this week and made 40 percent of them. The combination of that volume and efficiency was matched by 59 NBA players over their last four games. Sure, that isn't some amazing feat, but for a guy like Jabari, who rarely attempted threes before this week, to go from the bottom to an above average three-point shooter in the league is nothing to scoff at.
Maybe the attempts and percentage won't persist throughout the course of the season but if Jabari is simply a threat to take and make threes then pairing him and Giannis together on the court is so much easier. That can only be seen as a positive for Milwaukee.
Beyond the improved three-point shooting, Jabari was excellent in the other aspects of offense. He scored at will near the hoop. His tenacity and athleticism make him a force to be reckoned with on the inside, whether that is on the fast break or in the half court.
Here is some down low domination:
And here is some fast break flying around:
His ability to get to the hoop is second to none. When he isn't able to convert he often gets a foul called in his favor. Jabari was second on the Bucks this week in free throw attempts with 4.3 per game. Even better was his excellent free throw shooting percentage of 94.1.
This was likely the most balanced week offensively of Parker's career. He scored from inside and out on efficient shooting. If he can continue to play like this the Bucks offense is going to be scary.
Milwaukee Bucks Player of the Week Rankings
Giannis Antetokounmpo
Jabari Parker
Greg Monroe
Point Giannis played in all four games this week and averaged 32.0 minutes, 21.3 points (on 50 percent shooting), 8.0 rebounds, 8.0 assists, 1.8 steals, and 2.0 blocks. He led the team in points, assists, and blocks and was second in rebounds and steals. Additionally, he led the team in plus/minus at +11.
For a second straight week Giannis Antetokounmpo did it all. He is unequivocally the best player on the Milwaukee Bucks and he is trending towards All Star status. It is fitting that Halloween occurred during week two of the NBA season because Giannis played like a monster.
Here are some interesting stats from the past four games that involve Antetokounmpo:
For players who played at least 32 minutes per game only LeBron James, DeAndre Jordan, and Blake Griffin had a higher plus/minus on the court than Giannis.
LeBron and Giannis were the only two players to average at least 20, 8, and 8.
Draymond Green, Anthony Davis, and Giannis were the only players to average at least 1.5 steals and 2.0 blocks.
Giannis was one of 17 players to average over 6.0 free throws per game and make over 80 percent of them.
The do it all point forward of the Bucks is playing out of his mind to open the season. He looks unstoppable. The video does a better job explaining his excellence from this week than words ever could.
He creates instant offense from playing solid defense:
He is unguardable when he has head full of steam moving toward the bucket on the fast break:
Confidence in his outside jumper is growing every game:
His passing is filthy in the half court:
And he can come from out of nowhere to protect the rim against the best dunkers in the business:
His only notable flaw this week was shooting a lot of threes and missing most of them. He attempted 3.0 a game and made under 17 percent of them. The confidence in his shot is really positive. Now he just has to get it under control and understand his limits.
Giannis Antetokounmpo is playing great. It seems that as he goes the Bucks go. If he can continue dominating, then the Bucks are going to win a lot of games in 2016-17.
Week 2 Wrap Up
The Milwaukee Bucks looked really good over the past seven days. They played some good and some bad teams and competed in every game. They were beaten badly by the Detroit Pistons but that is going to happen from time to time against good teams. That tough loss didn't set the tone for the rest of the week, however, as they won the following three games.
Milwaukee got contributions from almost everyone this week. Even though Giannis and Jabari were the only two to score in double figures, six other Bucks averaged at least eight points per game. The up-and-coming stars did the heavy lifting but their teammates helped lighten the load from time to time.
Playing like this seems like it will afford the Bucks success. If they can lean on Giannis and Jabari and get a three here from Mirza Teletovic, a defensive stop there from Matthew Dellavedova, an assist here from Malcolm Brogdon, and some instant offense there from Michael Beasley this team will continue to get wins.
For the Bucks to have played like they have this week without a member of their big three is impressive. The only question now is whether this the best the Bucks can expect to play without Khris Middleton or is their a higher level that can be reached? Tune in next week to find out.
Player of the Week Rankings over the course of the season
Giannis Antetokounmpo (2)
Greg Monroe (1), Jabari Parker (1)
Greg Monroe (1), Matthew Dellavedova
More from Behind the Buck Pass
This article originally appeared on