Milwaukee Bucks Player of the Week (Nov. 6 – Nov. 12)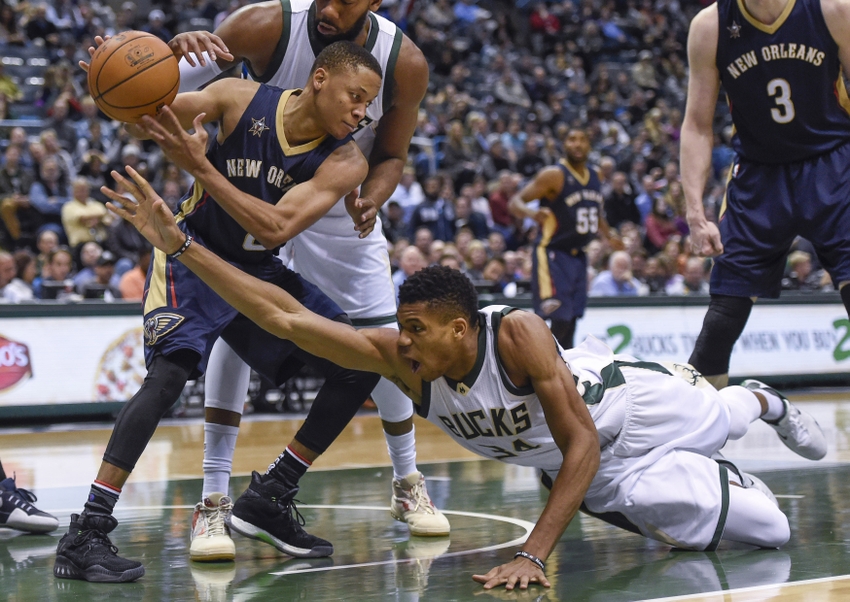 The third week of the NBA season was a wacky one for the Milwaukee Bucks. They won the game they were expected to lose and lost the two games they were expected to win. Overall it was a disappointing week.
On paper a 1-2 week simply means a team played a substandard level of basketball. But this week was anything but simple for the Milwaukee Bucks. They failed to secure two victories against winless teams, the Dallas Mavericks and New Orleans Pelicans, and then effectively outplayed a competitive 4-4 squad, the Memphis Grizzlies, to claim a win.
The victory over the Grizzlies saved this week from being an early season disaster. It is never easy to give up a W to a winless squad. To do it twice in one week is just plain disappointing. Those two glaring losses made this week the worst of the young season for the Bucks.
Five Bucks performed really well this week amidst the chaos. Two of them easily separated themselves from the pack. That left the other three to duke it out for the final spot in the rankings. It was hard to decide on the final player but a few key points made all the difference.
The five Bucks who played well were a noticeable bright spot in an altogether tough week for the team. Obviously, individual performance doesn't always correlate with team performance but if more players on Milwaukee followed the example of the top five this week then more victories would have materialized.
Fortunately for Bucks fans this is a individual-themed piece. That means we get to celebrate the highs of the best players over the past seven days. Maybe that will be enough to get us to next week where perhaps the team will get back to performing better together.
Let's get to the rankings!
Milwaukee Bucks Player of the Week Rankings
???
???
Michael Beasley
B-Easy played in all three games this week and averaged 14.0 minutes, 11.7 points (on 66.7 percent shooting), 3.7 rebounds, and 1.0 assist. He was third on the team in points. Additionally, he led the team in plus/minus at +6.7.
If you want to see the dictionary definition of instant offense then look at what Micheal Beasley was able to accomplish this week. With a small workload, he outscored five of his teammates who played more minutes than he did. His points per 36 minutes led the team by a healthy margin.
Over the past week only seven NBA players averaged 10 points or more per game while playing less than 20 minutes per game. Of those, Beasley played the fewest minutes and had the third highest scoring total. So essentially, he was in a class of his own when it came to role player scoring.
His explosive scoring contributed to him pacing the Bucks in many important advanced statistical categories. He had the best offensive rating, beating out his next closest teammate by over 10 points. Because of that excellent offensive rating he was the only Buck with a net rating of +20 or higher.
The point totals were certainly Beasley's greatest contribution this week but it wasn't the only thing he brought to the table. Per 36, Michael averaged 9.4 rebounds, 2.6 assists, and 1.7 steals. In short spurts he provided a lot of scoring and chipped in with contributions in other areas too. Not a bad week at all for a guy who was playing pro ball in China for most of last season.
Milwaukee Bucks Player of the Week Rankings
???
Jabari Parker
Michael Beasley
Major Cat played in all three games this week and averaged 36.1 minutes, 21.7 points (on 44.8 percent shooting), 6.7 rebounds, and 1.3 assists. He was first on the team in scoring and third in rebounds.
Besides scoring Jabari Parker did very little else to make his mark this week. Yet it was more than enough to separate himself and earn the second spot in the player of the week rankings. The way he scores so ferociously inside and so smoothly from the outside makes his offensive game fun to watch.
Parker unleashed a lot of threes this week, attempting 3.7 per game. Unfortunately, he only connected on 27.3 percent of them. Shooting more threes, regardless of the subpar percentage, seems to be benefiting the offense and Parker himself. The defense needs to respect his jumper to some degree and that allows him to have a little more space to operate.
So far this season Jabari is shooting 34.8 percent on 2.6 threes per game. If he is going to shoot a lot of threes, like he did this week, it would be nice to see that percent rise to his season average. It wouldn't be surprising if that happens given Jabari's pedigree as a shooter and what he has done so far this season, albeit on fewer attempts per game.
Parker attempted 8.0 of his 19.3 shots from within five feet this week. Getting to the hoop is easy for him and when he does it the scoring comes pretty easily as well. He shot 54.2 percent from inside. Only DeMarcus Cousins, Blake Griffin, Hassan Whiteside, Karl Anthony-Towns, Russell Westbrook, and Jabari averaged 8.0 shots or more from within five feet in their past three games.
The best shooting of the week came from the mid-range. Jabari attempted just under six shots per game and made just under 60 percent of them. That efficiency helped the Bucks thrive at times on offense.
When no one else can buy a bucket the team can feel confident deferring to Parker. His ability to score all over the court makes him a major threat to opposing defenses. Even in a poor week for the team Jabari showed his stripes offensively. It doesn't appear he'll be slowing down anytime soon.
Milwaukee Bucks Player of the Week Rankings
Giannis Antetokounmpo
Jabari Parker
Michael Beasley
The Alphabet played in all three games this week and averaged 32.7 minutes, 18.3 points (on 48.8 percent shooting), 7.7 rebounds, 2.7 assists, 2.7 steals, and 2.7 blocks. He led the team in rebounds, steals, and blocks and was second in points and assists.
While Michael Beasley and Jabari Parker's impact on the Bucks this week came mostly on the offensive end Giannis Antetokounmpo's impact came primarily on the defensive end. As you might imagine, Giannis was in a league of his own as the only NBA player to average at least 2.5 steals and 2.5 blocks per game over their past three games.
But that great defense didn't translate to much more than just gaudy numbers in the box score. The Bucks as a unit had a 102.9 defensive rating when Antetokounmpo was on the floor this week. That isn't horrible but it certainly isn't good either.
While his individual defense was beautiful, his offense was so-so. It was clearly his worst offensive week of the season because he failed to register a lot of assists and turned the ball over way too much. Once you get beyond that, things actually looked pretty good.
He approached 20 points per game while sniffing 50 percent shooting. Most importantly he paced the Bucks in free throw attempts at 7.0 per game. Only 17 of his peers in the NBA averaged that many free throw attempts or more per game.
All in all, it adds up to a very average week for Antetokounmpo. When the stat line of 18.3-7.7-2.7-2.7-2.7 looks blah you know you are doing something right. Most players would kill for a three game stretch with those numbers. But we view Giannis through a different lens than most players. Being the Bucks player of the week doesn't automatically mean he had a good week by his standards anymore.
Week 3 Wrap Up
After a bad week of basketball the Milwaukee Bucks still find themselves over 0.500. A 5-4 record through three weeks is nothing to scoff at, especially after how tough it was to get wins last year. The Bucks certainly aren't going to win the East in the regular season but they have positioned themselves well for a playoff birth so far.
It goes without saying that just because Milwaukee has done what they must to make the playoffs after three weeks doesn't mean they will have done what they must to make the playoffs after 20 weeks. This is a long season and nothing can be taken for granted.
It continues to become more and more clear that the Milwaukee Bucks will only go as far as Giannis and Jabari take them. The young duo has performed well to start the season but when they struggle the team has a very small chance of winning.
This is a good thing for the Bucks. All this pressure on Giannis and Jabari will give them a crash course in how to lead an NBA team. They are just 21 so we should expect them to be learning more than they are dominating. If they can pepper in a little dominating on the side it is icing on the cake for the Bucks and their fans.
Every week is a journey for Milwaukee. The ups and downs are what is going to make this season interesting and fun. This team is going to compete with the upper echelon teams in the NBA some nights and give up wins to the teams dwelling in the basement other nights. Tune in next week to see if the Bucks roller coaster ride is just as bumpy.
Player of the Week Rankings over the course of the season
Giannis Antetokounmpo (3)
Jabari Parker (2), Greg Monroe (1)
Greg Monroe (1), Matthew Dellavedova (1), Michael Beasley (1)
More from Behind the Buck Pass
This article originally appeared on