Milwaukee Bucks Player of the Week (Nov 27. – Dec 3.)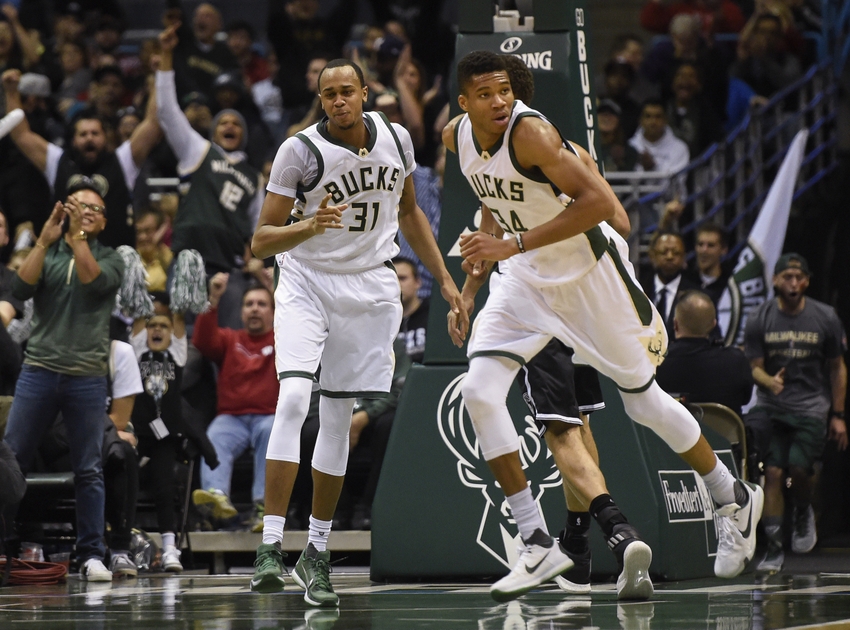 Week 6 of the NBA season was easily the best so far for the Milwaukee Bucks. They had a blemish free 4-0 record and many of their players showed some excellent stuff. Only three can call themselves players of the week, however.
A 4-0 week is a beautiful thing. Just ask the Milwaukee Bucks – they can tell you from first hand experience of how great it is.
Milwaukee came into this week with three very winnable games and one game they were absolutely expected to lose. The winnable games all went according to plan. The Bucks bested the Orlando Magic to start the week and then defeated the Brooklyn Nets twice to conclude it.
In the middle of the week Milwaukee flipped the script. They somehow blew out the defending champion Cleveland Cavaliers. It wasn't some kind of fluky performance either. The Bucks dominated in most phases of the game and looked like the better team from the second quarter onward.
How did Milwaukee achieve this momentous week? The answer is simple: a bunch of men, mostly in their low twenties, came together and played tremendous team basketball. Through this shining example of how to hoop like a team there were plenty of notable individual performances.
Interestingly enough, many of the players who really stepped up their game were ones who have not been looked upon highly by these player of the week rankings so far this season. But with a lot of key plays and consistent excellence throughout the four game winning streak, these unheralded individuals deserve some recognition.
Let's get to it by discussing and honoring one of the most controversial Bucks in recent memory!
Milwaukee Bucks Player of the Week Rankings
???
???
Moose played in all four games this week and averaged 20.8 minutes, 10.0 points (on 57.1 percent shooting from the field), 6.5 rebounds, 2.0 assists, and 2.0 steals. He was second on the team in steals and third in rebounds.
Good ole Greg Monroe played some excellent basketball this week. There were a lot of worthy candidates for the final slot in the rankings but Monroe earned his position by putting on a masterful performance in the biggest game.
Moose had a plus/minus of +23 against the Cleveland Cavaliers, tied for the best on the Bucks. He did that by playing a really smooth game. The 14 points on only eight shots, four assists, and two steals off of the bench were instrumental in Milwaukee's biggest win of the season.
Surprisingly, Moose's most consistent contribution to the Bucks this week was creating turnovers. He averaged two steals a game and had at least one steal in all four games. This newfound ability to generate takeaways mixed with Monroe's astute passing abilities are the catalyst for fast break after fast break.
The steals are what he provides in the box score but his impact on the defensive end goes beyond just counting stats. Monroe had the second best defensive rating on the Bucks at 87.9.
In limited playing time, Greg was able to take advantage of his opportunities on offense. He was tied for second on the Bucks in terms of shooting percentage. But it wasn't just shooting well from the field. Monroe also killed it from the free throw line, shooting roughly 89 percent on just over two attempts per game.
A lot of players with Greg Monroe's pedigree might have taken the season off when relegated to a bench role with less playing time. But Moose has came out and frequently made the most of his playing time. He won't be winning sixth man of the year this season but he is a vital contributor that gives the Bucks bench plenty of advantages. We saw a lot of those advantages manifest themselves in this 4-0 week.
Milwaukee Bucks Player of the Week Rankings
???
Greg Monroe
Hook played in all four games this week and averaged 25.2 minutes, 14.8 points (on 55.0 percent shooting), 7.8 rebounds, 1.5 assists, and 3 blocks. He was tied for first on the team in blocks, was second in rebounds, and third in points.
The Milwaukee Bucks have a lot of money invested in their centers. This week it paid the team dividends and John Henson was a major reason why.
This was easily the best week of the young season for Henson. The 25 year old started all four games while providing a net rating of +13.8 and a plus/minus of +7.5, both top five on the team for week six.
When you talk about Henson it always starts with the defense. Only five NBA players, including Henson, averaged at least 3.0 blocks per game in their past four games. Henson is an elite rim protector and when he is in the game opposing offenses often have a difficult time manufacturing good looks at the rim.
Like Greg Monroe before him, shooting efficiency was also a major positive for Hook. Henson averaged 55 percent shooting on exactly 10 attempts per contest. But, again like Moose, free throws were the real highlight. Henson attempted 4.5 attempts per game, the third most on the Bucks, and made over 83 percent of his attempts.
Scoring-wise, this is arguably the best four game stretch of John's NBA career. His career per game averages of 7.8 points on 53 percent shooting and 2.1 free throw attempts at 56 percent shooting were all bested this week.
Finally, the last notable contribution Daddy Long Legs provided was his rebounding. He tied for the team lead with 2.5 offensive rebounds per game and was second on the team with total boards. This was the first time all season he has been in the top two on the Bucks in rebounds per game for a week.
For five straight weeks John Henson was a dormant mountain of a man giving the Bucks little in-game production. Week six changed the course of his season and energized the Bucks as a team on the rise. If he can continue playing this well then good things are in store for Milwaukee and the all important win column.
Milwaukee Bucks Player of the Week Rankings
John Henson
Greg Monroe
The Greek Freak played in all four games this week and averaged 32.4 minutes, 22.8 points (on 60.4 percent shooting), 9.8 rebounds, 5.8 assists, 3.0 steals, and 3.0 blocks. He led the team in points, rebounds, and steals, was tied for first in blocks, and was second in assists. Additionally, he paced the Bucks in plus/minus with +14.
What a phenomenal week for the man who is becoming one of the greatest players in the NBA today. Giannis' ability to stifle the opposition's offense from paint to perimeter while running his own team's offense is matched by only a few in the history of the association.
Giannis made his mark everywhere this week but it was defensively was where he shone brightest. Including Antetokounmpo, only seven NBA players averaged at least 1.5 steals and 1.5 blocks per game. Not a single one of them averaged at least three in either statistical category. Giannis averaged three per game in both categories.
As we mentioned when discussing John Henson's accolades, there were only five players who averaged at least three blocks per game in their past four. To go along with that there were only four players who averaged at least three steals per game. How in the world does anyone cross into both categories for a four game stretch?
If you strip him of his defensive accomplishments, Antetokounmpo's week is still really special. Seven players were able to maintain averages of at least 20 points and nine rebounds per game in their past four. If you add averaging at least five assists to that it becomes just two players: Russell Westbrook and Giannis.
If you strip him of everything but just his scoring, you'll once again find Antetokounmpo measures up to the league's elite. 11 NBA players averaged at least 20 points on a minimum of 50 percent shooting from the field over the past week. Just three of them shot better than 60 percent: Kyle Lowry, Hassan Whiteside, and Giannis.
Oh and if you weren't impressed yet this might get you there – Antetokounmpo attempted 2.8 threes per game and sunk 45.5 percent of them.
The Greek Freak is an absolute madman on the basketball court and the entire league knows it. He has his team trending towards the playoffs and it is going to be extremely challenging for the mere mortals of the NBA to slow him down.
Week 6 Wrap Up
There have been a lot of ups and downs in this young season for the Milwaukee Bucks. This week might just be the pinnacle of the year if they fail to reach the playoffs. If that does happen and Milwaukee is back to watching ping pong balls in the NBA draft lottery then this week will serve as a reminder of the potential excellence this team can achieve.
After a few weeks where it was a challenge to find deserving candidates for the player of the week rankings this week was refreshing. At least seven Bucks had a reasonable argument for the third place spot. More weeks like this will ensure Milwaukee is maintaining its novel winning ways.
The Bucks have another four game week ahead of them. This time the competition will be kicked up a notch. This week they played only one team above 0.500. Next week they face two such teams and one team that is essentially at that 0.500 mark.
The increase in challenge comes at a good time for Milwaukee. The team and the NBA in general want to see what the Bucks are made of. If the escape this week with a 3-1 or 4-0 record it will be a confirmation that this team is in fact for real.
Tune in next week to see if the Bucks can keep this up.
Player of the Week Rankings over the course of the season
Giannis Antetokounmpo (6)
Jabari Parker (4), Greg Monroe (1), John Henson (1)
Greg Monroe (2), Matthew Dellavedova (2), Michael Beasley (2)
More from Behind the Buck Pass
This article originally appeared on