Milwaukee Bucks Player of the Week (Nov 13. – Nov. 19)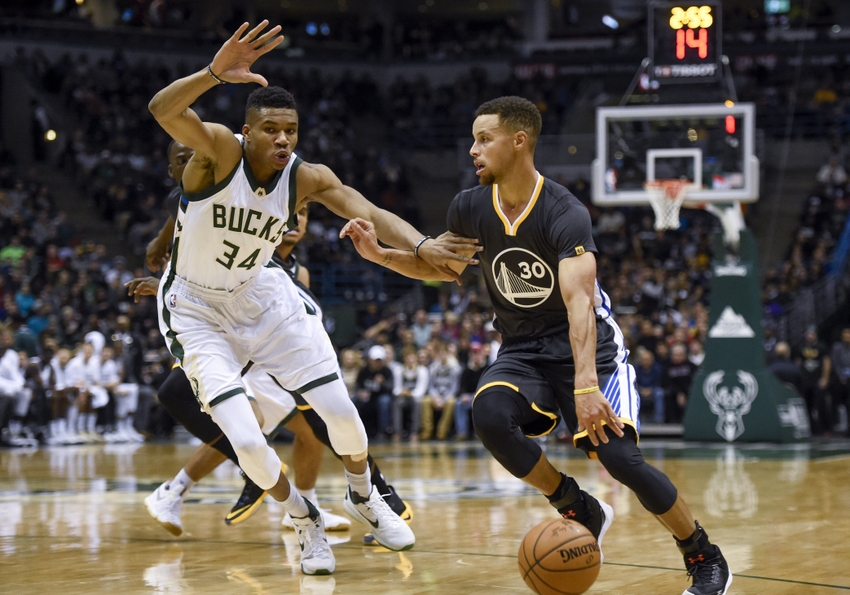 The Milwaukee Bucks lost all three of their games in the fourth week of the NBA regular season. In the midst of the losing three Bucks played like winners.
What do the Atlanta Hawks, Miami Heat, and Golden State Warriors all have in common? They took care of business on the basketball court against the Milwaukee Bucks this week.
The Hawks and the Warriors are unquestionably better than the Bucks. So losing those games is nothing for Milwaukee to be ashamed of.
The Bucks were within five points of the Hawks with under five minutes to play in the fourth quarter until ultimately losing by seven. The Warriors game was even more exciting with the Bucks putting themselves in a real position to win, being down two with under three minutes left in the fourth quarter until ultimately losing by three.
Sandwiched between those competitive losses to quality opponents was the definitive lowlight of Milwaukee's week. The Bucks lost to the Heat by a resounding 23 points. If the Bucks wanted to win a game this week this was the one to do it, yet they played like it wasn't a game they needed to win.
Within the losses fueled by underachieving team performances there were some individual bright spots. The top two in this weeks player of the week rankings certainly qualify as bright spots. Following behind is a herd of other Bucks looking for the third place spot.
Let's see who claimed that final spot along with the rest of the rankings!
Milwaukee Bucks Player of the Week Rankings
???
???
Delly played in all three games this week and averaged 30.7 minutes, 6.0 points (on 42.9 percent shooting from three), 2.7 rebounds, 7.0 assists, and 1.3 steals. He led the team in assists and was second in steals.
Don't let his inclusion in the player of the week rankings fool you, this wasn't a stellar week from Matthew Dellavedova. But when the Milwaukee Bucks couldn't buy a win almost all of the players on the team found ways to underperform. Basically the opposite of the expression, "a rising tide lifts all boats."
Even though Delly more-or-less played below average by his standards he did what the Milwaukee Bucks paid him to do. He ran the offense, got his teammates involved, played solid defense, and made some threes.
His biggest contribution came in the form of getting his teammates involved. Dellavedova made great decisions when the ball was in his hands in all three of this week's games.
The best indicator of this was his team leading assist-to-turnover ratio of 5.3. That was more than double the AST/TO ratio of the next best Buck. In fact, Delly was one of only 11 NBA players with an AST/TO at five or higher over their past three games.
Shooting from inside the arc did not go so well for Dellavedova this week. He shot 30.4 percent from the field. On the other hand, shooting from three-point territory went much smoother. He shot 42.9 percent from three on 2.3 attempts per game. The Bucks need Delly to space the floor for their less effective shooters. So far he has managed to do that.
The final contribution made by Matthew was perimeter defense. Guarding the most talented ball handlers in the world on a nightly basis is no easy task yet Delly always seems to find a way to make those guys' jobs difficult. Against the Warriors for example, Delly primarily guarded Steph Curry. He held the two time MVP to 1-11 from three and 33.3 percent shooting overall.
It wasn't his best week but Dellavedova did what he could to keep the Bucks competitive in their many losses. His impact was small but truly present. That's more than most of his teammates can say.
Milwaukee Bucks Player of the Week Rankings
???
Matthew Dellavedova
Major Cat played in all three games this week and averaged 34.8 minutes, 20.7 points (on 44.8 percent shooting), 7.0 rebounds, 3.3 assists, and 1.7 steals. He led the team in steals, was second in points and rebounds, and was third in assists.
This was Jabari Parker's most well rounded week of the season. He has been the second best player on the Bucks so far in 2016-17 and he has done that by scoring the rock. But this week he made additional contributions that made his performances look even more impressive.
The biggest ancillary aspect of Parker's game this week was rebounding. He has averaged 6.4 rebounds per game this season so being able to average 7.0 per game over the past three games was a real improvement.
Coming out of college everyone expected Parker to average over 20 points per game for his career. But many analysts also expected him to be an effective rebounder at the NBA level. He has been inconsistent in that department so far in his short career but if weeks like this become the norm then he will become more than just a shot maker.
The next biggest supplementary aspect of Parker's game was defense. He was much more active on the defensive end than in weeks prior. It showed in the stats too. Parker led the Bucks in steals for the week, the first time he has done so all season. If he can play with consistent energy on D then his athleticism can be weaponized to cause a touch of havoc for opposing offenses.
That brings us to the meat of why Parker was the second best Buck this week and the second best Buck all season – he gets buckets.
Jabari can score from anywhere in a litany of ways. Once again, his most effective scoring location was the mid-range area. For the second week in a row Parker was ruthlessly efficient shooting midrange jumpers. He attempted 3.7 per game this week and connected on over 63 percent of them. Only 18 NBA players, including Jabari, made over 60 percent of their midrange shots while shooting a minimum of two per game in their past three games.
The scoring and rebounding Parker provided this week was pretty good. His ability to continue to do that throughout the season while maintaining some defensive effectiveness is going to be a key driver of the Milwaukee Bucks' success this year.
Milwaukee Bucks Player of the Week Rankings
Jabari Parker
Matthew Dellavedova
The Alphabet played in all three games this week and averaged 38.8 minutes, 23.3 points (on 43.3 percent shooting), 8.7 rebounds, 5.7 assists, 1.0 steal, and 2.0 blocks. He led the team in points, rebounds, and blocks and was second in assists, and third in steals.
It isn't surprising anymore for Giannis to finish a week top two in most of the major statistical categories for the Milwaukee Bucks. In fact, it isn't really surprising if he finishes a week in the top spot of major statistical category, so maybe this week was a disappointment in that regard.
Let's start with examining who else in the NBA matched Giannis in some fancy statistical thresholds this week:
Anthony Davis was the only other player to average at least 20 points, two blocks, and one steal per game.
Draymond Green was the only other player to average at least five assists and two blocks per game.
DeMarcus Cousins was the only other player to average at least 20 points, eight rebounds, five assists, one steal, and one block per game.
He's a point guard that compares favorably with the best big men in the NBA today. What a time to be alive!
The elite counting stats from all five major categories are becoming routine for Antetokounmpo. There are very few players in the association who can chip in great numbers all across the stat sheet. Antetokounmpo is slowly becoming one of the best of those great NBA ballers.
Points are always nice but often the other stats are just as, if not more, important to the success of a team. Giannis is frequently in position to make winning basketball plays and he executes more often than not. Even though it didn't materialize into wins for Milwaukee this week, those same plays are going to lead to wins down the road.
His scoring output wasn't the best it's been this season for Giannis but he certainly didn't struggle. His shooting percentage wasn't excellent but that was in large part because of his difficulties from three. Shooting 14.3 percent on 2.3 threes per game sabotaged his efficiency.
When he choose not to shoot threes, things like this happened.
While long range shots baffled Giannis all week, he got to the free throw line easily and often. He shot 77.3 percent on 7.3 attempts per game. Only 12 players in the NBA attempted at least seven free attempts per game in their past three games.
The assist-rebound combo that the Alphabet provides is fantastic and rare. Only seven players were able to reach the eight rebound and five assist threshold Antetokounmpo reached this week. Those players include All Stars DeMarcus Cousins, Paul George, Russell Westbrook, Kevin Durant, and young big men Mason Plumlee and Julius Randle.
The Bucks are lucky that their point guard provides them blocks like an elite center. 19 players averaged at least two blocks per game this week. Only 15 of those players are considered, by NBA.com, as centers. So only Giannis, Monta Ellis, Terrence Jones, and Kenneth Farried were non-centers to accomplish the feat.
Honestly, the Bucks are lucky to have Giannis Antetokounmpo on their roster period. He is a pleasure to watch and it appears he isn't anywhere near his final form.
Week 4 Wrap Up
The Milwaukee Bucks found themselves one game over .500 when the week began. They find themselves two games below going into week five. The team found a way to compete against their toughest competition this week, showing flashes of excellence. Of course, they also struggled mightily against an opponent they had a good chance to beat.
After four weeks of basketball the best way to describe Milwaukee's season is up and down. Unfortunately, there have been more downs than ups so far. But the season is in its infancy and there is a lot left to play out.
If the Bucks can scrounge up some victories next week they will once again be hovering around .500. That seems like the sweet spot for a very successful season after the injury to Khris Middleton and improvement of both Giannis and Jabari.
This upcoming week might just be a good one for picking up some wins. The Bucks play the sub .500 Orlando Magic twice and the very good Toronto Raptors once. If they manage two wins over Orlando then they will be back on track. If not it will be a third consecutive disappointing week.
As usual, you'll have to tune in to find out if they can get those wins or not.
Player of the Week Rankings over the course of the season
Giannis Antetokounmpo (4)
Jabari Parker (3), Greg Monroe (1)
Matthew Dellavedova (2), Greg Monroe (1), Michael Beasley (1)
More from Behind the Buck Pass
This article originally appeared on