Milwaukee Bucks: Player of the Week (Jan 8 – 14)
John Heffernon/FanSided via Behind the Buck Pass

Fansided
Without their best player for much of the week, the Milwaukee Bucks won two out of three games. Many players stepped up in the absence of Giannis Antetokounmpo and three worthy candidates will be discussed at length.
Playing two important games against potential playoff teams is never an easy task. It is an even more difficult task when you are missing your best player and you play those teams back-to-back. That is essentially what happened to the Milwaukee Bucks this week.
Giannis Antetokounmpo missed the first game of the week with an illness and then participated briefly in the the second game of the week before discovering that he was just too sick to perform to his best.
Those games were against the Washington Wizards at home and the San Antonio Spurs on the road respectively. The Bucks lost to the Wizards like you would imagine they would but they unexpectedly took down the Spurs.
Finally the Bucks played and defeated the Miami Heat at home in their last matchup of the week. Giannis participated in that game and did his usual, insane Giannis things.
But this is all the time we have for Giannis talk on this occasion. Since he missed basically two full games he will be excluded from the player of the week rankings. This means his consecutive streak of number one wins will end at 11.
This is a bitter sweet situation. On the one hand we will get a ranking without Giannis which will give a new Buck some time in the spot light but on the other hand Giannis loses an opportunity to keep up his dominant stretch. Luckily for Antetokounmpo, he still has enough season left to break his 11 week win streak.
Winning on the road against the Spurs without Giannis is a major achievement for the Bucks. The team proved that they are not a one trick pony this week. So many players contributed to the nice week the Bucks had. It is a shame we can not speak about them all. But with that comes glory given to the top three, it is a real balance.
Four players looked like worthy candidates for the rankings this week. Two of them were battling it out for the top spot. It was a really close call between them both but one had to settle for second. Additionally, there was a pretty competitive race for third. However, the man in third was an easier decision to make.
Let's get to the rankings and see who fell in to the third spot!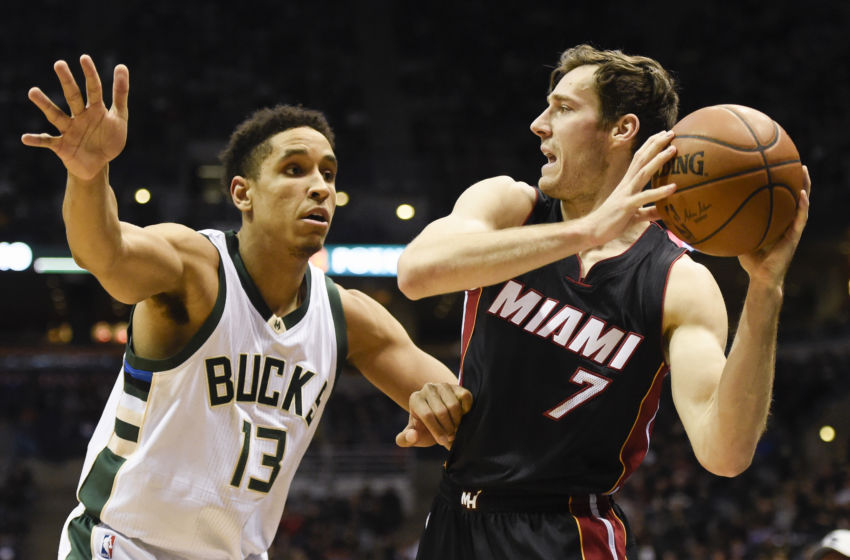 Milwaukee Bucks Player of the Week Rankings
???
???
Humble Moses played in all three games this week and averaged 30.5 minutes, 17.3 points (on 53.1 percent shooting from the field), 4.3 rebounds, 5.3 assists, and 1.7 steals. He was tied for first on the team in steals, second in assists, and third in points. Additionally, he had the third best plus/minus on the team at +3.0.
Malcolm Brogdon is playing very well and yet he just cannot catch a break. If it weren't for Joel Embiid, Brogdon would easily be the front runner for Rookie of the Year. But if we are just talking about Brogdon's draft class then he is already exceeding his peers by a noticeable margin.
Brogdon led his class in points, assists, and steals this week, while he was also second in free throw attempts and rebounds. It was a very impressive week from a very impressive rookie. The Bucks got an absolute steal in the second round of the draft.
The contributions made by The President are consistent and important. He is one of the better scorers and facilitators on the Bucks, which is obvious every time he is on the floor. As his career progresses those things will not change.
Brogdon shot just over 50 percent from both the field and three this week. He did it on 10.7 field goal attempts and 3.7 three-point attempts per game. That's some really nice shooting efficiency from a first year player.
Additionally, Humble Moses had one of his best weeks at the free throw line of the season. He attempted 4.3 per game and made over 92 percent of them. Brogdon is not just a jump shooter and weeks like this prove it. He can get to the rim and has shown he is not afraid of contact.
While the scoring is nice, facilitating has been his best asset as a pro. He leads all rookies, regardless of draft class, with 3.9 assists per game this season. He bumped that average to over five per game this week. With Giannis missing action, Brogdon took it upon himself to get his teammates involved and run the offense. Though he isn't as dynamic as Giannis, the results were positive.
But when the ball isn't in his hands he can make an impact as well. Brogdon has been an effective rebounding guard and a really solid defender through the first half of the season. He averaged 4.3 rebounds per game this week, good for fourth best on the Bucks.
Defense is where he does some fantastic work. We often see Brogdon guarding point guards and more often than not, he does a nice job. He can create turnovers on just about anyone with his long wingspan. He did some of his best work accumulating steals this week.
Malcolm Brogdon is going to be around in the NBA for a long time. The Bucks will certainly hold on to him as he is on a dirt cheap contract and he is very good. He'll likely make a lot of money after his rookie deal is up and hopefully the Bucks can keep him. If he stays the same he will be the perfect complement to Giannis, Jabari Parker, and Khris Middleton. If he improves, he could be a fringe All Star player in two or three years.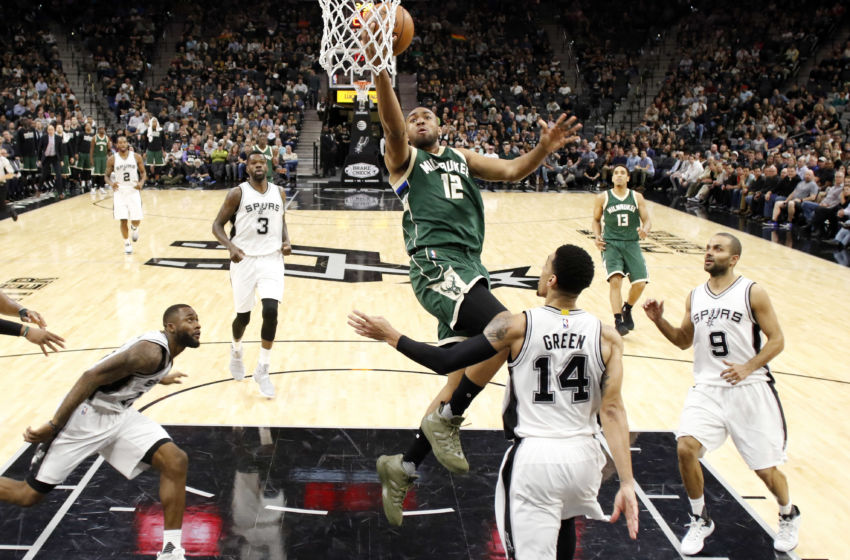 Milwaukee Bucks Player of the Week Rankings
???
Jabari Parker
Malcolm Brogdon
Major Cat played in all three games this week and averaged 36.4 minutes, 24.7 points (on 47.4 percent shooting from the field), 6.7 rebounds, 4.0 assists, and 1.0 steal per game. He led the team in points, was second in rebounds, was third in assists, and tied for third in steals. Additionally, he had the second best plus/minus on the team at +4.3.
Without Giannis, Jabari Parker should have taken the number one spot this week. Parker certainly did his thing but when the dust settled one player was just a bit more worthy than he was. Don't let that trick you into thinking Jabari underperformed this week though.
Jabari paced the Bucks in both three-pointers per game and three-point percentage with 4.7 and 57.1 percent. He spaced the floor like an elite three-point shooter this week. Only seven NBA players were able to attempt four three-pointers per game and make over 55 percent of their attempts.
Jabari's hot three-point shooting streak has been going on for two weeks. He is shooting a ridiculous 55.6 percent on 4.5 threes per game in the month of January. Only Tim Hardaway Jr. is shooting a better percentage on a similar number of attempts in the entire league.
Teams finally have to respect Parker's jump shot wherever he is on the court. We already knew his interior scoring was elite and his midrange game was smooth. Now with his perimeter shooting performance starting to heat up, Parker is starting to fulfill his scoring legacy.
His ability to score from everywhere is impacting his game in a positive way. Parker had one of his best passing weeks of the season, averaging 4.0 assists per game. With Antetokounmpo out of the mix, Parker did his part to keep the ball moving and find the open man.
It was nice to see Parker a bit more active on the boards this week. Averaging just under seven per game at the power forward position isn't anything to write home about but it is better than some weeks this season for the former Duke Blue Devil. If he can pick up his rebounding even further it would go a long way in helping his overall impact on the court.
Parker was really good this week. It took a monumental effort from our number one Buck to knock him down to the number two spot. If Jabari can continue to play like he did this week than the Bucks will continue to win a lot of games.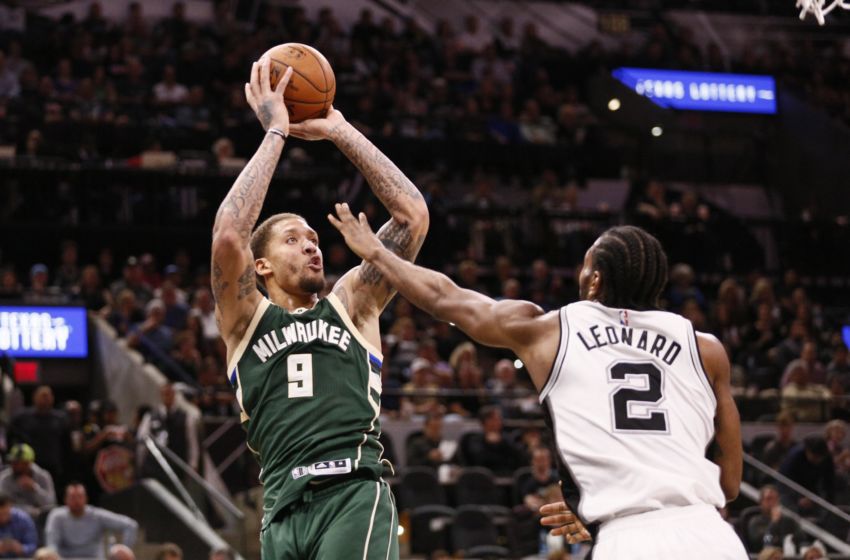 Milwaukee Bucks Player of the Week Rankings
Jabari Parker
Malcolm Brogdon
B-Easy played in all three games this week and averaged 23.9 minutes, 19.0 points (on 68.8 percent shooting from the field), 4.3 rebounds, 2.0 assists, 1.3 steals, and 1.3 blocks per game. He led the team in blocks, was second in points, and tied for second in steals. Additionally, he had the best plus/minus on the team at + 6.3.
It was the perfect storm for Jabari to take over as the de facto best player on the Bucks for a seven day period with Giannis hampered by an illness for two straight games. But Michael Beasley had other ideas. Beasley's offensive performance was the equivalent of a supernova. He was hotter than hot and almost every shot he attempted found its way into the hoop.
Only 14 players in the NBA, including Beasley, averaged at least 20 minutes per game and shot over 65 percent from the field in their last three games. Of those 14 players Beasley played the fourth fewest minutes yet scored the fourth most points. He was one of the most efficient scorers in the league over the past seven days, and that is something to celebrate.
Beyond the scoring and shooting percentages, Beasley was arguably the Milwaukee Bucks best defender this week. No other Buck averaged more than one steal and more than one assist per game besides B-Easy.
In fact, only 28 other NBA players were able to maintain at least one block and at least one steal over their past three games. Many of them did it by virtue of being on the court for a lot of minutes. Beasley was on the court for the fourth fewest minutes of this group of players. Not often does Michael get credit for playing defense but this week needs to serve as an exception. He played awesome on that end.
As impressive as his per game numbers are, his per 36 numbers are even better. Per 36, Beasley averaged 28.7 points, 6.5 rebounds, 3.0 assists, 2.0 steals, and 2.0 blocks. That's a hell of a stat line. This week, calling him a spark off of the bench wouldn't be doing him justice. Let's say he was a flamethrower off of the bench. That sounds more accurate.
Beasley is almost always able to score effectively. But for him to provide additional contributions in regards to rebounds and assists and excellent defense makes for a week worthy of his draft status (he was selected with the number two pick overall in the 2008 draft). It was also an effort worthy of the number one spot in the player of the week rankings.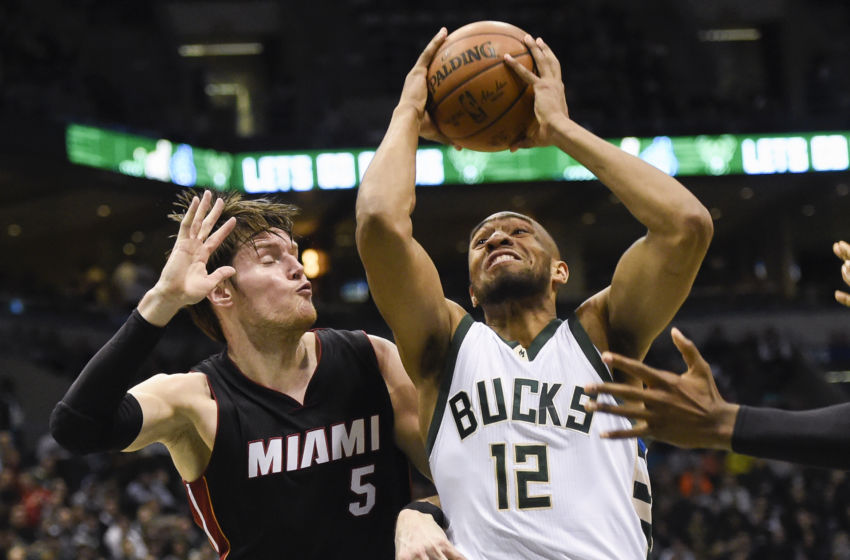 Week 12 Wrap Up
This was a really good and important week for the Milwaukee Bucks. They were missing their best player for a majority of the week and still came away with two wins in three games. This was good because the team found out that they are more than just Antetokounmpo and they have a group of guys who can step up and take care of business in his absence.
Just as good and more importantly, the Bucks moved up in the win column. They moved to 20-18 on the season, which was good for them to finish the week as the fifth seed in the Eastern Conference. If Milwaukee can keep grinding like they have been all season a playoff berth seems very likely. In fact, they might be able to compete for the fourth seed and get home court advantage in the first round.
With so much of the season left to play it wouldn't be impossible at all for the Bucks to catch one or two of the teams ahead of them. However, possible season outcomes cut both ways, as the Bucks are also just 1.5 games ahead of being out of the playoffs entirely.
Every game right now is vital to the Bucks' post season hopes and placement in the playoff tournament structure. That makes the games that much more fun for the fans and that much more intense for the team. The BMO Harris Bradley Center has been rocking as a result of this and the Bucks fans have developed a pretty cool home game atmoshpere lately.
Tune in next week to find out if the Milwaukee Bucks can keep this up!
Player of the Week Rankings over the course of the season
Giannis Antetokounmpo (11), Michael Beasley (1)
Jabari Parker (9), Greg Monroe (2), John Henson (1)
Greg Monroe (4), Malcolm Brogdon (3), Matthew Dellavedova (2), Michael Beasley (2), Jabari Parker (1)
This article originally appeared on