Milwaukee Bucks: Player Grades from 111-98 Loss to Hawks
Thomas Pheister/FanSided via Behind the Buck Pass

Fansided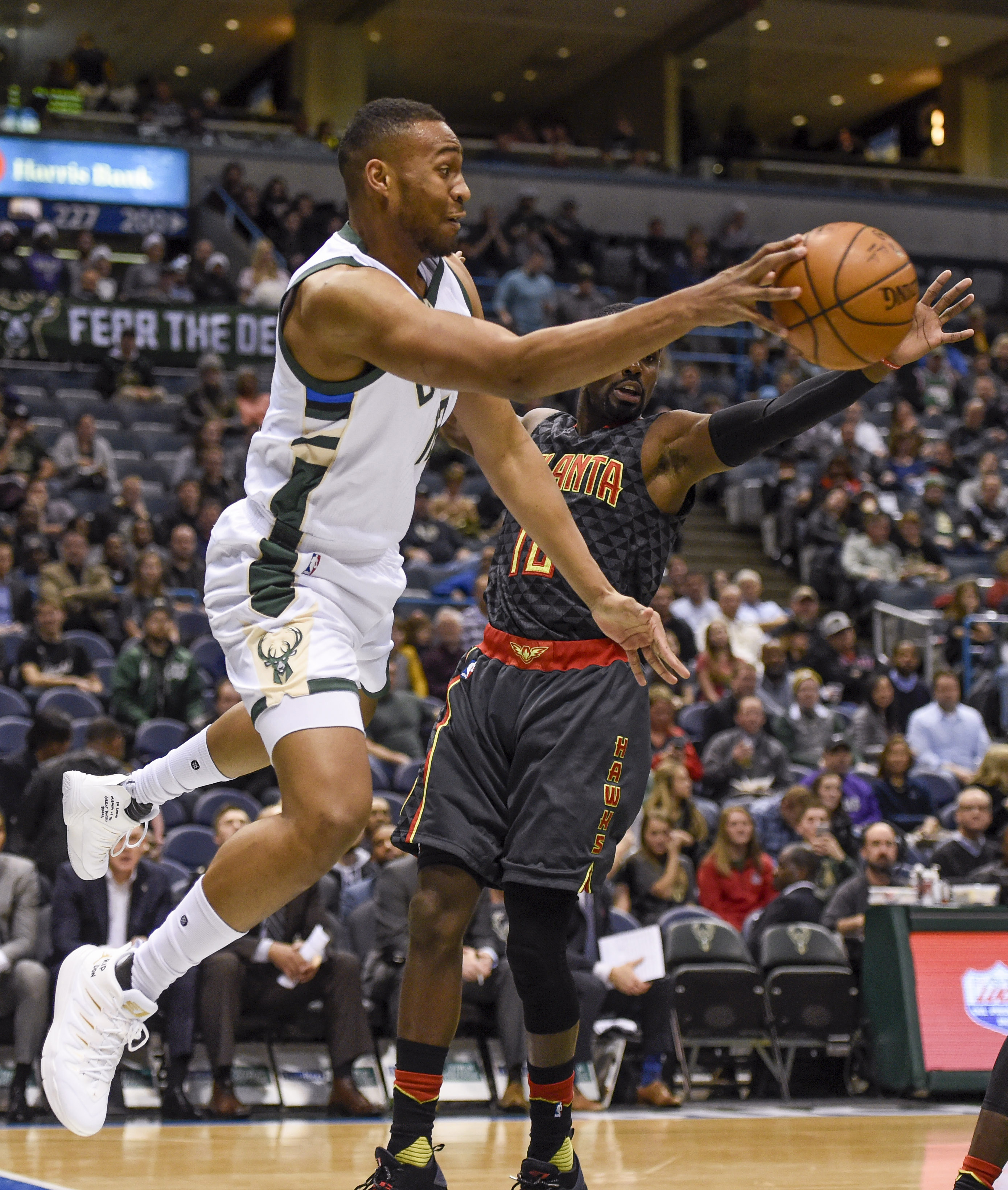 The Milwaukee Bucks missed another opportunity to put some distance between themselves and the .500 mark, falling to the Hawks in Atlanta. See how each Buck played with our grades from the game.
VS.
| | | | | | |
| --- | --- | --- | --- | --- | --- |
| | 1 | 2 | 3 | 4 | T |
| Hawks | 36 | 24 | 28 | 23 | 111 |
| Bucks | 36 | 17 | 30 | 15 | 98 |
The Milwaukee Bucks have not been more than two games from the .500 mark at any point this season, which, considering the sort of roller coaster season this has felt like, is actually kind of amazing.
Instead of a roller coaster, perhaps we need to think of this season as a pogo stick ride, with two games below .500 as the floor and two games above being the apex of the bounce.
At any rate, the Bucks have been the very definition of consistently inconsistent, and their efforts against the Atlanta Hawks on Sunday were no exception.
The Bucks went from beautiful, fluid ball movement and scoring in the first quarter, in which they scored 36 points, to bogged down slow pokery and shenanigans in the second quarter, when they scored just 17. Then they came out in the third and scored 30 points. Followed by 15 in the fourth. Consistently inconsistent indeed.
But, as always, throughout the good and bad from the team as a whole, there were players who fought the tide and those who were swept along with it. To see which Bucks did well and which did not, plus get an idea of how Jason Kidd and the opposition did, here are the grades from the game.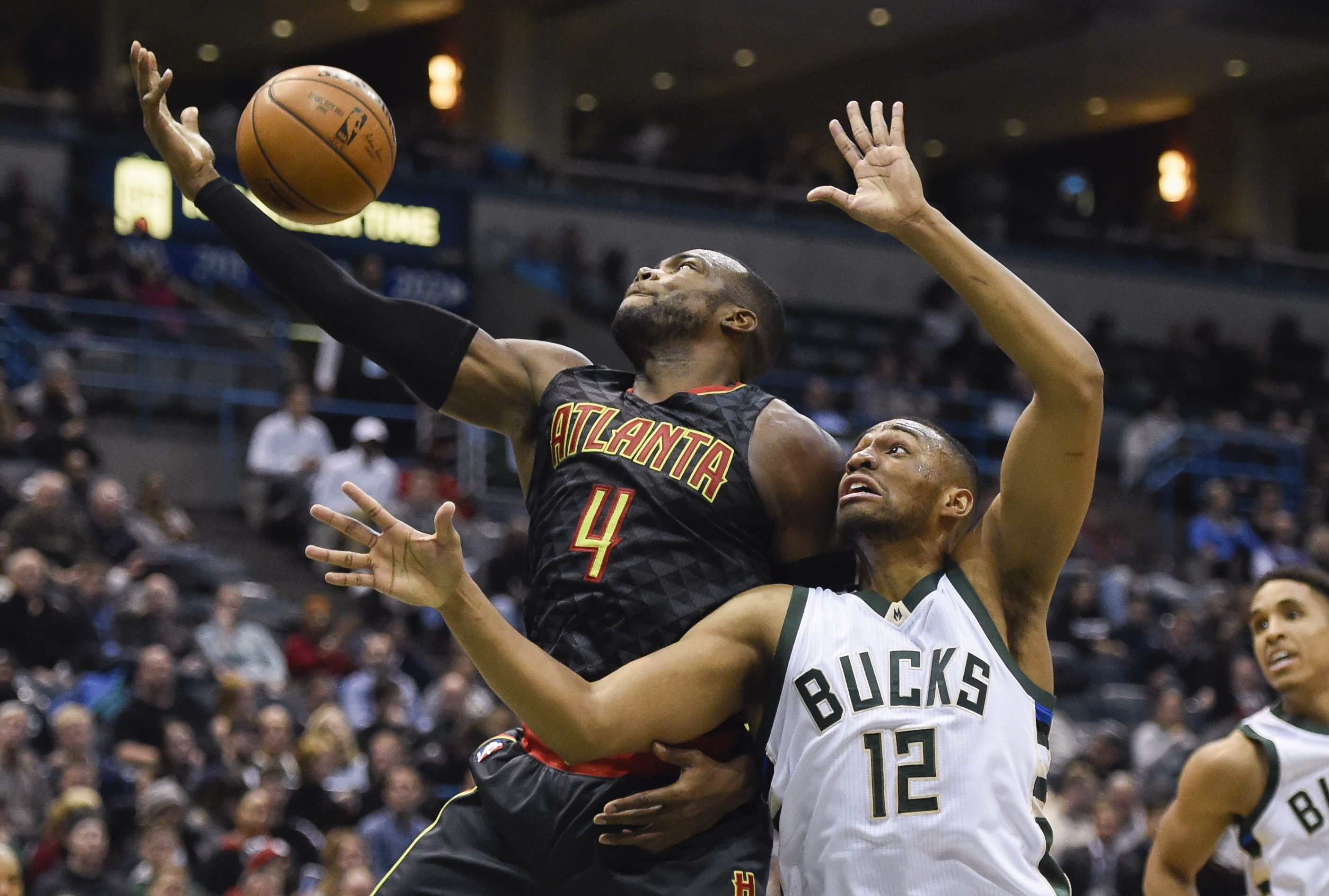 Starters
Malcolm
Brogdon
G,
Milwaukee Bucks
C+
Malcolm Brogdon
had probably his least impactful game since his ascension to the starting lineup. On the night, he did not record a rebound or assist, though he did contribute a block and two steals. He also hit five of his 10 shots from the floor, two of three from beyond the arc, to total 12 points.
Tony
Snell
G,
Milwaukee Bucks
C+
Tony Snell
, as my esteemed colleague Ti Windisch would say, had a very on-brand game in Atlanta Sunday afternoon. Snell took five shots, all from beyond the arc, and made two of them. He was otherwise pretty quiet, but solid.
Giannis
Antetokounmpo
G/F,
Milwaukee Bucks
A
Giannis Antetokounmpo
followed up his gravity-defying, internet conquering night against Miami with another beauty of a game. This game did not add to the ludicrous highlight reel that the Greek Freak has been compiling this season. Instead it was an efficient, confident and masterful performance. Giannis scored 33 points on only 22 shots. He was 7-7 from the free throw line. He had six assists, eight rebounds, three blocks and two steals. It wasn't that long ago that people were wondering if Giannis would have the scoring chops to be a legitimate star in the NBA, but he has answered those questions with his play this season.
Jabari
Parker
F,
Milwaukee Bucks
A-
Jabari Parker did not shoot the ball enough against the Hawks on Sunday. The Bucks need more than nine field goal attempts from him. Other than the limited shots, though, Jabari played a really good game. He had a career-high nine assists, along with 10 rebounds and eight points. It is nice to see Jabari doing things on the floor that are new to his game, at least on this scale. Hopefully he will be able to continue having a similar impact on games without it taking so much away from his scoring in the future.
John
Henson
C,
Milwaukee Bucks
D+
John Henson is not really doing much of late for the Bucks. Against big centers, Henson struggles to hold his ground and get rebounds. Much of his scoring has dried up as well, as J-Hook has found it difficult to find the little pockets of space in the lane in which to make himself available for the pass. In 21 minutes, Henson tallied four points, four rebounds and three assists.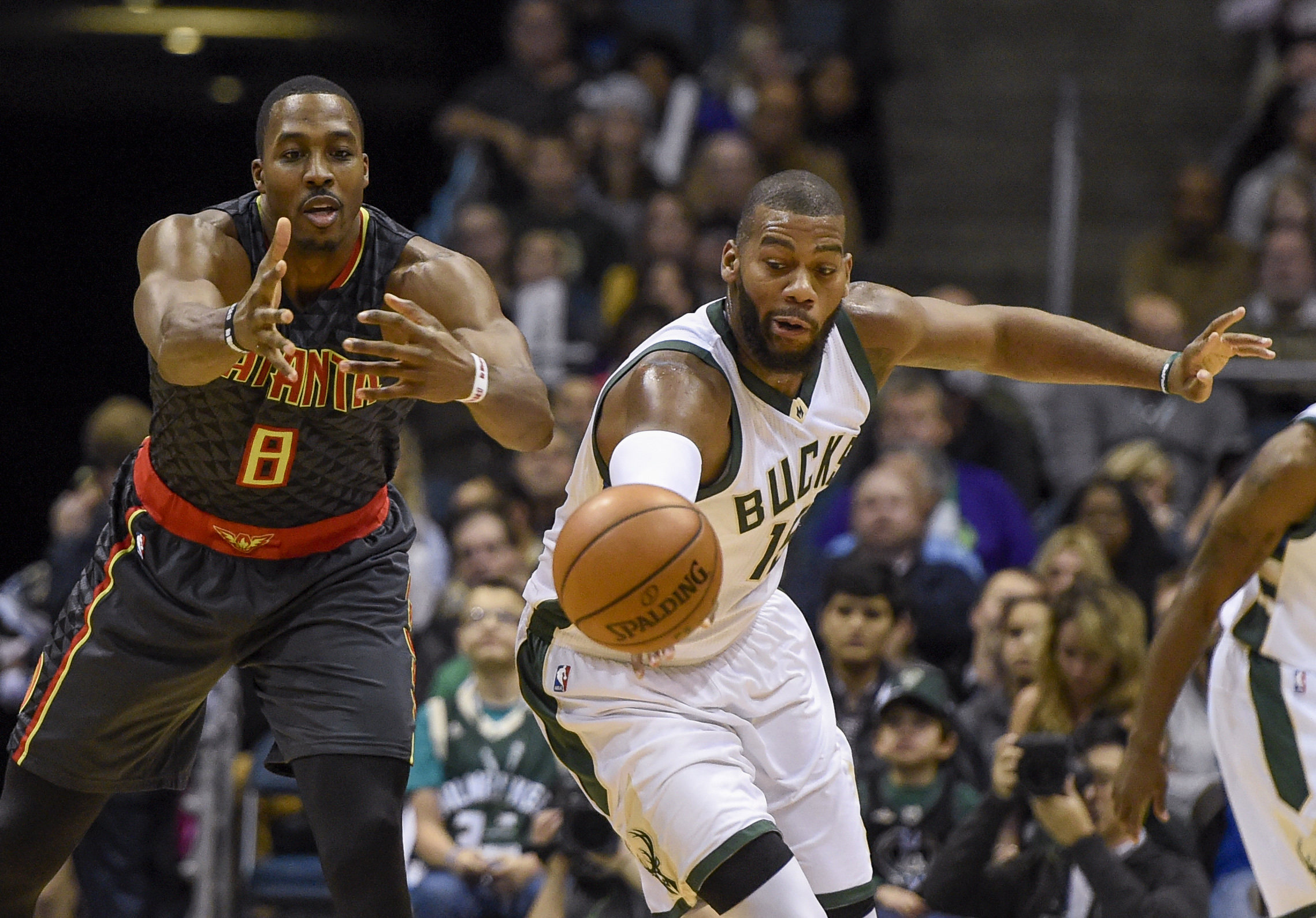 Bench
Greg
Monroe
C,
Milwaukee Bucks
B-
Greg Monroe
produced points, 13, against the Hawks, but not much else, at least not that shows in the box score. He did add a bit of a new wrinkle to his defensive reinvention, though, in drawing two charges. Moose showed his improved defensive awareness and quickness in making these plays. Monroe struggled on the glass, pulling down just one rebound in his 20 minutes on the floor.
Matthew
Dellavedova
G,
Milwaukee Bucks
C-
Matthew Dellavedova was pretty quiet against the Hawks. The Hawks fans, on the other hand, were not quiet whenever the ball was in Delly's hands, thanks to some hard feelings remaining from a couple of incidents involving Delly in the 2015 Eastern Conference Finals. Unfortunately, the booing he got from the Hawks fans was probably the most enjoyable thing about his performance. in 23 minutes, Delly scored three points, grabbed three rebounds and handed out three assists.
Michael
Beasley
F,
Milwaukee Bucks
C-
Michael Beasley
scored the ball fairly efficiently against the Hawks, pouring in 11 points in 17 minutes. He found the bulk of his success attacking Mike Dunleavy Jr. Unfortunately, Dunleavy enjoyed an even greater level of success while guarded by Beasley, getting loose for 20 points, including four three pointers in five attempts.
Jason
Terry
SG,
Milwaukee Bucks
C
Guess how many points
Jason Terry
scored on Sunday. If you've been watching the Bucks this year, you know his point total is likely divisible by three. You also probably realize that he has not been shooting great this season. Did someone say three? That's right, three points on one for three shooting, all from beyond the arc. Terry did also contribute four rebounds and two steals on the night while logging 22 minutes.
Rashad
Vaughn
G,
Milwaukee Bucks
C+
Rashad Vaughn got a few minutes of non-garbage time basketball in on Sunday, and he didn't look horrible doing it. He hit a pull up jumper and a three pointer, and finished with five points. Nothing really great, but it was good to see him out there, ready to shoot.
Miles
Plumlee
C,
Milwaukee Bucks
D
Miles Plumlee made a brief appearance in Atlanta, but there really wasn't much to show for it. He had twice as many fouls as rebounds and no points, assists, blocks or steals. Plumlee seems almost lost on the floor this season, and he is bringing none of the energy and enthusiasm that we saw from him last year.
Head Coach
Jason
Kidd
Coach,
Milwaukee Bucks
C
Jason Kidd pulled some surprising substitutions against the Hawks. He put Rashad Vaughn, and Miles Plumlee in the game in the second quarter. He again did not play Mirza Teletovic at all. Also, Thon Maker did not get the opportunity to continue his run of games with meaningful minutes, playing only briefly at the end of the game.
I heard someone describe Kidd's coaching style as "free-form jazz", and I think that is a really good analogy. When the improvisation works, the results are beautiful and free-flowing, but when they do not it can be tough to listen. It seems like a lot of the bench players get minutes based on Kidd's feel for the game. As he grows as a coach, I would expect this feel to improve, which should lead to more beauty and fewer missed notes.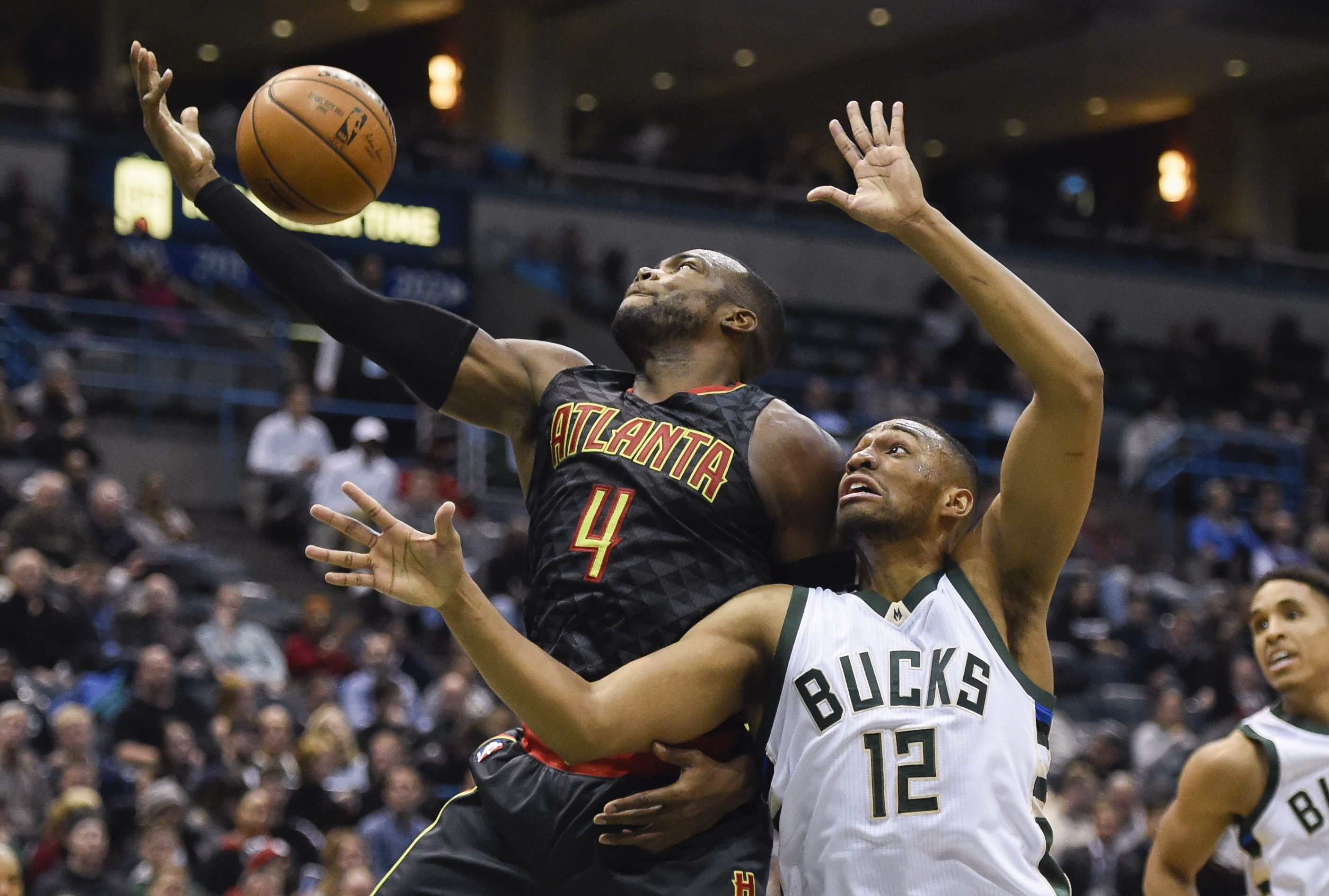 Opposition
Atlanta
Hawks
Southeast,
23-17
A-
The Atlanta Hawks shot really well from outside on Sunday, particularly Mike Dunleavy Jr. and Kent Bazemore. Each of them hit four threes, though Bazemore took seven attempts to Dunleavy's five. When Dunleavy and Bazemore score as much as Giannis and Jabari, things are not going according to plan. After the first quarter, the Hawks defense picked up, especially in the second and fourth quarters, when they held the Bucks in the teens. All in all, the Hawks outplayed the Bucks on Sunday, especially from beyond the arc.
With this loss, the Bucks fell back to 20-19 for the season. They'll look to get back on the winning track Monday afternoon when they host Philadelphia and Joel Embiid.
More from Behind the Buck Pass
This article originally appeared on