Milwaukee Bucks: Key Takeaways From Loss To Detroit Pistons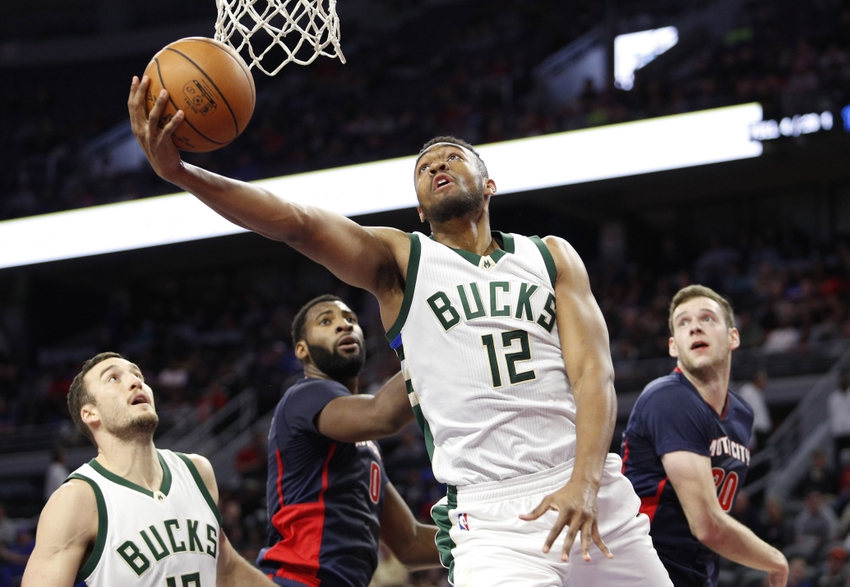 The Milwaukee Bucks couldn't sustain the momentum from their first win of the season, losing to the Detroit Pistons in Detroit on Sunday evening. What were the big lessons learned from the loss?
The Milwaukee Bucks had a chance to improve their winning streak to two games after battling with the Detroit Pistons and nearly tying up the score in the third quarter, but ultimately lost the game 98-83.
There wasn't much fun for Bucks fans in this game, especially when Jabari Parker went to the locker room. Luckily he only got scratched, but health scares are no fun for any team!
Neither is getting blown out. Milwaukee was competitive in the third quarter, but the Pistons went on a run at the end of that period and controlled the game for most of the fourth quarter. This one wasn't exactly a photo finish.
Still, there were lessons worth learning present here for Bucks fans. One center went from disappointing to impactful, and another made the opposite transition. Let's explore what happened for the Bucks on Sunday night.
What Exactly Do You Do Here?
Giannis Antetokounmpo was billed as being the one running the floor in Milwaukee since late last season, but that's just not what Bucks fans have seen thus far. He matched his total number of assists through the first two games by tallying eight against the Pistons, but he still didn't look like a true point forward.
Matthew Dellavedova does a lot of offense initiation, even when he shares the floor with Giannis. And much of the time Giannis is driving, he gets tunnel vision for the rim and doesn't look to make passes, even when defenders are ganged up directly in front of him.
He made just five of his 16 attempted shots against the Pistons, many of which came when Giannis tried to do too much. Antetokounmpo started the season with a great scoring performance, but the real excitement around him this year was to see him do many things very well, not just drop buckets.
Thus far, Point Giannis hasn't really been around. The Bucks have suffered for it. Hopefully Giannis takes back over the offense soon–Delly has done fine, but this isn't the Milwaukee team that was anticipated earlier this summer.
Rashad Vaughn did not drop 22 points this time around. In fact, Vaughn struggled on offense, making just two of his eight shot attempts in Detroit on Sunday.
Still, Vaughn even trying to be active is actually a step above what he showed last season. The fact that he contributed a little bit on defense is about five steps above what's become expected from Milwaukee's 17th overall pick back in 2015.
Vaughn nabbed a game-high three steals, to go along with five points and a rebound. He's no superstar, but even a replacement-level season would be a great result from Vaughn after a really rough rookie year.
The one silver lining of injuries is that it gives other players a chance to step up. There's no way Rashad Vaughn will fill Khris Middleton's shoes, but if he becomes a real NBA player in his absence at least something positive can be taken from it.
For the third time in three games this season, Miles Plumlee started a game for the Milwaukee Bucks. For the first time in three starts this season, Plumlee had a strong performance for the Bucks.
He didn't dominate the game, but Plumlee wasn't paid to dominate games. He was paid to pick and roll and rebound and jump way too many times per possession, and that's what he did. In a season high 17 minutes, Plumlee managed eight points, five rebounds, three assists and a steal.
Plumlee was the only Buck in the starting five to have a positive plus/minus. The Bucks outscored the Pistons by one point with Plumlee in the game, which isn't resounding but it is better than the -6 and -10 plus/minuses posted by John Henson and Greg Monroe, respectively.
Those two have been better than Plumlee all year, but he was good on Sunday night. It seems impossible to balance all three of these centers, but that's what Jason Kidd will have to figure out this season.
Although it's good for the team overall, all three of these guys playing well does not help Kidd here. It's a lot tougher to decide who doesn't get minutes when all three options deserve them!
Thon Maker Won't Get Many Minutes
This was not an exceptionally close game. The Bucks lost by 15, and the final result was fairly obvious pretty soon into the fourth quarter. Still, the youngest Buck only saw two minutes of action.
Thon Maker didn't have time to get a shot up, but he did grab a rebound in his brief NBA debut. Thon might be ready to play, but there just aren't minutes for him on this team.
I've written about Thon playing in the D-League already, and that probably will be what happens when their season gets underway. There's no point in Thon being on the NBA team just to play two minutes here or there.
He's got to play to get better, and he won't play much in Milwaukee barring injury or a trade happening. Steve Novak hasn't gotten off the bench at all, and he's another power forward on the Bucks roster.
Everybody wants to see Thon Maker play some more, but the opportunity just isn't there with the Milwaukee Bucks right now.
This article originally appeared on