Milwaukee Bucks: Kevin Garnett's Best Five Games Against The Bucks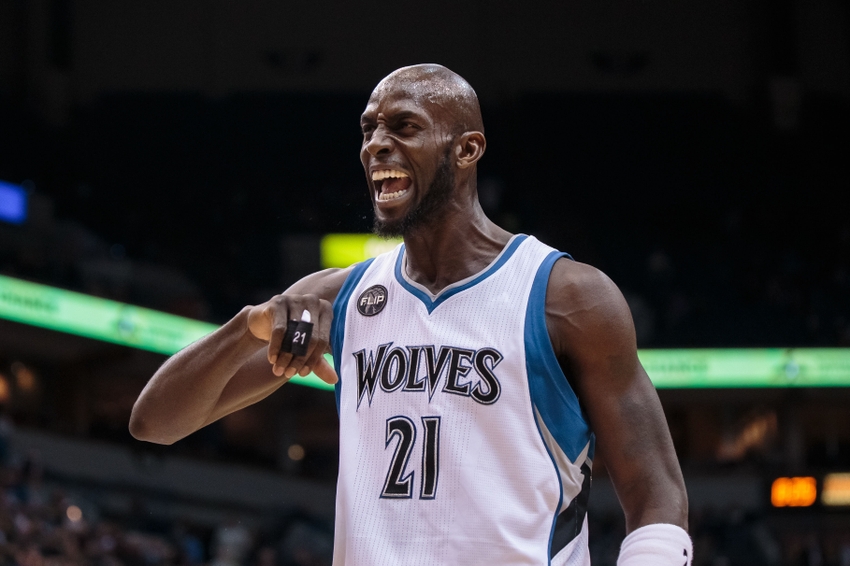 The Big Ticket is finally done in the NBA. To honor Kevin Garnett, look back at his best five games against the Milwaukee Bucks.
Kevin Garnett is undoubtedly one of the greatest players in the NBA's history. KG had the complete package for a power forward–he could score, rebound, pass and defend like almost no others in Association history.
Luckily for his opponents, he finally called it quits on Friday after 21 years of dominating the NBA. The Big Ticket will forever be remembered as an NBA legend for sure, but many fans are pretty excited that KG is done harassing their team.
Milwaukee Bucks fans should be among them. Garnett torched the Bucks time and time again in his time with the Minnesota Timberwolves especially, putting up some insane numbers against Milwaukee.
Typically we'd try to forget about some of those monster games, but considering Garnett is done now it seems fitting to look back at some of the times he squared off against the Bucks and remember them at least somewhat fondly.
From number five to number one, we'll go through KG's best five games against the Bucks. In another two decades there might just be another one of these articles based on his protege, Karl-Anthony Towns.
The sad thing about Kevin Garnett's early career is that his teams usually weren't very good. That wasn't quite true in 1998, when despite his incredible performance against the Bucks, the Wolves lost by eight at home to Ray Allen and Glenn Robinson's Bucks. The Bucks were actually nine wins worse than the Timberwolves that year, but it didn't stop Milwaukee from winning that night.
KG's statistics from a lot of these games are almost unbelievable. Garnett posted 26 points, 12 rebounds, seven assists, three steals and a block in 37 minutes of action against the Bucks. He had an offensive rating of 153!
Minnesota was down by just one point heading into the final quarter, but the Bucks were the better team that game and they proved it. Even if KG was the best player in the game, he just didn't have the support necessary to overcome Big Dog, who dropped 29 points on the Timberwolves.
The Wolves made the playoffs that year, but in what was the typical routine for them back then ended up losing in the first round. Milwaukee finished 10 games below .500, and ended up hiring George Karl in the offseason.
It was the opening night of the 2003-04 NBA season, and Kevin Garnett was out for blood, as per usual. He had just set a career high in point per game scoring last season, and it didn't take him long to prove he still had the juice in this campaign.
He annihilated the Bucks to the tune of 25 points, 21 rebounds, six assists, one steal and three blocks. The Timberwolves won by six points. In a completely related statistic, the Wolves were plus six with KG on the court that game.
The Bucks of 2003 had already lost all of their big three, and thus the team was in the hands of Michael Redd. Redd, as my favorite phrase to describe him goes, did his best. He added 16 points and nine rebounds to Milwaukee's cause, but it clearly wasn't enough to beat the Big Ticket and the Wolves.
This was a revenge game for Sam Cassell, who ended up on the Wolves that season. It would be Cassell's only All-Star trip, as he tore it up on a 58-win Wolves team that made it all the way to the Western Conference Finals. It'd be the only season that Minnesota made it past the first round in their franchise history.
Another one of Kevin Garnett's greatest games against the Bucks, another Timberwolves victory. Some of these Bucks teams were actually good, but they weren't good enough to mess with prime KG.
He droped 29 points on Milwaukee while adding 18 rebounds, six assists, a steal and a block. Garnett made half of his field goals and led both teams in scoring. Robinson and Allen made it close with 25 and 24 points respectively, but Garnett ended up on top.
As did the Timberwolves. The Bucks had a three-point lead going into the fourth quarter, but Minnesota finished stronger and came away with the victory. Terrell Brandon had one of the better revenge game performances you'll find in this game, as he dropped 20 points and 16 assists on Milwaukee with an incredible 72.7 field goal percentage. He only took 11 shots!
This was the best Bucks team of the aughts, and the one that went on to the Eastern Conference Finals. The Timberwolves went on to quietly exit the first round after running into a terrific San Antonio Spurs team, something that happened quite often back in the early 2000s.
The Wolves of 2002-03 weren't quite as good at they would be a year later, but they still proved too much of a challenge for the Milwaukee Bucks back then. Mostly because Kevin Garnett played like a man possessed, although that was hardly unusual for him.
KG dropped a ridiculous 28 points, 24 rebounds, six assists, one steal and one block on Milwaukee. Cassell, who was still a Buck at the time, ended up outscoring him. It didn't matter though–Garnett's all-around impact buoyed the Wolves to victory at home.
Ray Allen had 27 points and Michael Redd dropped 12 from the bench, but the Bucks couldn't hold a lead they had after three quarters. Garnett was just too good back then.
These teams had a lot in common, even before Cassell moved west to Minnesota. Both the Bucks and Wolves would go on to lose their first round series in six games that year. Milwaukee fell to the New Jersey Nets, while Minnesota lost to the Los Angeles Lakers.
In the other game played between the Bucks and Wolves in the 2002-03 NBA season, Kevin Garnett was even better. He nearly dropped a triple-double on the Bucks, who now had Gary Payton instead of Ray Allen after an infamous trade earlier in the year.
Even without Allen, the Bucks really made Garnett and the Wolves work for their win. Minnesota was up big after three quarters, but Milwaukee dropped 42 points on them in the fourth to make this a close game.
KG wasn't one to shy away from high stakes, though. He destroyed the Bucks in several different manors, dropping 34 points, 12 rebounds, eight assists and two steals. It would end up being his career high against Milwaukee in points and the second-most assists he'd ever tally against the Bucks.
Payton, Redd and Cassell all had good games, but nobody was touching the Big Ticket that night. He was efficient, only needing 19 shots to create his 34 points. He was also dominating, as usual.
Fortunately, the Bucks will never have to worry about Kevin Garnett doing that again. Unfortunately, Karl-Anthony Towns is now the big man in Minnesota ready to haunt 29 NBA teams for the next few decades.
This article originally appeared on