Milwaukee Bucks: It's Time to Recognize Giannis Antetokounmpo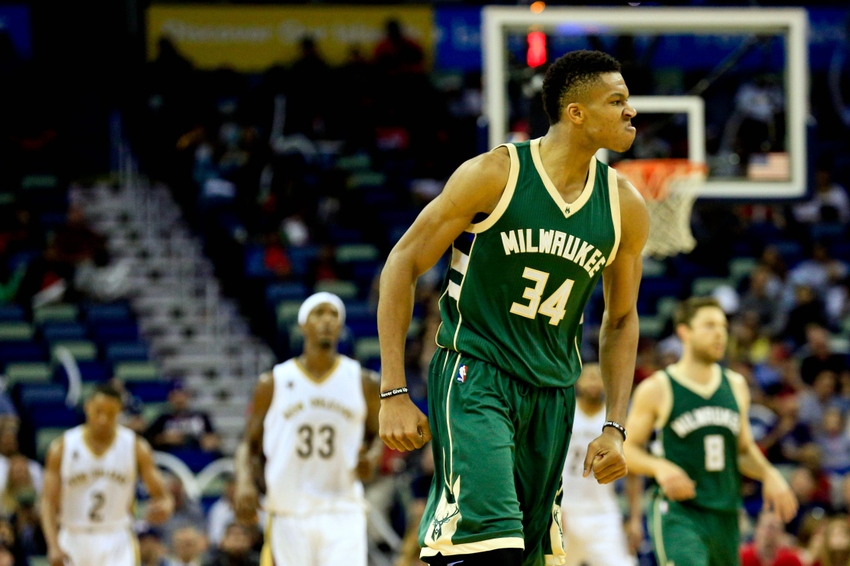 The Milwaukee Bucks received pre-season praise, some seeing them as a potential playoff team, despite Khris Middleton's injury. What's the reason for this optimism? Giannis Antetokounmpo.
Monday night, against the Orlando Magic, Milwaukee Bucks forward Giannis Antetokounmpo had 21 points, 10 rebounds, 10 assists, five steals, and three blocks for the sixth triple-double of his career. Only Michael Jordan, Hakeem Olajuwon, and Andrei Kirilenko have posted stat lines like that in NBA history.
The 21-year-old has come into his own as an NBA player finding success with a versatile skill-set with capabilities to play any position on the floor at 6-foot-11. With no playoff hopes last season, the Milwaukee Bucks coaching staff experimented with Giannis at the point guard postion.
He has posted six triple-doubles since February 22nd due to this move (five last season; one this season).
More from Sir Charles In Charge
With Middleton out, Giannis has seen a spike in his scoring output, averaging over 20 points through 13 games. He also has career-highs in the other four major stat categories of rebounds, assists, steals, and blocks.
His usage percentage has also jumped six percent from last year to this season.
It is clear that Giannis has brought his game to a new level, even if his averages regress slightly. He is playing the 35 minutes per game as last season. However, if the team is in the thick of a playoff race, don't be surprised to see that number rise.
With him on the court, the Buck's offense has an offensive rating of 106.6. While he's off there is a -8.0 difference, with the offensive rating at 98.6. The difference in defensive rating is -6.0 with Giannis on vs. off the court. He's important.
Jabari Parker is the only other player averaging double figures in points, outside of Giannis. Both are averaging at least 19 PPG, despite a lack of perimeter shooting.
Giannis is sitting at 16 percent from beyond the arc so far. The team as a whole ranks 28th in three-point shooting so improvement is necessary to compete in today's league of prolific shooting. If Parker's recent shooting stays a trend, it could allow the floor spacing Giannis needs to attack the rim.
Despite this, the team still sits at 6-7 right in the cluster of Eastern Conference teams competing for the playoffs. Whether this is sustainable or not, Giannis will be there to compete in each game.
His PER is 24.8, good for 17th overall in the league providing the case that Giannis needs to be in the all-star game this season. The "Greek Freak" could be in the argument for top five most exciting player in the NBA so imagining the highlights he would offer in this game has me salivating.
The best part about all of this is that he is only 21-years-old, turning 22 next week. Think about that and enjoy the ride of Giannis Antetokounmpo's NBA career.
This article originally appeared on