Milwaukee Bucks: Grades From 93-89 Win Over Orlando Magic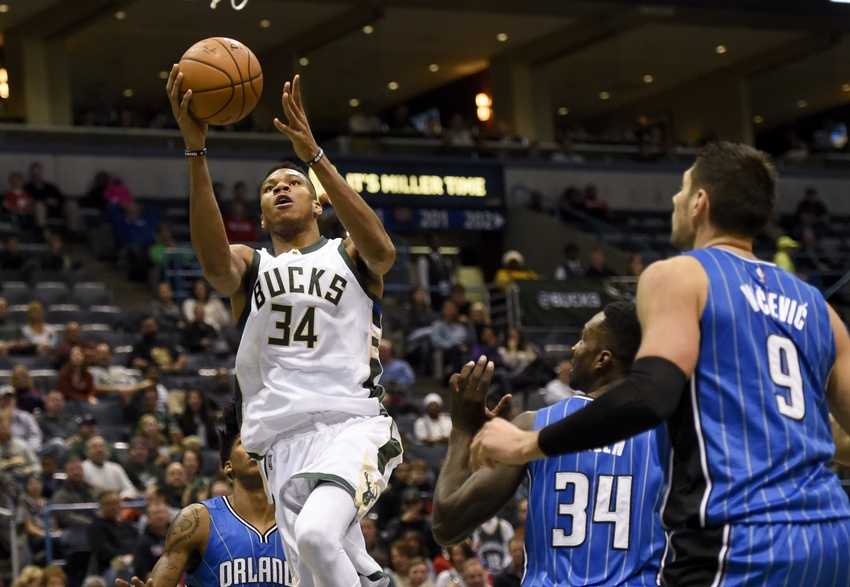 The Milwaukee Bucks finally got themselves a win over the Orlando Magic, and we've got grades for each and every Buck.
VS.
| | | | | | |
| --- | --- | --- | --- | --- | --- |
| | 1 | 2 | 3 | 4 | T |
| Bucks | 20 | 29 | 20 | 24 | 93 |
| Magic | 27 | 17 | 30 | 15 | 89 |
The Milwaukee Bucks needed a win on Monday night, and they got one. Largely thanks to Giannis Antetokounmpo and Jabari Parker, who were both sensational, Milwaukee outlasted the Orlando Magic in a very close game.
Most of the Bucks struggled against Orlando, but at least Giannis and Jabari came to play. Milwaukee finally won a game where their shooters struggled–the Bucks made just 27.6 percent of their threes, but it was enough against a struggling Magic squad.
The Bucks defense was on fire on Monday, grabbing 16 steals, blocking nine shots and holding the Magic to under 90 points. The fourth quarter was the best one for Milwaukee–Orlando scored just 15 points, while the Bucks totaled 24. Milwaukee outscored the Magic by more in the second quarter, but the game was sealed in the final period.
Overall, it's hard to be upset about any game that ends in a W for the Bucks. There were definitely problems with some aspects of this one though, like the horrid first quarter for the Bucks. Let's go through player by player to identify the trouble areas and the strong spots for Milwaukee in this one.
Starters
Matthew
Dellavedova
G,
Milwaukee Bucks
D-
Matthew Dellavedova had maybe the worst first quarter he's ever had. He was a turnover machine, and he ended the night with a game-high six turnovers. He recorded seven points and four assists too, which is a small consolation compared to all the possessions Delly coughed up. The scrappy point guard's range was also off, as he made just one-of-five three-point attempts. All in all it was simply an off night for Delly.
Tony
Snell
G,
Milwaukee Bucks
C
This is a very average Tony Snell performance. Although he's been billed as a shooter, he's been off a lot more than he's been on from long-range this year. Snell takes a lot of threes, but he's making less than 30 percent of his attempts. Tonight didn't help that any, as he scored seven points and made one of his four attempted threes. How long until Snell stops getting the green light to shoot?
Giannis
Antetokounmpo
G/F,
Milwaukee Bucks
A+
This is the kind of game expected of Giannis Antetokounmpo after his monster finish to last season. The Greek Freak finished with 21 points, 10 rebounds, 10 assists, five steals and three blocks. He led or tied for the lead on the team in all stats except scoring. Giannis was amazing, and he finished two blocks away from an incredible 5×5 performance. When he plays like this, the Bucks can win even when most of the role players are off.
Jabari
Parker
F,
Milwaukee Bucks
A+
Jabari Parker can do it all. Most recently, he's become a knockdown shooter. Jabari hit five of his seven attempted threes, which formed the bulk of his 22 points scored on Monday night. Jabari also finished with three rebounds, three assists, three steals and zero turnovers or personal fouls. If Jabari can shoot like that regularly, good luck stopping him on offense. His speed and power was dangerous enough when his shots weren't falling.
John
Henson
C,
Milwaukee Bucks
C-
John Henson managed just two points against the Magic. Sadly, that tied both Miles Plumlee and Greg Monroe–all the centers combined for six points. Henson also contributed three blocks, three rebounds and two assists. He made one of his five shots and the Bucks were outscored by 12 with him on the court, mostly thanks to his minutes early on when Orlando jumped out to an early lead.
Bench
Miles
Plumlee
C,
Milwaukee Bucks
C
Miles Plumlee got ten minutes, two points, four rebounds and one steal on Monday. That's a lot of statistics packed into ten minutes, but none of the centers will look great as long as they're splitting minutes. The Bucks new small lineups with Giannis at center actually makes matters even worse, although it's hard to ignore how effective that unit has looked.
Mirza
Teletovic
F,
Milwaukee Bucks
C+
Mirza Teletovic looks off lately, maybe because of the low minutes totals he's gotten, but he's finding ways to contribute. Mirza made just one of his five attempted three-point attempts, but he did pull in five rebounds in his 13 minutes of play. At least he's staying energized, despite the lack of playing time he's gotten thus far. Hopefully Teletovic can snap out of his cold spell without a heavy dose of minutes, because it doesn't seem like he'll get that any time soon.
Malcolm
Brogdon
G,
Milwaukee Bucks
C-
Malcolm Brogdon's hot start is beginning to subside. He made just one of his six shots on Monday, and managed to put up five points, two rebounds, three assists, one steal and two turnovers. Brogdon did make all three of his free throws, but he missed all three of his attempts from long-range. Hopefully he too can snap out of a cold spell soon. The Bucks certainly need all hands on deck to perform.
Michael
Beasley
F,
Milwaukee Bucks
B+
Michael Beasley keeps on bringing it. His hot scoring saved Milwaukee in the first quarter after the Bucks started the game with no energy, and he continues to impress with his scoring ability. Beas might do almost nothing besides put the ball in the basket, but he's been damn good at doing that. Beasley added 14 points on Monday, the only Buck to manage double figures aside from Giannis and Jabari.
Jason
Terry
SG,
Milwaukee Bucks
B
Jason Terry is bringing major energy to the Bucks, and they need it. Terry may not do much on the court–he managed four points on four shots in 20 minutes on Monday–but he does cheer louder than just about anybody, and he worked hard to get the crowd really pumped at times. 20 minutes still feels like a lot for the oldest player in franchise history, but with Rashad Vaughn in the D-League at least he's not getting them at the expense of a young player on the bench in Milwaukee.
Greg
Monroe
C,
Milwaukee Bucks
C
Greg Monroe got quadruple the minutes he got in the Warriors game, as he spent eight of them on the floor. In that time he scored two points and added two rebounds, one steal and one block. To be fair to Jason Kidd, Moose didn't look good in his brief stint. To be fair to Monroe, that could be because he can't get in a rhythm because of the laughable amount of minutes he's getting.
Head Coach
Jason
Kidd
Coach,
Milwaukee Bucks
C
Jason Kidd said he intended on playing two centers so they could both get into a groove, then proceeded to not do that. That plan made sense–what's the point of playing Plumlee 10 minutes and Monroe for just eight? Play one for 18 and let the other one sit. Terry also got too much run, but that's sort of inescapable now that Rashad Vaughn is gone–there are no bench guards on the team besides Brogdon and Jet. How long until we see point Beasley?
Opposition
Orlando
Magic
Southeast,
6-8
D
The Magic aren't very good. It's weird that Nikola Vucevic still starts, when Serge Ibaka and Bismack Biyombo would be a potent first line of defense. The Magic aren't going to be a good offensive team no matter what–they don't have many players outside of Ibaka, Vucevic and Evan Fournier who can score–but they could absolutely shut down teams on defense at least. As is, they're just not good at much anything. Maybe trading away Victor Oladipo wasn't such a good idea after all.
The Bucks will have Thanksgiving off and do not take the court again until they meet the Raptors in Milwaukee on Friday.
More from Behind the Buck Pass
This article originally appeared on