Milwaukee Bucks: Grades From 86-75 Loss to Dallas Mavericks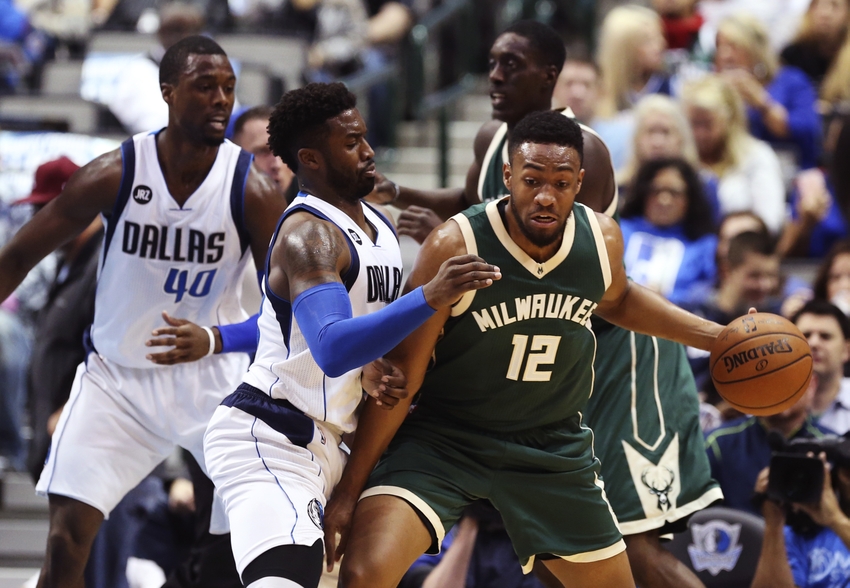 After a three-game win streak, expectations were high coming into the road match-up against the Dallas Mavericks. Obviously, the game did not go according to plan, but how would we grade each performance?
VS.
| | | | | | | |
| --- | --- | --- | --- | --- | --- | --- |
| | 1 | 2 | 3 | 4 | OT1 | T |
| Bucks | 27 | 12 | 17 | 18 | 1 | 75 |
| Mavericks | 19 | 28 | 12 | 15 | 12 | 86 |
This was definitely a night to forget for Bucks' fans. Not only did the team fall on the road to a win-less Dallas Mavericks team, but they had chances to win throughout. After looking amazing against the Kings the night prior, that same magic just did not seem to be there.
Both Giannis Antetokounmpo and Jabari Parker, the cornerstones, got caught up in foul trouble, which greatly affected the team's offense. When both Giannis and Jabari have off nights, it puts a lot of strain on the other rotation players to pick up a big slack.
It was obvious in this game how important the Greek Freak is to the Bucks. Not only did Milwaukee miss his ability to score and distribute on offense, but his defense is also somewhat overlooked. Giannis does a tremendous job when guarding perimeter players, but he is also quite serviceable as a rim protector. This versatility allows for the occasional defensive mistake by his teammates. But without him on the floor for much of the game, the team suffered.
On a positive note, Malcolm Brogdon had another solid performance off the bench. He continued to show a veteran attitude and poise for a rookie and ran the offense with stunning efficiency. Although he did not dish out any assists and only grabbed one rebound, his value was mostly in keeping the team under control and by playing solid defense. It is hard to judge a second-round rookie after just seven games with the team, but Brogdon is a very valuable part of this Bucks rotation.
As for the rest of the team, there was not much to celebrate. In an all-around horrible game, the best thing the team can do is just to learn from their mistakes and be ready for the next one. Hopefully this game against the Mavericks was just an off-night and that it does not become a regular performance. These kind of games cannot happen all that often if Milwaukee has their sights set on the playoffs, so they need to take the next three days off and figure it out.
Without any more introduction, what grades would we give the starters, bench, head coach, and the Dallas Mavericks?
Starters
Matthew
Dellavedova
G,
Milwaukee Bucks
D
In 33 minutes of action in this one, Dellavedova was arguably at his worst for the Bucks. He looked tired and many of jump shots suffered because of it. He still had confidence in his shot, which was evident by his seven field goal attempts. He was able to contribute six rebounds and five assists, but his five turnovers more than counteracted those positives. A lot of those turnovers were not just from trying to make a tough pass, but due to poor decision-making both in the half-court and in transition. Also, in non-traditional Delly fashion, he was ineffective on defense. There were occasional defensive possessions that he was on top of things, but his match-up,
J.J. Barea
, had a very good night, contributing 21 points and bringing tremendous energy and veteran leadership to the Mavericks.
Tony
Snell
G,
Milwaukee Bucks
C-
Snell played the second-most minutes on the team against the Mavericks, but he struggled mightily throughout, most notably on offense. He was mainly kept on the floor for his defense and that was good, but the Bucks needed more scoring, especially if he was to play so many minutes. He was 1-7 from behind the arc and somehow only managed to grab two rebounds and one assist in a remarkable 36 minutes. He showed a little more aggressiveness in attacking the basket here, but it also seemed to be out of control at times. He definitely looked to be pressing the issue, which didn't really need to happen in such a close game to begin with. Turnovers were a massive struggle for the entire team, and Snell was no different. It will be good for him to get a nice break this week after such a heavy workload.
Giannis
Antetokounmpo
G/F,
Milwaukee Bucks
C-
For most people, the stat-line that Giannis posted in this game would be respectable, but it is not for Antetokounmpo. After picking up three fouls early, Giannis really toned down his aggressiveness. He looked afraid when attacking the basket and was shut down for the majority of the game. Yet again, he turned the ball over too much, but this time he did not make up for it with his passing. He had another solid night rebounding the ball, but that can also be attributed to the fact that there were a whopping 111 missed shots in this game. Also, when he was called upon to take the last shot for the Bucks, he did not play to his strengths. In a tied up game, he stalled for 10 seconds and then took a contested pull-up jumper instead of attacking the basket. Giannis is at his best when he can get into the lane and either finish or look for others to score. In this case, he did neither. Definitely an off-night for the Greek Freak, and the Bucks won't win many games when he plays like this.
Jabari
Parker
F,
Milwaukee Bucks
C
If you were to just look at the box score, you might say that Jabari Parker had a good game. After starting the game 7-9 from the floor, he went on to just shoot 1-7 for the rest of the game. Also, just like Giannis, Jabari was definitely in foul trouble, which directly affected his ability to attack the basket. And, most notably, his defense was abysmal. Again. He was matched up with
Harrison Barnes
for most of the game, and Harry B took him to church. Barnes finished with a career-high 34 points and did it in a variety of ways. Jabari was caught with his hands down on several occasions, leading to plenty of jump shots. Along with that, he was beaten off the dribble on several other occasions. When Jabari is not being an efficient scorer, his deficiencies on defense are even more vulnerable to exploitation.
Miles
Plumlee
C,
Milwaukee Bucks
C+
Miles Plumlee
was pretty average in this game. He was second in minutes among centers, and capitalized with some solid defense and efficient night on offense. However, he turned the ball over twice, including one awful pass in overtime. Plumlee has really had a rough start to the season, but hopefully he can make some more improvement on both ends of the floor. He might not live up to the expectations that some people have formed off of his contract, but showing quality play over the course of 15-20 minutes per game would be enough to benefit the team.
Bench
Mirza
Teletovic
F,
Milwaukee Bucks
C+
Machine Gun Telly had another pretty good night from behind the arc, but he also showed that when he is not shooting, he is not very effective. He continues to have lapses on the defensive end of the floor, and even in a game where the Mavericks only scored 86 points in 53 minutes, those lapses were tough to get over. Teletovic is at his best when the Bucks are working in transition with either Delly or Giannis running the offense. Those opportunities were not bountiful in this game. If he keeps shooting the ball well, then Telly will become a vital part of the Bucks for the rest of the year.
Greg
Monroe
C,
Milwaukee Bucks
B-
Monroe had another double-double that included a solid shooting performance (5/10 from the field), but he also had 5 turnovers. Monroe is known for being an accurate and smart passer out of the post, but that was not shown in this match-up. Seeing this kind of production out of the Bucks' big man off the bench is a good sign moving forward, even in the loss. He still looks like a changed man on the defensive end of the floor, and snatched three steals once again. Not only is he doing a nice job playing the passing lanes, but his swipe of Bogut in the post was a sign of doing a better job in on-ball defense as well.
Malcolm
Brogdon
G,
Milwaukee Bucks
B-
It might not show up in the box score, but Malcolm Brogdon had yet another solid game for the Bucks. Both of his two makes came on nice post fadeaways, which was a positive sign moving forward. Brogdon showed that he has the ability to use his size to post-up smaller defenders and use great post moves for a guard. Personally, it would have been nice to see more of Brogdon on the offensive end, especially when he could have taken advantage of Barea's size. Brogdon once again looked solid on defense and is showing that his lack of quickness is not hurting him, as his defensive instincts are wonderful, even in the faster NBA game.
Michael
Beasley
F,
Milwaukee Bucks
B
It was kind of surprising that
Jason Kidd
only let Beasley run for 10 minutes in this game. Despite his faults on defense, the Bucks were in dire need of scoring against Dallas. Beas was 3-4 from the field and gathered seven points in his limited time on the floor. I am unsure that I will ever say this again, but I wish Beas got more minutes in this game. He even buried a three-pointer. He did a nice job picking his moments and his five-foot fadeaway is pretty solid.
John
Henson
C,
Milwaukee Bucks
C-
Henson played six minutes, and barely made an impact. It is definitely hard to grade someone for a performance that yielded very little. Still, he did manage to turn the ball over in that small period of time, hence the decrease in grade from C to C-.
Jason
Terry
SG,
Milwaukee Bucks
F
So this was not good. Terry returned to Dallas in this one to face off against his former team, and it did not end well. Coach Kidd gave him an extremely long leash by letting him play an astounding 24 minutes. And the Jet did virtually nothing to repay the generosity of his coach. He was 0-6 from the floor, including 0-3 from three-point land. He was one of only two Bucks that did not turn the ball over in this game (Beasley was the other), which was a positive, but he brought nothing else important to the floor.
Head Coach
Jason
Kidd
Coach,
Milwaukee Bucks
D-
First off, the team was given the chance to win this game. In fact, the Bucks definitely could have (and probably should have) won this game. Dallas did nothing special to win the game. The Bucks were just flat. But to be honest, these types of games happen, and the blame cannot be put solely on Jason Kidd's shoulders.
On the other hand, however, there were quite a few puzzling decisions by Kidd in this one. For starters, Jason Terry. I know that the two are friends and Terry was facing his former team, but that is no excuse for playing him 24 minutes when he was far from effective when on the floor, especially when there were other options. For the first time this season, Rashad Vaughn received a DNP-CD. And through seven games, Vaughn is definitely a player that shows how little consistency Kidd has shown with his rotations.
In the team's seven games, Vaughn has played the following minutes in each game: 8, 27, 22, 17, 1, 25, DNP-CD. What is his role? Who knows. And to me, the Bucks could have used Vaughn on the floor. It was clear that despite the relative ease of their game against Sacramento the night before, the entire team was tired, and Vaughn could have brought more energy to the floor, even if that was only for 5-10 minutes. To this point, Rashad has proven to be a capable shooter with the confidence to take tough shots and defend reasonably well.
Obviously the foul trouble presented by Jabari and Giannis was something that Kidd had to deal with, but his management of this issue was definitely shaky. Down the stretch of regulation, the cornerstones each had four fouls, but remained on the bench for much of the fourth quarter. When they were brought in to the game late, it was clear that they were rusty and with two fouls before being disqualified, they could have been brought in much earlier. It seemed like Kidd was trying to conserve his two stars instead of playing for the W.
And speaking of late-game decisions, what did Kidd talk about in the huddle before the last play in regulation? I get the idea of putting the ball in the hands of your best player, but at least draw something up that isn't a straight isolation. Giannis is a great player, but isolation jump-shots are not his forte. The reason that Point Giannis has been so successful is because of his ability to not only attack the basket, but because he can use his court vision and height to take advantage of collapsing defenses.
It is hard for me to believe that Kidd learned nothing from the Bucks game against the Brooklyn Nets. The situation in that game was very similar to this one, and without a tip-in by John Henson, that game would have gone to overtime as well. Giving Giannis or Jabari the ball is the easy part, drawing up an alternative option is something that Kidd needs to work on, especially if the Bucks are going to play a lot of close games.
Opposition
Dallas
Mavericks
Southwest,
1-5
D+
Entering the game at 0-5, this was the Mavericks first win of the season. And this was not a good game by any stretch of the imagination, for either team. The Mavericks were without
Dirk Nowitzki
,
Devin Harris
, and
Deron Williams
, but they were able to knock off the Bucks in overtime. J.J. Barea continued the tear that he has started the season on, and was exceptional during the extra period. It was definitely surprising to see him torch
Matthew Dellavedova
, but hopefully this just proves to be on an off game for Delly. As for Harrison Barnes, he went off for a career-high 34 points. This was in large part due to Jabari Parker's weak defense, but even Giannis struggled with Barnes at times.
Overall, the Bucks definitely looked flat in the game, but it is a positive moving forward that they still had chances to win the game. Still, the team cannot afford many nights like these to occur throughout the season. The Mavericks were able to take advantage of Milwaukee's youth during the end of regulation and put the foot down during the overtime period.
As for the Mavericks in the future, it is promising to see Harry B start the season so effectively. Pairing a forward combo of Harrison and Dirk is dangerous, even with the disastrous start to their season. Maybe the Mavs can use this home victory over the Bucks to propel themselves into a win streak and back into relevancy in the Western Conference.
The Bucks will have a few days to rectify their errors from this one, before they return to action at home against the Pelicans on Thursday.
More from Behind the Buck Pass
This article originally appeared on