Milwaukee Bucks: Grades From 117-113 Win Over the New Orleans Pelicans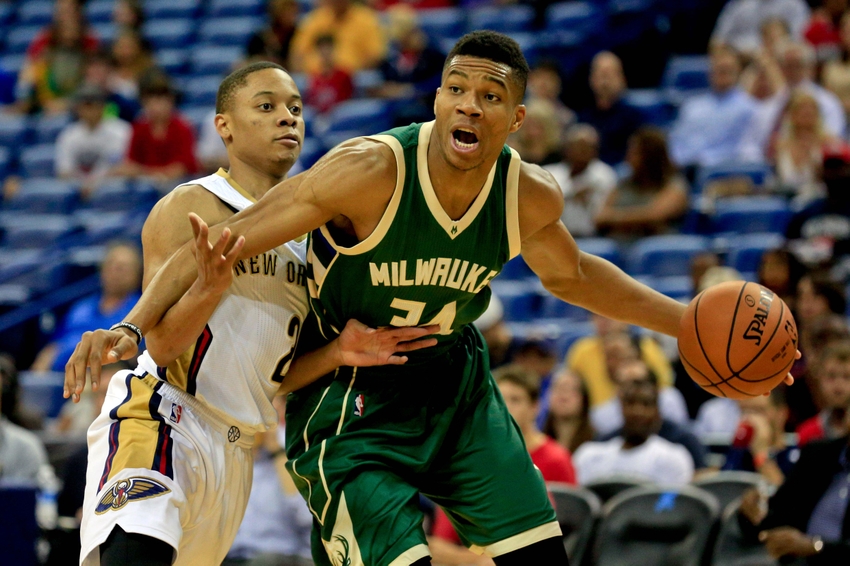 The Milwaukee Bucks got their first road victory of the season, so let's take a look at how each player performed.
The Milwaukee Bucks hit the road for the second time this season Tuesday in New Orleans, where they were able to come away with their first road win.
Once again, Giannis Antetokounmpo lead the way for the Bucks. Unlike Sunday's game in Detroit, however, there were plenty of positives to take away from this game.
The key positive change seemed to be one of mindset; the Bucks, almost to a man, were aggressive in looking to make plays on the offensive end, as evidenced by their 30 assists, 58 points in the paint and 32 three point attempts.
On the downside, the Bucks struggled to defend the three-point shot, especially early, against the Pelicans, who came in shooting only 19% from beyond the arc. The Pelicans hit five of their nine first quarter three-point attempts, though they hit only four more in the ensuing three quarters.
Let's go ahead and take a closer look at the action and find out what grades we give to Milwaukee's players, Jason Kidd, and the New Orleans Pelicans!
Starters
Matthew
Dellavedova
G,
Milwaukee Bucks
B+
Delly is quickly demonstrating his value to the Bucks, thanks to his ability to make plays for his teammates and hit open shots. In addition, his leadership, both by example and through vocal communication, is helping to fill a void the Bucks have had since the departures of Jared Dudley and Zaza Pachulia. While his numbers may not have been eye-popping, with 11 points, eight assists and five rebounds, Delly came up with a big steal down the stretch and hit half of his shots from the field. His consistency of effort and level of play helped to keep the team on track for the victory.
Tony
Snell
G,
Milwaukee Bucks
B+
Tony Snell undoubtedly had his best game as a member of the Bucks, finishing with a double-double. Snell scored 13 points and pulled down 10 rebounds and he was aggressive in looking for his shot, taking nine three-pointers. He showed no hesitation on catch-and-shoot opportunities, and played solid defense in his team-high 33 minutes on the floor. It is obvious that Snell has the trust of Jason Kidd, and hopefully this is the type of production we can expect from him this season.
Giannis
Antetokounmpo
G/F,
Milwaukee Bucks
A
In a game against one of the best players in the league, Giannis is the one who made the plays down the stretch that secured the victory for the Bucks. After finishing a pick and roll opportunity at the hoop, the next time down the floor he hit a monster three pointer, having the courage to take the shot despite being zero-for-five from deep up to that point. The numbers he put up are what we are coming to expect from Giannis, namely 24 points, 10 rebounds and seven assists.He also contributed two blocks and a steal, while turning the ball over only once. The only real blemish on his game were the five fouls he committed.
Jabari
Parker
F,
Milwaukee Bucks
A-
Jabari Parker showed a bit of what everybody has been looking for coming into the season. Parker scored 21 points in 29 minutes of play. He was aggressive, though occasionally verging on out of control, when attacking the basket. He also took some of the open jumpers that were presented to him by sagging defenders. He also got to the free throw line a team-high seven times, hitting all seven. Though he only had two rebounds, this game had much more of what Bucks fans need to see from Jabari Parker this season.
Miles
Plumlee
C,
Milwaukee Bucks
C-
Plumlee did not contribute much in the box score, but he did a solid job bodying up on Anthony Davis, making things difficult for Davis and even drawing an offensive foul and an ensuing technical foul.
Bench
Mirza
Teletovic
F,
Milwaukee Bucks
C-
Mirza Teletovic has not yet had a really good shooting game for the Bucks, but that has not stopped his teammates from trying to get him open looks. Unfortunately, when he is not hitting shots at a high rate, it can be difficult for him to get minutes, since that is his primary contribution. In 12 minutes, Teletovic hit two out of his six three-point attempts.
Greg
Monroe
C,
Milwaukee Bucks
C+
Greg Monroe may have been the only Buck who was not aggressive on the offensive end. Monroe finished with just six points in only 17 minutes. He did, however, pull down 11 rebounds and had six assists. He also blocked a shot and continued to move better defensively than he did at any point last season.
Malcolm
Brogdon
G,
Milwaukee Bucks
A-
Malcom Brogdon is solid. Consistently solid. It is a really pleasant surprise to have a rookie come in and make the type of contributions that he has. In 23 minutes, Brogdon scored 14 points and tallied four assists. Definitely great production from a backup guard.
Michael
Beasley
F,
Milwaukee Bucks
B+
With 12 points in 12 minutes off the bench, Michael Beasley brought some scoring punch as a reserve. He was aggressive attacking the basket, and finished well around the rim. This type of production from Beasley would be a boon for the Bucks.
John
Henson
C,
Milwaukee Bucks
D+
Like Miles Plumlee, John Henson did not contribute much that shows up in the box score, but he too made Anthony Davis work hard to get his points. In 16 minutes, Henson failed to score, though he did pull down five rebounds.
Rashad
Vaughn
G,
Milwaukee Bucks
C-
Rashad Vaughn seemed fairly aggressive and confident in his first stint in the game, during which he scored all five of his points. He played in the second half, but you can be forgiven if you did not notice. Overall, I think the Bucks will be alright with Vaughn playing limited minutes and not actively hurting the team during his time on the floor. It may be a low bar, but it is one we are not yet sure Vaughn can clear consistently.
Head Coach
Jason
Kidd
Coach,
Milwaukee Bucks
C+
Jason Kidd is yet to settle on a real rotation, though it seems like we are beginning to see the plan for the year. The centers will rotate fairly evenly unless one of them gets hot. The other four starters will log some fairly heavy minutes, especially Giannis . And we will routinely be left with questions regarding at least one player's minutes every game. I don't know that I want to routinely see Tony Snell on the floor more than either Jabari Parker or Matthew Dellevadova, though perhaps that is more a function of the Bucks lack of depth at the wing.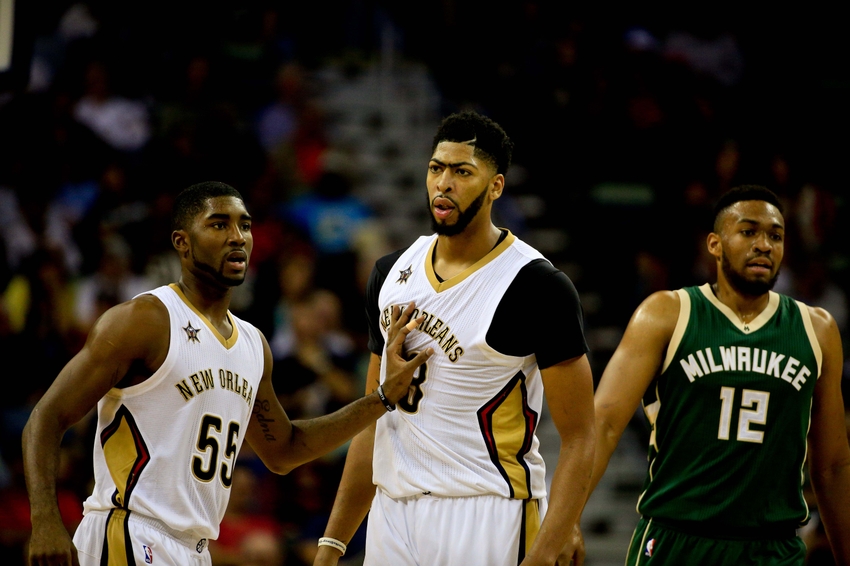 Opposition
New Orleans
Pelicans
Northwest,
0-3
B-
Anthony Davis is an incredible talent. The supporting cast of the New Orleans Pelicans is not quite as incredible. They acquitted themselves fairly well in this game, contributing much more than in their previous three games this season. The load that Anthony Davis has been carrying thus far is not sustainable over the course of the season, so the Pelicans are going to need players like Solomon Hill (18 points, six rebounds) and Tim Frazier (20 points, nine assists) to continue to pick up the slack.
Now at 2-2 for the season, the Bucks next battle is against the Indiana Pacers at home this Thursday at 7p.m. CT.
More from Behind the Buck Pass
This article originally appeared on