Milwaukee Bucks: Grades from 112-106 Loss To New Orleans Pelicans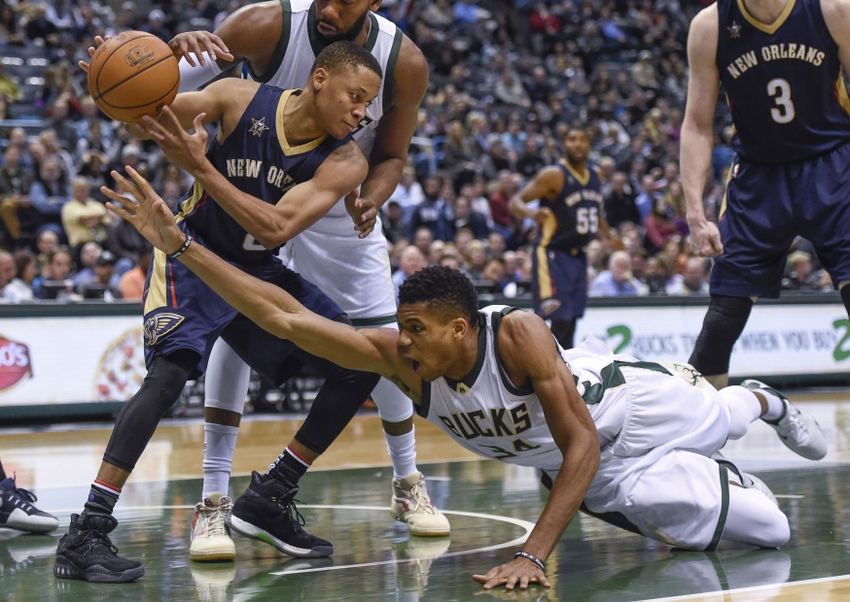 After three full days off, the Bucks came back with a lackluster performance against the New Orleans Pelicans. It was not enough as the team took their second loss to a winless team in as many contests.
VS.
| | | | | | |
| --- | --- | --- | --- | --- | --- |
| | 1 | 2 | 3 | 4 | T |
| Bucks | 27 | 27 | 27 | 24 | 106 |
| Pelicans | 26 | 35 | 27 | 25 | 112 |
This was another tough loss for the Milwaukee Bucks as they suffered through a miserable second quarter that the team was unable to recover from. Overall, it was not a horrible performance from Milwaukee, despite falling to another winless team. The defensive effort did not seem to be entirely present, but the offense showed up ready to play, especially from Jabari Parker.
Jabari showed once again what makes him such a valuable scorer for the Bucks. He can attack the rack in isolation, work to get open off the ball, and even splash the corner three with consistency. Now in his third season, Parker is starting to show the explosiveness that warranted him to be the second selection in the 2014 NBA Draft.
Even with Jabari's hot night, however, the team felt the impact of Giannis Antetokounmpo's foul trouble for another game.
Giannis is the best Bucks' player and often times the best player on the floor for both teams. He has clearly taken the leap to stardom over the offseason and is possibly closing in on becoming a top-10 player in the entire league. Still, he, and several other Bucks, had off nights tonight, which contributed to a tough home loss.
Still, 4-4 is not a horrible start to the season. There are still 74 more games to play and each of them matters just as much as the last one. The team just has to look at what they can do to improve on this performance and get better for the next outing.
And in summary of the Bucks' loss to the Pelicans, let's take a look at the grades we have given the starters, bench, coaching staff, and opposition.
Starters
Matthew
Dellavedova
G,
Milwaukee Bucks
B
On a night in which
Matthew Dellavedova
struggled shooting from the floor, he was still able to contribute in several ways. In 29 minutes, Outback Jesus dished out 12 #DellyDimes while only turning the ball over twice. Although fans probably did not expect to see Delly as the primary ball handler as much as he is, he has done a solid job to this point. He was also a solid rebounder, where he pulled down five rebounds.
Defensively, he had another off night. Although Delly's on-ball defense has been terrific, he seems to be helping too much on other assignments. When he cheats towards towards the lane on defense, he often leaves his assignment open along the three-point line. This is in large part due to the overall defensive struggles of the team, but he will need to stick to his man and trust the rest of his teammates.
Tony
Snell
G,
Milwaukee Bucks
C-
Snell needs to start doing more. This was yet another poor performance from the young shooting guard. His defensive talents are still pretty good, but that does not make up for his lackluster offense. He was 1/4 from behind the arc and missed a few really open looks that could have brought the game much closer towards the end of the game. If Snell can truly be relied on to knock down his open jump shots, then his all-around talents can be much more appreciated on the court.
Giannis
Antetokounmpo
G/F,
Milwaukee Bucks
C+
On the surface, Giannis had yet another nice game in the box score. However, he continues to struggle with foul trouble and turnovers.
Jason Kidd
seems to be limiting the potential of Point Giannis, which is hurting the Greek Freak's ability to be a playmaker, but that is no excuse for his cough-ups. This was his fourth straight game with three or more turnovers. Also, for the second straight night, he ended the game with five fouls. It has been clearly shown in these games that Giannis tones down his aggressiveness when he is dealing with foul trouble.
He did end up with a double-double, but when Giannis is not playing to his full potential, the Bucks definitely struggle as a team. Milwaukee revolves around the play of Antetokounmpo and they need him to be playing at an All-Star level.
Jabari
Parker
F,
Milwaukee Bucks
A
Jabari Parker's 33-point outburst in this game was his second-highest scoring performance of his career. Not only was he attacking the basket in his typical fashion, but Jabari proved that he can score in a variety of ways. He was potent from mid-range and even knocked down three deep balls. He ended up with nine total rebounds and that just contributed to an all-around great performance. It is hard to see the Bucks fall when Jabari played so well, but hopefully this performance is a sign for what is to come in the future.
Miles
Plumlee
C,
Milwaukee Bucks
F
Yet another F for
Miles Plumlee
. It really has been a tough start to the season for their starting center. He played just 11 minutes and the only thing that he contributed to the box score was three fouls. Both Plumlee and his hair continue to look horrible. Oh, and he should really never try a dream shake on
Anthony Davis
again.
Bench
Mirza
Teletovic
F,
Milwaukee Bucks
C-
Mirza Teletovic
yet again did not receive many minutes in this game. He played in just 11 minutes and it was clear that he is at his most effective when on the floor with Giannis. With Antetokounmpo in foul trouble, Mirza's ability to spread the floor in transition was negated. And when Telly isn't making his impact on offense, he is making a negative impact on the game as a whole. It is hard to say that Mirza is off to a good start to the season, and he needs to pick it up.
Greg
Monroe
C,
Milwaukee Bucks
C+
Monroe was second on the team in bench minutes and led all centers in minutes once again. While only taking five shots in his 20 minutes, it is obvious that Monroe is demanding less touches than he was last season. He also showed his versatility by yet again grabbing a few rebounds and making some nice passes. Even his one turnover came with good intentions. Monroe received a double-team in the post and made the right read to find an open shooter in the corner. However, he made the pass just a tad too late. The Pelicans read it and were able to pick off his pass before it reached its intended target.
Malcolm
Brogdon
G,
Milwaukee Bucks
B
These kinds of performances are starting to become the norm for
Malcolm Brogdon
. He continues to show outstanding poise when in command of the offense and he's active on defense. Brogdon once again added a steal in this game, which will undoubtedly contribute to his place in the rookie ladder. His attacking of the basket and mid-range was also on display as his smooth shooting and play contributed to 10 points on 4/6 shooting.
Michael
Beasley
F,
Milwaukee Bucks
B+
In yet another game, I was surprised to see Beasley receive such few minutes. With Giannis in foul trouble, Beas could be the guy to make up for his lack of scoring. And he did just that in his minutes. He was 3/6 from the floor, including one three-pointer, while scoring nine points in 12 minutes. He also added four rebounds and even had two assists! This was another nice performance for him and hopefully it is indicative of the rest of the season.
John
Henson
C,
Milwaukee Bucks
C
Henson had a pretty decent game against the Pelicans, but it was nothing special. He had three offensive and defensive rebounds each in this one while also tacking on four points. He didn't make an incredible impact on the game, but he did start showing his defensive prowess. Two blocked shots in 17 minutes is back up near his per-36 minute number from last season, so hopefully this is the start of an upward trend for Henson.
Rashad
Vaughn
G,
Milwaukee Bucks
C+
After a DNP-CD on Sunday, Vaughn came out and played hard for 15 minutes against the Pelicans. In that time, he was 3/5 from the field including one very acrobatic finish around the rim. He continues to impress early in this season and hopefully his confidence both on offense and defense will flood through the rest of the bench and roster.
Head Coach
Jason
Kidd
Coach,
Milwaukee Bucks
C
Obviously the road towards victory gets a lot harder for a head coach when his best player gets into foul trouble, but Kidd did pretty well without Giannis for an extended period of time. He did have a tremendous luxury in the fact that Jabari Parker was red hot from the floor and was smoking every defender that tried to guard him, though. All in all, it was not an outstanding coaching performance by any stretch of the imagination, but it could easily be labelled as average. He kept somewhat consistent rotations throughout the game and gave opportunities to those players that most deserved them throughout the game.
As the game was mainly close throughout, no minutes were given to Thon Maker. The fan favorite will likely get stuck in this position for much of the season, as he will mainly be called upon during blowouts. Also, after his disastrous performance against the Mavericks, it was Jason Terry who received a DNP-CD in this game. After Rashad Vaughn was that player in the previous match-up, there could easily be a position battle starting between Mr. Showtime and the Jet for playing time for the rest of the season.
The Bucks are still 4-4, so it is not time to start panicking, but two straight losses to winless teams is not a positive sign for the near future. Kidd needs to get his players back in line and ready to compete for the next outing.
Opposition
New Orleans
Pelicans
Southwest,
1-8
B
Despite starting the season winless in eight attempts, the Pelicans were pretty decent in this outing. Not only was Anthony Davis (32pts/8rebs) up to his usual standards, but the rest of the roster thrived as well.
E'Twaun Moore
and
Tim Frazier
, the team's two starting guards, combined for 35 points and 13 assists, a very nice game for the backcourt pair. Outside of the starting lineup, their bench was also quite solid. Alvin Gentry only took his depth nine spots deep in their first victory, and each player contributed valuable minutes.
If the supporting cast to Anthony Davis and Co. can start to produce on a consistent level, maybe the Pelicans will turn out alright after all.
Next on the Bucks' schedule is a home match-up against the Memphis Grizzlies on Saturday night at 7:30 CT.
More from Behind the Buck Pass
This article originally appeared on