Milwaukee Bucks: Giannis Antetokounmpo Can Be Best In The World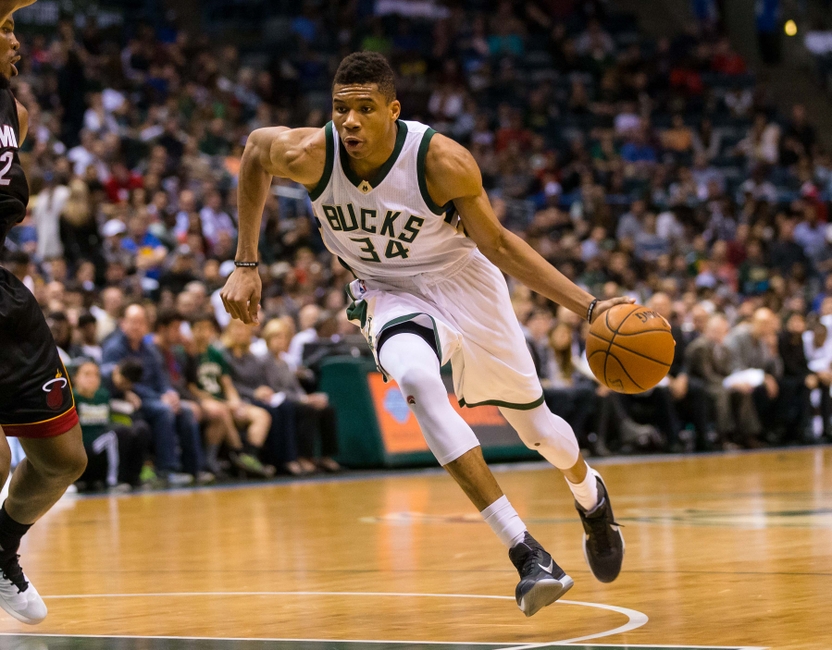 Milwaukee Bucks standout Giannis Antetokounmpo is unlike any player in NBA history. He has the potential to be the best in the world.
---
The Milwaukee Bucks have one of the most promising long-term futures of any team in the NBA. With extraordinary size, length, and versatility at virtually every position, Milwaukee has long-term championship aspirations.
The player who will define the pursuit of the Bucks' first NBA championship since 1971 is the incomparable Giannis Antetokounmpo.
Antetokounmpo entered the 2013 NBA Draft as a genuine unknown. Milwaukee's gamble of selecting him at No. 15 overall has paid off, but at the time, not much at all was known about him.
Antetokounmpo was a freakish physical specimen who played in an uncompetitive Greek league and couldn't possibly live up to the expectations of playing point guard.
Three years later, Antetokounmpo is widely regarded as one of the best young players in the NBA. He made the All-Rookie Second Team in 2013-14 and has been a fantasy basketball steal over the past two seasons.
Though it may be premature to make a final determination, Antetokounmpo has the potential to go beyond the numbers and become the best player in the NBA.
Physical Gifts
Every single player in the NBA has been given a gift of some sort. Whether it's size, athleticism, work ethic, or something hidden deep within, no one has made it this far without some type of extraordinary ability.
One could very easily make a case that no player in NBA history has been as physically gifted as Giannis Antetokounmpo.
Antetokounmpo stands at a reported 6'11" and 222 pounds. He's grown two inches since he was drafted and has added noticeable muscle to his frame in consecutive offseasons—a sign that he's nowhere near the maximization of his physical potential.
Antetokounmpo also has a 7'4″ wingspan, explosive athleticism, and one of the longest strides the Association has ever seen.
Antetokounmpo can get from the 3-point line to the rim in just two steps without traveling. His Euro step can take him across the entire European continent and his explosiveness off of one foot is uncanny for a player his size.
Physically, there's no one in the NBA as fascinating as Antetokounmpo—not even Kevin Durant or LeBron James. Positional Versatility
It's entirely hyperbolic when someone claims a player can fill all five positions. Even Magic Johnson, who famously started at center and scored 42 points in Game 6 of the 1980 NBA Finals, couldn't play the 5 on a full-time basis.
In the modern era, however, it's entirely conceivable that Giannis Antetokounmpo could play any of the five positions on a full-time basis.
As previously alluded to, Antetokounmpo is 6'11" and 222 pounds with a 7'4″ wingspan. He has the height and length of an NBA center, and has all of the tools to stat full-time at all three perimeter positions.
If he improves his outside shot, Antetokounmpo could dominate at power forward in the same way Draymond Green has—but taller, faster, and more explosive.
If Antetokounmpo continues to add muscle to his frame, he could spend time at all five positions—a possibility Jason Kidd has already explored. The Greek Freak already bulked up quite significantly for a 21-year-old perimeter player and only projects to get stronger.
Antetokounmpo is best as an offensive point guard and a defensive floater, but he could play all five positions with consistency.
Defensive Potential
In the present day, there aren't many defensive players more versatile than Giannis Antetokounmpo. In the long-term, it's entirely plausible that he could become the most versatile defensive player in the NBA.
Antetokounmpo showed flashes of just how dominant a force he could one day be on that end of the floor.
In 2015-16. The Greek Freak became the youngest perimeter player to average at least 1.0 block and 1.0 steal per game since Kevin Durant in 2009-10. He upped those numbers to 1.9 blocks and 1.4 steals after the All-Star Break.
Antetokounmpo also held opponents to 43.8 percent shooting from the field on 12.7 shots faced per game.
Blocks and steals aren't necessarily signs of elite defense. It's a statistical example of what Antetokounmpo is capable of on the defensive end of the floor, however, as an incomparable physical presence.
Think Kevin Durant, Andrei Kirilenko, and Josh Smith rolled into one on the defensive end of the floor.
Offensive Versatility
The Milwaukee Bucks are embracing the possibility of Giannis Antetokounmpo being able to run point. He did so in Greece and showed flashes of being a true facilitator during the second half of the 2015-16 season.
The fact that Antetokounmpo can influence games as a 6'11" facilitator is further reason to believe he can be the best player in the world.
Antetokounmpo finished the 2015-16 season with averages of 16.9 points, 7.7 rebounds, 4.3 assists, 1.4 blocks, and 1.2 steals per game. He did so on 50.6 percent shooting from the field and 72.4 percent shooting from the free throw line.
Over the final 26 games of the season, Antetokounmpo's numbers jumped to 18.8 points, 8.4 rebounds, 7.5 assists, 1.9 blocks, and 1.5 steals per game.
For perspective, no player in NBA history has averaged at least 18.0 points, 8.0 rebounds, 7.5 assists, and 1.5 blocks over the course of a full season.
There's no guaranteeing that Antetokounmpo will accumulate those averages over the span of 82 games. 26 games is a relatively healthy sample size, however, and it's all in line with what he was already doing.
The fact that Antetokounmpo will play point guard in 2016-17 implies that he could be entering uncharted territory as soon as this season.
Mean Streak
As previously alluded to, Giannis Antetokounmpo can do it all. He has elite defensive potential, positional versatility, is capable of facilitating, and is even a productive rebounder who can produce on both ends.
The final piece to the puzzle is the startling reality that Antetokounmpo isn't like the countless phenoms who are afraid of their own potential.
Antetokounmpo is a ferocious competitor who wants to beat and embarrass opponents. He has no problem getting physical on defense, fights through contact on offense, and simply wants to win.
You can't teach tenacity and Antetokounmpo has it in spades.
Oddly enough, the hardest thing to find in basketball circles is a big player who isn't afraid to use their size to their advantage. Big men want to play like guards in the modern era, and many even preferred a finesse game in the 1990s.
Antetokounmpo has the size, length, and strength of a big man, the explosiveness of a point guard, and the mean streak of a champion.
Absolutely nothing is guaranteed in the NBA, but Giannis Antetokounmpo has the raw tools to one day become the best player in the world.
This article originally appeared on