Milwaukee Bucks Game Preview: Nov. 6 vs Dallas Mavericks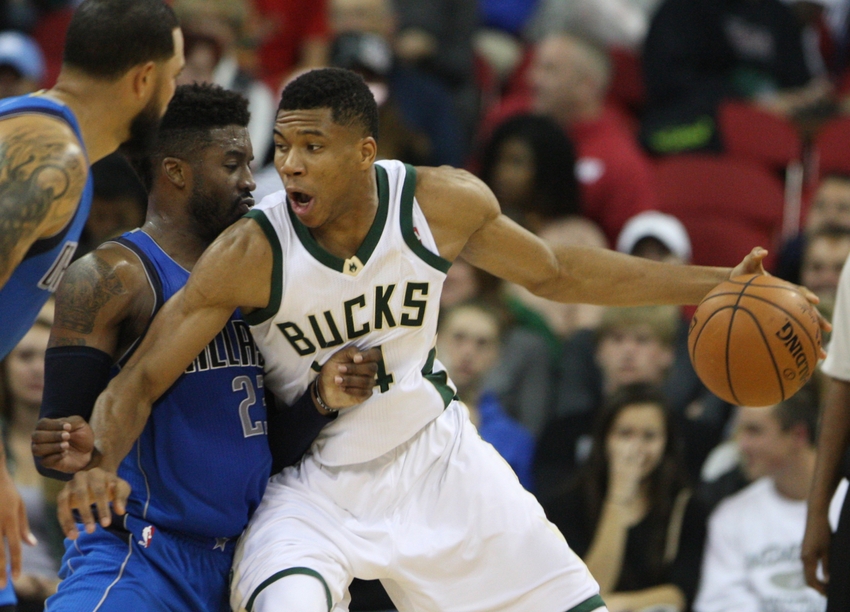 The Milwaukee Bucks are rolling. Will they keep up their winning ways against the Dallas Mavericks on Sunday evening?
The Milwaukee Bucks might be good. That's an unexpected development in the 2016-17 NBA season, but it's one Bucks fans are definitely okay with. The Bucks haven't beaten any very good teams yet, but the team looks good against the opponents they have played.
There's not much a team can do but play the schedule they have, and Milwaukee has beaten four of their six opponents thus far. The winless Dallas Mavericks are up next, and they've obviously been struggling early this season.
This is another game that won't prove Milwaukee is a powerhouse–beating the Mavs isn't exactly a statement win. But each game counts the same in the standings, and good teams win the easy ones almost every time.
If the Bucks can keep rolling and beat down Dallas, they'll gain valuable momentum that could help when the good teams do pop up on the schedule. This unit has a lot of chemistry already, and they're also piling up the wins. Can they add another on Sunday night?
We'll go through the major keys to victory for both teams, look at a player to watch in this one, and then finally make our predictions!
Major Key For Milwaukee: Don't Lose Focus
This is a trap game for the Bucks. Milwaukee is 4-2 and on a three-game win streak, while the Mavericks have dropped all of their first five games. It's far too easy to chalk this up as a victory, especially considering Dirk Nowitzki and Deron Williams might both miss this game, with Wesley Matthews banged up as well.
The Mavs 0-5 record might not indicate how good they actually are. Dallas has lost to the Indiana Pacers in overtime, the Houston Rockets twice, the Utah Jazz and the Portland Trail Blazers. Indiana has struggled, but those other three teams are tough Western Conference opponents.
The Mavericks have also struggled with injury problems, which will happen on a roster full of injury prone players. They won't be at full health for this game, but any time Rick Carlisle is coaching a team they probably have at least a shot at victory.
The worst thing Milwaukee can do is assume they can coast to victory here. The Bucks aren't good enough for all that. They need to take each game seriously to win, even against a team that hasn't won all season.
Major Key For Dallas: Slow Down The Pace
The Mavericks lose a lot of their offense without Dirk in the lineup, but they do gain a boost defensively without him. With Andrew Bogut slated to play, the Mavericks could find themselves playing a very defensive-orientated starting five on Sunday.
If they can slow down the high-flying Bucks a bit and grind the game to a halt, Dallas can try to win a close game that comes down to just a few possessions. The Bucks have the more talented and younger roster, but Dallas has an edge in coaching and just veteran presence.
The Mavs have been too old to keep up with a lot of teams, but with younger players like Harrison Barnes and Seth Curry seeing more minutes they might look a bit faster against Milwaukee. Still, they can't try to run with Giannis Antetokounmpo and Jabari Parker. It just won't work.
If there are a ton of fast breaks in this game, it probably won't go well for the Mavericks. If they slow down the pace and force Milwaukee to score against Bogut and the other Mavericks in half-court sets, they should at least have a shot.
Player To Watch: Harrison Barnes
After giving him a massive $94 million deal this summer, the Dallas Mavericks are force-feeding Harrison Barnes touches this year. Barnes is leading the Mavs in minutes played, field goal attempts and points per game thus far.
Barnes has put up the numbers, scoring 18.2 points per game while also pulling in 6.2 rebounds. He's shot an efficient 48.7 percent from the field as well, while making 33.3 percent of his threes with Dallas.
The value of that deal will continue to be debated, but in a season where the Mavericks aren't doing much anyway at least they're taking a gamble on Barnes being more than the fifth banana he was in Golden State last season.
To his credit, he has filled the role of featured player fairly well in Dallas. The Mavericks aren't winning games yet, but his numbers are certainly solid enough. Barnes isn't the kind of guy you can build a title contender around, but Dallas is certainly better with him than they would be without him this year.
Finale
Winless teams are strangely dangerous. The pressure on any team without a victory to finally pull out a win is very real, and it can be powerful. The Bucks should win this game, but there's always a chance for any team to pull out any win.
The Mavericks are old and slow, but they're also extremely well-coached. The Bucks have definitely seemed like a well-coached team these past few games as well though–maybe Jason Kidd's recent extension was a bargain.
Honestly, trying to sell this as anything but a win for Milwaukee is difficult. These picks were made a week ago, when the Bucks still looked hapless. They do not look hapless any more, but it is still too soon to responsibly jump on the hype train.
Predictions and Leaderboard:
Lukas Harkins: Bucks by 5 — 5-1, 60 point differential
Ti Windisch: Mavericks by 6 — 4-2, 67 point differential
Jordan Treske: Mavericks by 12 — 4-2, 80 point differential
Adam McGee: Mavericks by 7 — 4-2, 87 point differential
Tim Wray: Mavericks by 8 — 3-3, 79 point differential
Tom Pheister: Mavericks by 4 — 3-3, 87 point differential
Rohan Katti: Bucks by 8 — 4-1, 70 point differential
Adam Coffman: Mavericks by 3 — 4-1, 71 point differential
The game is on Sunday night at 6pm CT, and will be televised on Fox Sports Wisconsin and NBA TV.
This article originally appeared on