Milwaukee Bucks Game Preview: Nov. 29 vs Cleveland Cavaliers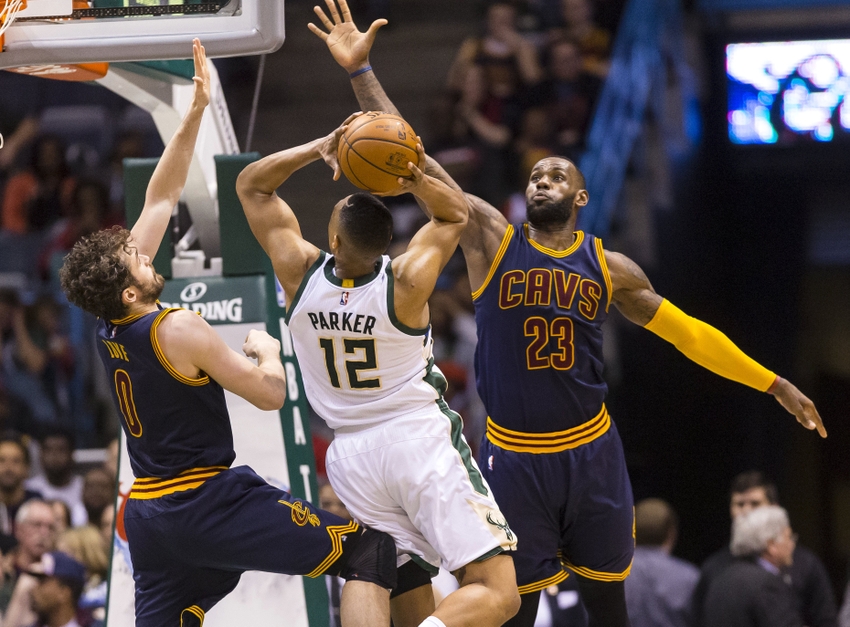 The Milwaukee Bucks have their toughest challenge of the season awaiting them, as the Cleveland Cavaliers come to Milwaukee on Tuesday night.
The Milwaukee Bucks pulled out another win over a struggling Orlando Magic team, but the Bucks have a real team awaiting them back in Milwaukee. The Bucks take on the Cleveland Cavaliers on Tuesday night.
Although it was easy to forget with the huge summer the Golden State Warriors had, the Cleveland Cavaliers are reigning NBA Champions. They're still pretty damn good this year, in case you were wondering.
Cleveland is 13-2, with losses coming to the Atlanta Hawks and to the Indiana Pacers on the second night of a back-to-back. They've won four straight, and LeBron James seems like he's got trouble on his mind this year in the regular season.
The Cavaliers are going to see this as an easy win, and unless the Bucks come out playing their very best basketball it will be. LeBron is 34-13 all-time against the Bucks, and he's only lost to Milwaukee one time since 2012.
To see who has the better shot at victory we'll look at major keys for both team, the player to watch on Cleveland's side of things, and then make predictions!
Major Key For Milwaukee: Stop Love In The Name Of Love
Kevin Love is a very good basketball player. One of the more annoying narratives to develop around the NBA in recent years is that Kevin Love is not very good, mostly because the Cavaliers were not using him to do much besides space the floor.
Ty Lue has pulled Love out of the corner, and put him in a focal role in the Cavs offense. The dividends have been massive. Love is averaging 22.3 points, 10.7 rebounds, 1.6 assists, 1.0 steals and 0.6 blocks per game this season.
He's hitting 45.4 percent of his field goals and 43.0 percent of his threes as well. Love has been fantastic, just like all of the Cavs' big three. The difference is those two are mostly impossible to shut down–Love isn't quite that good to where he can't be stopped.
He's thrived this season in an expanded role, but Love is still clearly third on Cleveland's pecking order. He's dangerous because he gets to go up against defenses tilted towards Kyrie Irving and LeBron–the Bucks need to be sure to keep Love in mind at all times while he's on the floor. He's just too good to forget about.
Major Key For Cleveland: Get J.R Going
One thing working in the Milwaukee Bucks favor is that J.R. Smith has been very cold this season. That's not huge in the regular season–the Cavs are good enough to win anyway. But they know they need all of their rotation players on top of their game to win another title, so Cleveland will be focused on getting Smith going.
The Bucks need to hope that doesn't happen on Tuesday night. J.R. is a deadly shooter when he's on, one who simply makes whatever he takes. The Cavaliers might not need him to win this game, but it'll be a major key anyway considering how important Smith is to their title aspirations.
Lue has stuck with Smith through the slump and he's continuted to start games, although with the way Iman Shumpert has been playing it might be hard to deny him more minutes forever. Shump sat out the Cavs last game and it's unclear if he'll play against the Bucks.
J.R. Smith has taken more shots than any Cav outside of the big three here, and that will likely continue until he gets hot. He's getting his shots, he just hasn't been making them this season.
Player To Watch: LeBron James
It's tempting to put Kyrie Irving here because of his showdown with former Cavalier Matthew Dellavedova, but let's be real. King James is the NBA's best player, and he's proving it with maybe his finest regular season ever.
Bron Bron has scored more than 23 points per game before, but he's averaging career-highs in rebounds and assists per game while letting Kyrie take more of the offensive load this time around. That system is clearly working well for the dominant Cavs.
LeBron is currently averaging 23.6 points, 8.4 rebounds. 9.7 assists, 1.1 steals and 0.6 blocks per game. He's hitting 49.8 percent of his field goals, and don't look now but LeBron has shot 36.1 percent on 4.4 attempted threes per game.
Honestly, all bets are off on beating the Cavaliers this year. LeBron clearly isn't resting easy now that he's brought a championship home to The Land–he's likely sick and tired of hearing about the Warriors, again. Sadly for the Bucks, he's taking it out on the poor Eastern Conference this season.
Finale
It'll take a bit of luck for the Milwaukee Bucks–or any team in the East–to beat the Cleveland Cavaliers this season. The Cavs are the best team the Conference has to offer, so if they're playing their best basketball they likely aren't going to lose.
That's just how it goes when LeBron is around. There's a reason he's been to six straight NBA Finals, and it doesn't look like The King intends on allowing anybody to stop him from making it seven straight this summer.
He may not receive the MVP love he deserves, but any team going up against LeBron James doubtlessly knows just how good he is. Add in Kyrie Irving and Kevin Love too, plus some great supporting pieces, and you've got a championship team in the making.
Predictions and Leaderboard:
Adam McGee: Cavs by 4 — 10-5, 161 point differential
Tom Pheister: Cavs by 6 — 10-5, 169 point differential
Jordan Treske: Cavs by 17 — 10-5, 178 point differential
Ti Windisch: Cavs by 20 — 9-6, 144 point differential
Lukas Harkins: Cavs by 9 — 9-6, 151 point differential
Tim Wray: Cavs by 12 — 9-6, 160 point differential
Adam Coffman: Cavs by 16 — 10-4, 152 point differential
Rohan Katti: Cavs by 14 — 10-4, 155 point differential
The game is on Tuesday night at 7:00 p.m. CT, and will be televised on Fox Sports Wisconsin.
This article originally appeared on