Milwaukee Bucks Game Preview: Nov. 27 at Orlando Magic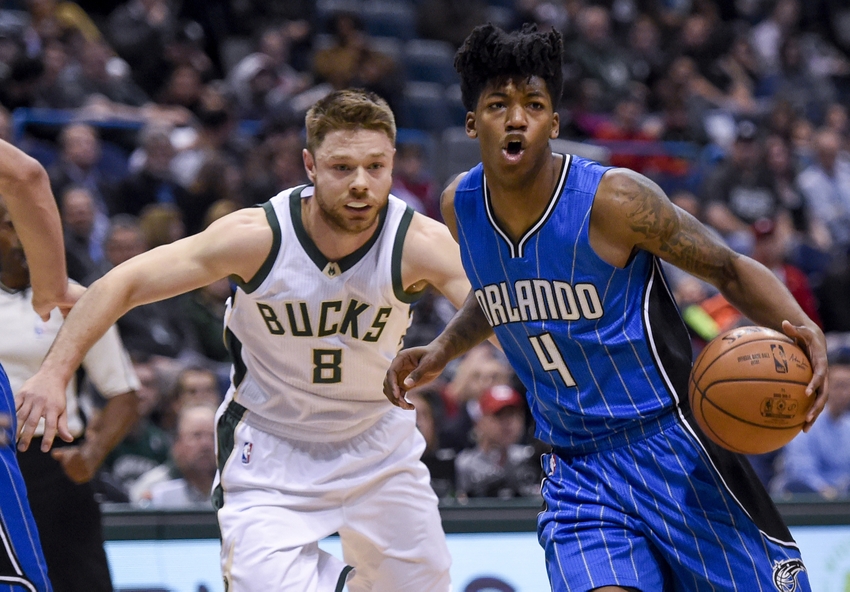 The Milwaukee Bucks made the Raptors work for their victory but a loss is a loss for the Bucks. Can they turn things around with another win over the Orlando Magic?
The Milwaukee Bucks made things very interesting against the Toronto Raptors when the two teams matched up on Friday, but Milwaukee could only hang in against Toronto for so long.
Eventually the better team prevailed, and in this case the Raptors were the better team. Luckily for the Bucks, when they meet up with the Orlando Magic they get to be the better team, which meant a win for Milwaukee when they took on the Magic on Monday.
It's tough to beat a team twice in a week though, and this time around the game will be played in Orlando. The Magic haven't found any success since they lost to the Bucks, losing back-to-back games to the Phoenix Suns and Washington Wizards in the time since.
Hopefully the Bucks can come in and take care of business, same as they did last time against this team. To see who has the better shot at victory we'll look at major keys for both team, the player to watch on Orlando's side of things, and then make predictions!
Major Key For Milwaukee: Keep The Energy Up
The Bucks managed to beat the Magic last time around, but all too often Milwaukee ends up not getting up for bad teams. If the Bucks play Orlando with the same intensity and focus they brought to their game against the Raptors, Milwaukee would likely win in a landslide.
Since Milwaukee is such a young team, though, they typically haven't been able to do that. That explains ugly Bucks losses against the Dallas Mavericks, New Orleans Pelicans and Miami Heat already this season, despite those teams being fairly awful.
If every member of the Bucks takes this game very seriously, it's hard to not expect the team to hand the Magic another loss early on. The fact that these teams met up just under a week ago makes the need for keeping the energy up even more important.
It's always tougher to steal multiple games from the same team in a short stretch of time. That's why it's difficult to win in the playoffs, and the same basic principle applies here. The short turnaround means both teams still know each other pretty well, which makes the game more about skill and resilience than anything else.
Major Key For Orlando: Hold The Bucks Down
It seems as though scoring some points is simply too much to ask from the Orlando Magic. The Magic have scored 90 or more points as often as they've scored less than 90 points this season, and they've only reached 100 or more points four times in 16 games.
Somehow that only makes the Magic the second-worst team in terms of points per game, as the Mavericks score even less than Orlando does per game. Still, at 91.9 points per game the Magic are miles away from being a respectable offense.
Orlando can't hope to suddenly turn it on and dump points on the Bucks–it just simply isn't realistic. That means for the Magic to win, they have to make this game a slog.
If Giannis Antetokounmpo and Jabari Parker start galloping up and down the floor, Orlando is probably done. The Magic just don't have a way to score fast enough with their big man-heavy roster.
Serge Ibaka was named the player to watch last time these two teams threw down, and he lived up to the expectations. Ibaka dropped 21 points, eight rebounds, one assist, two steals and three blocks on the Bucks.
That's the player the Magic envisioned when they traded away a high draft pick and Victor Oladipo on draft day this past summer. It's still unclear if that deal will be anything short of a disaster, but at least Ibaka is playing well.
He's important because he can bring the pain on both ends. He's a rim protector who can make up for a lot of Nikola Vucevic's shortcomings with the starters on defense, and then go and shoot threes on the other side.
He made three-of-four three-point attempts last time these teams played, and he might have to step up his game even further on one end or the other to give his team a real shot on Sunday evening.
Finale
The Bucks should be trying to beat every bad team they come across, but this feels somewhat like a trap game. Milwaukee really shouldn't be good enough to even have trap games, but if they are this is a likely suspect.
Orlando sucks, but the Magic can make things interesting by slowing down the pace and trying to make the Bucks rely on perimeter scoring because of their big paint presence. Luckily the Magic still haven't realized the Bismack Biyombo/Serge Ibaka frontcourt would be impossible to score on, so Vucevic should still start at center.
That helps the Bucks, as does their moderately high pace. Still, they need to come out swinging and running to make sure this game doesn't get dictated by the Magic early on. That's Orlando's only shot at pulling out a win.
Predictions and Leaderboard:
Adam McGee: Magic by 8 — 10-4, 145 point differential
Jordan Treske: Magic by 7 — 10-4, 163 point differential
Ti Windisch: Magic by 5 — 9-5, 131 point differential
Tom Pheister: Bucks by 5 — 9-5, 166 point differential
Lukas Harkins: Bucks by 7 — 8-6, 150 point differential
Tim Wray: Bucks by 3 — 8-6, 155 point differential
Adam Coffman: Bucks by 2 — 9-4, 146 point differential
Rohan Katti: Bucks by 7 — 9-4, 154 point differential
The game is on Sunday evening at 5:00 p.m. CT, and will be televised on Fox Sports Wisconsin.
More from Behind the Buck Pass
This article originally appeared on