Milwaukee Bucks Game Preview: Nov. 25 vs Toronto Raptors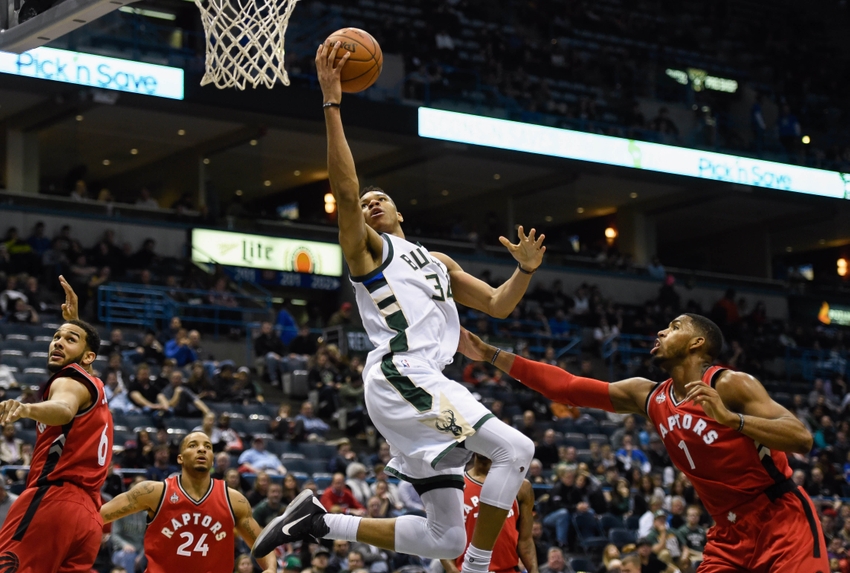 The Milwaukee Bucks finally pulled out a win in their last game against the Orlando Magic, but now a much tougher foe awaits them in Milwaukee.
The Milwaukee Bucks are a very up-and-down team. Truthfully, the Bucks have had more up moments this season than a lot of people expected when the news that Khris Middleton would miss basically the entire season came out.
Milwaukee has grinded out some ugly wins and taken some much uglier losses to stay afloat early in the season, and as it stands the Bucks have sole possession of the eighth seed in the Eastern Conference.
It's far too early for that to matter, but it goes to show that even though Milwaukee has struggled early, the rest of the East hasn't exactly been overwhelmingly good. That's something that should cause hope for the Bucks–if the team starts clicking and playing better, Milwaukee could still have a shot at the playoffs this season.
For that to happen, the Bucks will need to win some tough games. Friday night contains their first challenge. A good Toronto Raptors team will visit the BMO Harris Bradley Center, and it won't be easy for the Bucks to win. Can they? Let's look at both teams to get a better idea of Milwaukee's chances.
Major Key For Milwaukee: Stop DeMar
Unfortunately for the Bucks, their major key to victory might be impossible. DeMar DeRozan is proving doubters and even believers wrong early this season by connecting on a ludicrous amount of his field goal attempts.
DeRozan took a lot of abuse for being an inefficient scorer because he doesn't have a reliable three-point shot in his arsenal. While it's true guards normally need to shoot the three to be efficient, DeRozan is an exception to that rule.
In just 1.9 three-point attempts per game, DeRozan has shot 27.6 percent from beyond the arc. Even though Kyle Lowry and DeMarre Carroll are both hitting 33 percent of their threes, DeRozan has a better true shooting percentage than either of them.
That's possible because DeRozan is hitting 50.6 percent of his two-pointers, on a whopping 20.9 shots per game. His field goal percentages are higher than normal at every range except three-point distance, but DeRozan's percentage on long twos is remarkable.
He's bagged 56.1 of his shots taken between ten and 16 feet from the rim and 46.9 percent of his shots between 16 feet and the three-point line. Although it looks odd in the three-point obsessed NBA, DeMar DeRozan is boldly defying logic to score 30.5 points per game.
Major Key For Toronto: Get Lowry Going
It's been masked by DeRozan's massive success, but Kyle Lowry has not been great this year. Lowry's 19.7 points per game mark is the second-highest of his career, but his 39.4 percent shooting from the field is the lowest he's ever shot aside from a ten-game season with Memphis ten years ago.
Lowry's assist per game numbers look nice, but they're inflated by the fact that he's played 38.5 minutes per game so far this season. Toronto needs both of their star guards to play like star guards, if the Raptors are to have a shot against the Cleveland Cavaliers this summer.
The good news for the Raptors is that they've managed to stay in the top of the East even without Lowry playing that well. Toronto is still third in the conference, with a chance to move into a tie for second if they win tonight and the Atlanta Hawks fail to come up with a W in Utah.
This game has real meaning for both teams, but the Raptors have a lot riding on them. Toronto still hasn't been to a Conference Finals, and Lowry, DeRozan and company definitely want to do more than simply make it there.
Player To Watch: DeMar DeRozan
DeRozan has already been covered in some detail, but there's no way any other Raptor could be the player to watch in this game. DeRozan has scored less than 23 points just once this season, a 12-point stinker against the Sacramento Kings.
In ten of his 15 games, DeRozan has scored at least 30 points. Toronto is 8-2 in those games, and just 1-4 in games where he scores less than 30. It will be interesting to see if Jason Kidd tries to throw Giannis Antetokounmpo on him on the defensive end, and uses Tony Snell on DeMarre Carroll, a much easier cover.
Either way, it's hard to expect the Bucks to really shut down DeRozan. The good news is that if they do, Milwaukee's chances at winning go way up.
Finale
DeMar DeRozan and the Toronto Raptors really, really want to make a splash in the playoffs this season. It's been tough for Toronto lately, and after losing Bismack Biyombo in free agency many people wrote off the Raptors as being a worse team this time around.
DeRozan is trying to single-handedly prove them wrong, but right now the Raptors rely on him a little too much. Lowry and other players, like Jonas Valanciunas, need to step up and help out their star shooting guard.
The Bucks should have a chance here, if only because the Raptors do not have players ready to cover Giannis and Jabari Parker. Pascal Siakam has started 15 games for Toronto, and he's not been good early on.
If Siakam is tasked with guarding Jabari, we might see a career night happen in Milwaukee on Friday.
Predictions and Leaderboard:
Ti Windisch: Bucks by 5 — 9-4, 120 point differential
Adam McGee: Raptors by 6 — 9-4, 145 point differential
Jordan Treske: Raptors by 10 — 9-4, 159 point differential
Lukas Harkins: Bucks by 3 — 8-5, 141 point differential
Tom Pheister: Raptors by 4 — 8-5, 164 point differential
Tim Wray: Raptors by 9 — 7-6, 152 point differential
Adam Coffman: Raptors by 10 — 8-4, 142 point differential
Rohan Katti: Raptors by 11 — 8-4, 149 point differential
The game is on Friday night at 7:00 p.m. CT, and will be televised on Fox Sports Wisconsin.
This article originally appeared on