Milwaukee Bucks Game Preview: Nov. 21 vs Orlando Magic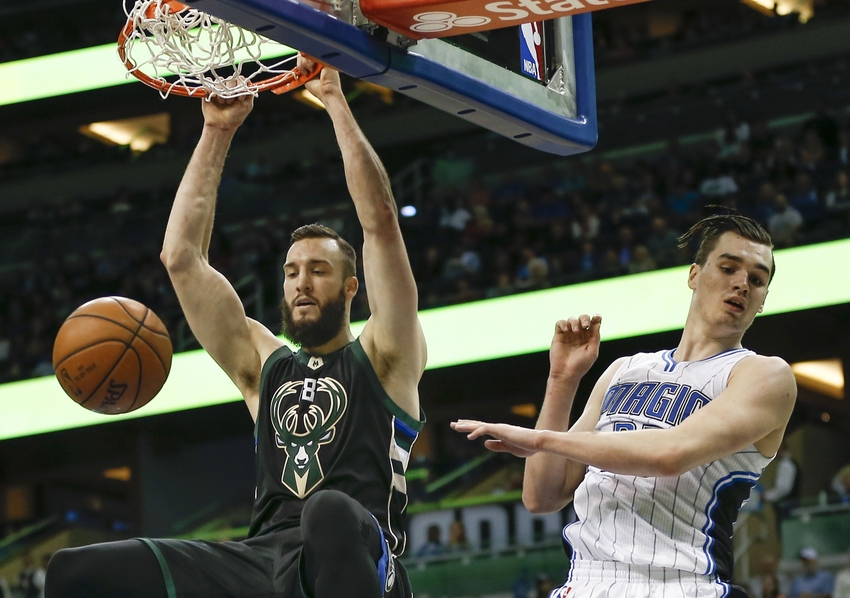 The Milwaukee Bucks put up a fight in their last game, but a loss is a loss. Can they snap a three-game skid with a win over the lowly Orlando Magic?
The Milwaukee Bucks had a real shot to beat the Golden State Warriors, but at the end of the game the Dubs came out ahead. It was nice to see that kind of fight from the Bucks, but there's a real worry it was only there because the Warriors are so good.
The Orlando Magic are not so good, so will Milwaukee be as energized and ready for their game on Monday as they were on Saturday? If recent contests against the Miami Heat, New Orleans Pelicans and Dallas Mavericks are any indication, the Bucks don't get up for games against teams that aren't good.
If Milwaukee wants to be involved in the playoffs this season, that has to change. It feels good to have a close game against the Warriors, but the reality is that a win over a bad team is better for your playoff odds than a close loss against a great one. The easy wins are necessary, and the Bucks haven't gotten them.
This Magic team is struggling too, but they're well-coached. The Bucks get two shots at them in the next week. Let's look forward to the first bout by covering the major keys for both teams, as well as the player to watch on the Magic.
Major Key For Milwaukee: Attack Vucevic
The Magic are a huge, slow team. Their roster is massive, so it'd be hard for Orlando to go much faster, but that means this game could be close if the Magic get their way and turn it into a defensive struggle.
Giannis Antetokounmpo and Jabari Parker would have a real hard time scoring on the pairing of Serge Ibaka and Bismack Biyombo on the inside, but luckily the Magic start Nikola Vucevic instead of Biyombo.
Vucevic isn't close to the defender Biyombo is, so while he's out there Milwaukee needs to attack the rim as much as possible. Threes are important for the Bucks to win, but Giannis and Jabari need to get going for Milwaukee to do much of anything, including shoot those threes.
If/when Ibaka and Biyombo play together, this game could get ugly. Milwaukee's offense simply stalls against stiff defense down low sometimes, most recently in the game against the Heat. This could turn into one of those games if Ibaka and Biyombo patrol the paint together.
Major Key For Orlando: Score Some Points
The Magic have a terrible offense that is second-worst in points per game and third-worst in offensive rating in the NBA. The huge lineups they run out are slow and don't have enough spacing for the Magic to be able to put the ball in the basket, so they haven't.
Last week against the Indiana Pacers, Orlando scored 69 points in a game. Obviously it was a losing effort, if a nice one. The Magic need to find ways to produce more points though–it's unreasonable to expect their defense to hold opponents to under 90 points every single night.
Evan Fournier has been good in that area, but he's the only Magicman scoring more than 13.8 points per game. Aaron Gordon is a wondrous athlete who's going on his third straight year of supposedly becoming a dominant player, but he just lost his starting spot to Jeff Green and is scoring 10.4 points per game.
The problem has been Vucevic. He's known as a great low-post scorer, but he's been ineffective this season, scoring just 10.9 points per game and shooting 41.6 percent from the field. The Magic need somebody to step up and put the ball in the basket more often, but there isn't a clear solution right now.
Player To Watch: Serge Ibaka
Serge Ibaka is a player who can preform really well on both ends of the floor. On defense, he's a legitimate rim protector who can also wander out to the perimeter at times. On offense, he can score from just about anywhere–he's made 44.1 percent of his threes this season, the best mark among the Magic starting five.
If Ibaka can step up and really hinder Milwaukee on the defensive end, then go make some threes on the other half of the court, he could make a huge impact on this game. The Magic need this game to crawl if they want a chance–they can't hope to run with Giannis and Jabari.
Ibaka will help with slowing them down. His presence in the post will rebuff a lot of drives, and that will matter a ton for a defense trying to stop the Greek Freak from getting to the rim.
The Magic gave up a ton for Ibaka, and they need him to be an impact player. If he shows up as such against the Bucks, his team should have a real shot to win. If not, it might be sad for Orlando.
Finale
The Bucks need a win in a bad way. Going on a four-game slid against teams including the Heat and Magic is not a good thing to do if the playoffs are a goal at the end of the year, and considering how bad some Eastern Conference teams have looked the bottom seeds are wide open.
These Magic currently hold the ninth seed, and they could be in competition for a playoff spot all season. These are the kinds of teams the Bucks absolutely need to beat. Another loss puts them at 5-8, just half a game better than the Heat team that smacked them earlier this week.
Milwaukee has more talent than Orlando, they just need to put together a complete good game. It's unclear if the Bucks remember how to do that against teams that aren't a fantastic challenge like the Warriors.
Predictions and Leaderboard:
Ti Windisch: Magic by 2 — 9-3, 114 point differential
Adam McGee: Bucks by 5 — 8-4, 144 point differential
Jordan Treske: Bucks by 8 — 8-4, 155 point differential
Lukas Harkins: Bucks by 6 — 7-5, 139 point differential
Tom Pheister: Bucks by 11 — 7-5, 157 point differential
Tim Wray: Bucks by 5 — 6-6, 151 point differential
Adam Coffman:  — 7-4, 139 point differential
Rohan Katti: Bucks by 7 — 7-4, 146 point differential
The game is on Monday night at 7:00 p.m. CT, and will be televised on Fox Sports Wisconsin.
More from Behind the Buck Pass
This article originally appeared on