Milwaukee Bucks Game Preview: Nov. 19 vs Golden State Warriors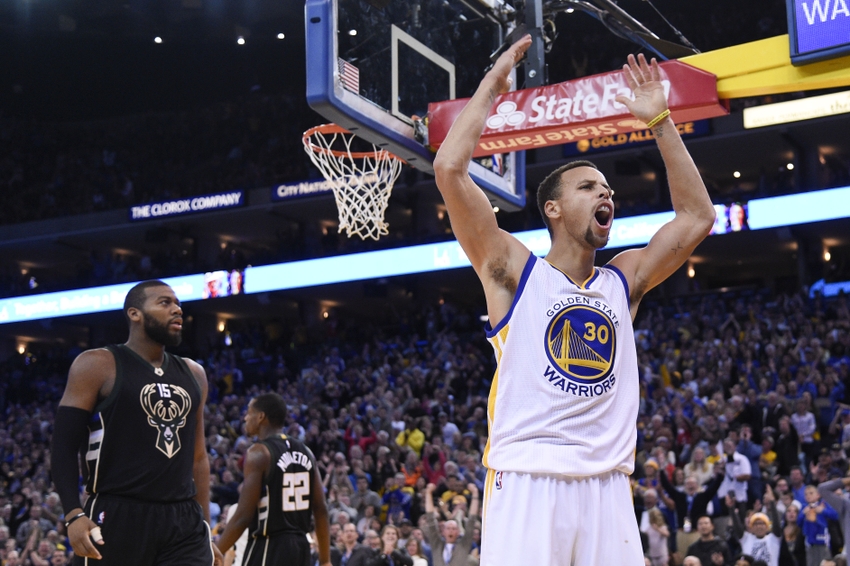 The Milwaukee Bucks have not looked great recently, and now one of the best teams in the NBA will be making a house call on Saturday night.
The Milwaukee Bucks are struggling. They scored 73 points in four quarters of basketball against the Miami Heat, who are 3-8 after factoring in their win over the Bucks.
That's very much not great. To make matters worse, the Golden State Warriors are Milwaukee's next opponent. The Warriors won 73 games last season and then added Kevin Durant after a devastating NBA Finals loss, so they're probably going to be pretty good this year.
To make matters even worse from there, the Warriors are likely going to attempt to rip the Bucks into shreds after Milwaukee celebrated their win over Golden State last year like they had just won a championship.
Based on how the Bucks have played, it might not be real hard to do. Still, any team can win on any night, so we'll go over major keys for both teams before talking about predictions in this one!
Major Key For Milwaukee: Slow Down
The Bucks have been reliant on shooting threes this season, and that's a great strategy against teams like the Memphis Grizzlies and New Orleans Pelicans. It's not a great strategy against the Warriors.
If you try to run with Golden State, they will leave you in the dust. No team has the shooters to trade threes with Stephen Curry, Klay Thompson, Kevin Durant and Draymond Green. They've simply cornered the market.
If Jason Kidd realizes this and allows Greg Monroe to play at all, the Bucks might have a chance if they slow down the tempo and attack the paint with GIannis Antetokounmpo, Jabari Parker and the Moose.
The Warriors lack a rim protector. Last year, Monroe was able to eat up even the talented Andrew Bogut in the post. Imagine what he can do to Zaza Pachulia, JaVale McGee, and Draymond Green down low!
Major Key For Golden State: Goad The Bucks Into Shooting
The Bucks are a young, dumb team. That's not supposed to sound as mean as it is, but it's easy to get Milwaukee flustered. If the Warriors can start off quick and get the Bucks trying to return fire with quick threes, this game could easily end in the first half.
Tony Snell, Mirza Teletovic and Matthew Dellavedova just aren't good enough to match up with the Warriors shooters. Still, the first two of them are very trigger-happy, and the natural response to the opposition drilling a three is attempting to hit back from beyond the arc.
The Bucks will need to be extremely well-coached to stay in this game. Playing the Warriors isn't just a basketball game, it's a mental one. It can be demoralizing to watch them hit three after three, and sometimes trying to nail a few back seems like the best answer.
It's not. Going small against this team is futile. The only way to win against the Warriors, is to slow down the pace, grab rebounds, and attack the rim. If Golden State gets Milwaukee in a shooting contest early, the game is probably already over.
Player To Watch: Kevin Durant
Imagine a player as versatile if not as skilled as Draymond Green on defense, who can shoot like Stephen Curry on offense, who is also seven feet tall and fast as hell. That's Kevin Durant, and he's probably the perfect Golden State Warrior.
Durant is scoring over 27 points per game on around 17 shots per game, which is ridiculous. He's shooting 57.1 percent from the field and 40.4 percent from three-point territory. He's also averaging 8.2 rebounds, 4.3 assists, 1.8 blocks and 1.3 steals per game.
If Durant isn't the best player in the world, than he's 1B. The Los Angeles Clippers might be higher in the standings right now, but no team has a better core than the Warriors, and that's due to Durant. As good as Curry is, Durant can simply do more things at an exceptionally high level.
Luckily the Bucks have Giannis to throw at him. It's impossible to stop Durant, but Giannis has the size and speed to hang with him. If Durant is ever on the floor while Giannis isn't, things might get ugly for Milwaukee quickly.
Finale
Luckily, the Bucks usually play up to good teams. That could make for a competitive game on Saturday night. Milwaukee also matches up well with the Warriors, as well as a team can hope to anyway.
They have Delly, Snell and Giannis who can at least hope to cover Curry, Thompson and Durant on defense. Many teams have nobody with a prayer of holding Durant–the Bucks should at least have a shot.
It will get tough when the Warriors go to their death lineup, though. No teams have true answers for that. If Milwaukee tries to go small too, things might get ugly. Greg Monroe was the key last time the Bucks beat the Warriors. Hopefully Jason Kidd hasn't forgotten that.
Predictions and Leaderboard:
Ti Windisch: Warriors by 10 — 8-3, 107 point differential
Lukas Harkins: Warriors by 4 — 6-5, 138 point differential
Jordan Treske: Warriors by 14 — 7-4, 144 point differential
Adam McGee: Warriors by 3 — 7-4, 144 point differential
Tom Pheister: Warriors by 11 — 6-5, 149 point differential
Tim Wray: Warriors by 12 — 5-6, 142 point differential
Adam Coffman: Warriors by 9 — 6-4, 133 point differential
Rohan Katti: Warriors by 8 — 6-4, 141 point differential
The game is on Saturday night at 7:30 p.m. CT, and will be televised on Fox Sports Wisconsin.
More from Behind the Buck Pass
This article originally appeared on