Milwaukee Bucks Game Preview: Nov. 10 vs New Orleans Pelicans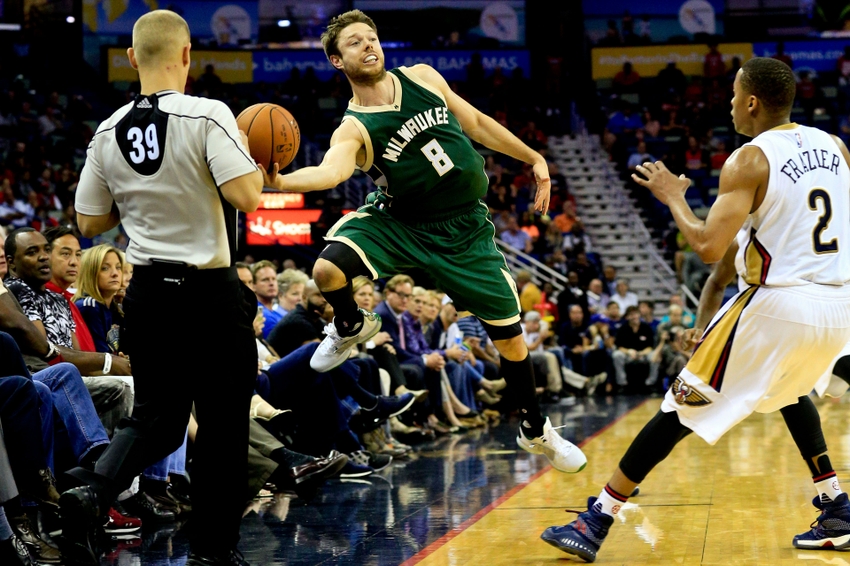 The Milwaukee Bucks are rolling. Will they keep up their winning ways against the Dallas Mavericks on Sunday evening?
The Milwaukee Bucks continue to confuse. After dominating the Indiana Pacers and Sacramento Kings, they scored 74 points in four quarters and just one more point in an overtime period in an ugly, ugly loss to the Dallas Mavericks.
What does this mean? Mostly it means that the Bucks are a very inconsistent team. Milwaukee relies on jumpers falling, but they don't have any Splash Brothers who are going to stay hot for most games.
There are good shooters on this team, but they're not elite by any means. That's going to lead to variance for Milwaukee–when the shots are falling, the Bucks will look good. When they're not, they'll score 75 points in an overtime game.
They've got a rematch against the New Orleans Pelicans coming up on Thursday night. New Orleans has looked hapless and has yet to win a game, but the same was true of the Mavs before they beat the Bucks earlier in the week. Will the good Bucks show up and take this game?
We'll go through the major keys to victory for both teams, look at a player to watch in this one, and then finally make our predictions!
Major Key For Milwaukee: Get Delly Going
Matthew Dellavedova should really be taking more threes. He shot 40 percent from deep last season, but through seven games this season he's only taken 20 threes.
That's tied for fourth-most on the Bucks. Giannis Antetokounmpo has taken as many threes as Delly, and Rashad Vaughn, Mirza Teletovic and Tony Snell have all taken more. Those players shooting isn't a bad thing, but Delly not shooting is.
He's an accomplished shooter who has proven he can knock down triples. The Bucks need him to shoot more of them. His consistent stroke could help buoy Milwaukee's aerial attack and stop it from bottoming out when Snell and Mirza go cold and keep shooting anyway.
The plan was never for Dellavedova to have a tremendous usage rate or anything, but it'd be better for him to be taking threes than Snell. Some of the difference has been simply how plays have turned for the Bucks, but more of an effort should be made to get Delly shooting from beyond the arc.
Major Key For New Orleans: Hope Anthony Davis Goes Ape
There is no way this Pelicans team wins this game in Milwaukee tonight unless Anthony Davis becomes a world-killer. Davis has singlehandedly destroyed planets thus far this season, and the Pellies are still winless.
There just aren't enough real NBA basketball players on this team. There is no third banana here, much less a second banana. It's just Davis and a bunch of bargain players, waiting for Jrue Holiday and Tyreke Evans to return. Still, those two aren't exactly going to flip New Orleans into a playoff team either.
The outlook here is pretty dire. If the Pelicans don't find themselves a true starting unit to surround Davis it seems very likely he leaves New Orleans when his contract expires. Who would stay with a team unable to support a transcendent talent like the Brow?
Davis actually isn't my player to watch for this game, but he's the key here. If he's not unbelievably good, the Pelicans probably don't have a shot to win. That's just how it is this year for the Pelicans.
Player To Watch: The 11 Other Pelicans
NBA teams get 12 active players every night. Anthony Davis will be great–he always is. The Pelicans need their other players to be at least good to have a shot in this game. New Pelican Archie Goodwin might make his first appearance with the team, and it'll have to be a powerful first impression if New Orleans wants to win.
The Bucks aren't necessarily a strong team, but they have real NBA players up and down the roster. The Pelicans have real players too, but none of them outside of Davis aren't able to get buckets by themselves.
They essentially signed a bunch of complimentary players with only Davis to compliment. Guys like E'Twaun Moore, Solomon Hill and Tim Frazier are fine players, but they shouldn't all be starting games.
If there was ever a time for one of these guys to prove he's more than a fifth starter on a good team, it would be very soon. The Pelicans can only drop so many games in a row to start the season before some changes come down from the top.
For New Orleans to win this game, getting some other players going will be essential. As great as Davis is, he can't beat NBA teams by himself.
Finale
Winless teams are dangerous, as the Bucks learned all too well last week. Even though the Pelicans are a shell of a team, they could still win on any given night. That's the beauty of the NBA.
As bad as they've been, New Orleans will pick up a win at some point. If the Bucks aren't careful, like they weren't with the Mavericks, they could end up giving back-to-back first wins out. That's never a good feeling.
Watch out for a really random heat check from some Pelican in this game. It could be Buddy Hield, or one of the wing players or guards already mentioned, but with so little of the pecking order established outside of Davis it's hard to resist going with the hot hand if you're Alvin Gentry.
Predictions and Leaderboard:
Ti Windisch: Pelicans by 5 — 5-2, 72 point differential
Lukas Harkins: Bucks by 5 — 5-2, 76 point differential
Jordan Treske: Bucks by 14 — 5-2, 81 point differential
Adam McGee: Bucks by 11 — 5-2, 91 point differential
Tim Wray: Bucks by 9 — 4-3, 82 point differential
Tom Pheister: Bucks by 15 — 4-3, 94 point differential
Adam Coffman: Bucks by 8 — 5-1, 79 point differential
Rohan Katti: Bucks by 10 — 4-2, 89 point differential
The game is on Thursday night at 7 p.m. CT, and will be televised on Fox Sports Wisconsin.
This article originally appeared on