Milwaukee Bucks Game Preview: Nov. 1 at New Orleans Pelicans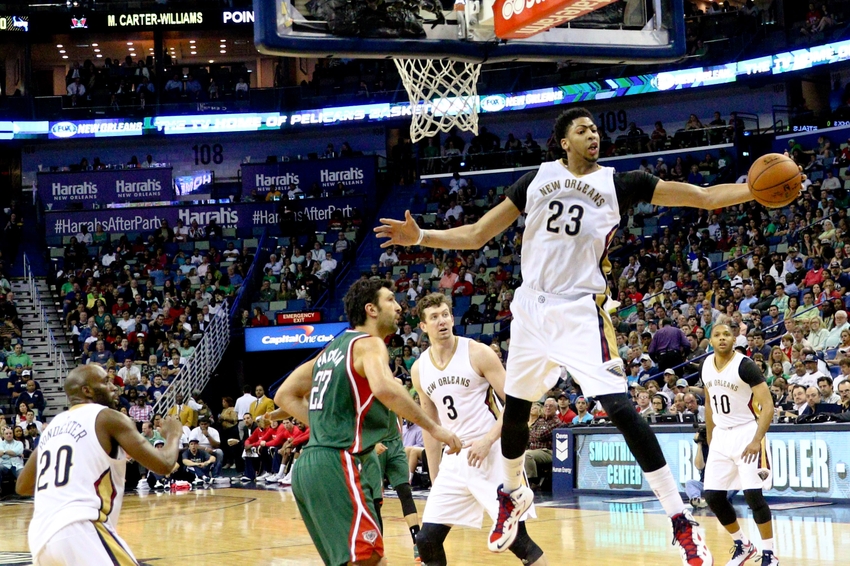 The Milwaukee Bucks haven't looked great early this season, but can they handle the hapless New Orleans Pelicans?
The Milwaukee Bucks are pretty obviously still working on figuring out a lot about themselves. Unfortunately, in the NBA the other 29 teams aren't exactly going to give the competition a chance to straighten their issues without capitalizing on them.
The Bucks have had spacing problems with Matthew Dellavedova handling the ball and thus leaving two non-shooters on the wings, and their opponents have taken advantage of that lack of spacing by crowding the paint.
Milwaukee is having trouble fining bench units and rotations that don't result in teams annihilating their bench mob, but thus far the Bucks are completely hapless without Giannis Antetokounmpo in the game.
Luckily for the Bucks, they've got the New Orleans Pelicans next up on the schedule. New Orleans has yet to win a game–outside of Anthony Davis, the Pelicans are some kind of bad. Can the Bucks keep them winless for another night, or will New Orleans find a way to collect their first win?
We'll go through the major keys to victory for both teams, look at a player to watch in this one, and then finally make our predictions!
Major Key For Milwaukee: Ignore The Brow
Most of the time a team finds itself facing a supremely talented player, the best strategy seems like the dumbest: ignore the best guy. There's nothing that Miles Plumlee, Greg Monroe or John Henson could do to really stop Anthony Davis at this point.
Davis is averaging 37.7 points per game. He's shooting 50 percent from the field, and taking an insane 26.7 shots per game. Davis is also playing exactly 37.7 points per game, meaning he's scoring one point per minute. It's insane.
What's also insane is how bad the rest of the Pelicans have been. Davis scores 37.7 points per game, and the rest of New Orleans starting five adds 29.0 points per game combined. The Brow is outscoring all four of his fellow starters by nearly ten points per game!
Two of them, Omer Asik and Solomon Hill, are scoring 1.3 and 3.3 points per game respectively. This is just sad. Can we get Anthony Davis some real teammates? Two starters on this dude's team are combining for 4.6 points per game.
Although the Bucks probably don't need to hear about anybody's problems, at least it could always be worse. Davis will go off regardless–the only way the Pelicans win here is if another Pelican snaps out of their horrid play recently and has a breakout game against Milwaukee.
Major Key For New Orleans: Give Davis A Break
Anthony Davis can't do this much for the Pelicans. It won't lead to wins, but it will lead to further health problems for Davis if he continues to play his hardest for 38 minutes per game. There's no point in pushing him to the limits just to lose anyway.
Smart teams rest players, but that has more short-term benefits than people usually realize. In addition to sustaining Davis' career and keeping him healthier in the short term, it allows other Pelicans to get a chance to get into a rhythm.
Now it's not like Davis is being selfish by taking all of those shots–he's got the talent to justify his usage rate of 38 percent–but the Pelicans might actually be better off letting him catch his breath a bit more often.
Davis has attempted 80 shots and 39 free throws this season. The next three Pelicans combined have taken 87 shots and a whopping 12 free throws. Those three players are Tim Frazier, E'Twaun Moore and Buddy Hield.
Hield has been cold early, but Frazier and Moore have actually been pretty good. Davis taking more than just ten minutes off per game might give those two a chance to get even better, plus Hield might have a better chance at getting hot if he got some more run.
If the Pelicans keep asking Davis to do everything, they're wasting their time and the long-term health of their franchise player. No player can win it all alone–not even Anthony Davis.
No, this isn't a joke. As written earlier in this piece, Anthony Davis will obviously be the best Pelican and the one doing most of the damage against Milwaukee. He can't win alone though–he needs somebody to have a game for his team to have a shot.
Dante Cunningham hasn't gotten much run thus far, but that should change. He's shooting 50 percent from both the field and three-point territory, which makes him easily the most dangerous Pelican from long-range.
Cunningham is sixth on the Pelicans in minutes played, but first in threes attempted and made. It's too early to read much into these numbers, but New Orleans needs to try something new, and fast. Giving Cunningham more shots against a team that has struggled defending the arc might be a smart play by Pelicans coach Alvin Gentry.
Being a bench player also gives Cunningham a boost here. Milwaukee's bench has been capital-a Awful thus far this season, at pretty much every aspect of basketball. It'll be tough watching the Bucks build up a sizable lead against the Pelicans first unit, just to have Dante freaking Cunningham and company torch their reserves.
Finale
The New Orleans Pelicans are relying on players like Dante Cunningham, Tim Frazier and Lance Stephenson to play major rotation minutes and even start games. Is there really that much more than needs to be said?
Well, considering the Milwaukee Bucks haven't looked great and the Pelicans still have that Anthony Davis guy, this game probably won't be as open and shut as it should be. No team is in must-win territory on November 1, but this game will hurt to drop for Milwaukee.
Still, there's a chance that's exactly what happens. Even if the Bucks start fast, it's hard to rely on their bench to hold any sort of lead after what's transpired through the first few games.
Predictions and Leaderboard:
Ti Windisch: Bucks by 3 — 3-0, 14 point differential
Lukas Harkins: Bucks by 6 — 3-0, 22 point differential
Tim Wray: Pelicans by 3 — 2-1, 26 point differential
Jordan Treske: Bucks by 7 — 2-1, 28 point differential
Adam McGee: Bucks by 8 — 2-1, 41 point differential
Tom Pheister: Bucks by 5 — 1-2, 45 point differential
Adam Coffman: Bucks by 2 — 2-0, 21 point differential
Rohan Katti: Bucks by 1 — 2-0, 24 point differential
The game is on Tuesday night at 7pm CT, and will be televised on Fox Sports Wisconsin.
More from Behind the Buck Pass
This article originally appeared on