Milwaukee Bucks Game Preview: Dec. 9 vs Atlanta Hawks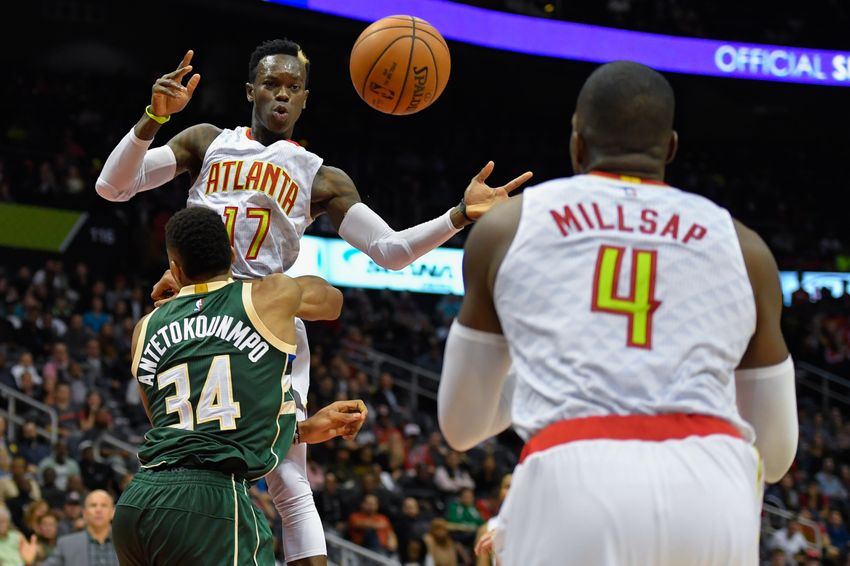 The Milwaukee Bucks get a chance to add another win to their total when they take on a struggling Atlanta Hawks team on Friday.
The Milwaukee Bucks have played a couple Western Conference teams in a row, but now they'll get a shot to tangle with an Eastern Conference foe when the Atlanta Hawks come to town on Friday.
Usually a strong team every year, the Hawks have been in free fall for the last few weeks. An injury to Paul Millsap didn't help matters, and the team lost seven straight games. Atlanta won their last one against the Miami Heat, but not convincingly.
The Hawks defense has been strong, but Atlanta currently has one of the worst offenses in the NBA, according to both offensive rating and points per game. Still, with the strong coaching and talented roster Atlanta has, this game can not be taken lightly.
This is the second time these two teams played, with the Hawks winning the first round by seven points. The Bucks are better now than they were then, and Milwaukee should have a good chance at adding another victory on Friday.
To see which team will come out on top, we'll look at major keys for both of them, as well as a Hawk to keep an eye on during the game.
Major Key For Milwaukee: Slow Down Millsap
Milwaukee has a top-ten defense this season, according to defensive rating and points allowed per game. The Bucks should thus have no trouble with Atlanta, currently the 27th-ranked offense in terms of points per 100 possessions.
To really stop the Hawks, Milwaukee needs to focus on stopping Paul Millsap. He's still a bit banged up, although that didn't stop him from posting 21 points, nine rebounds and four steals against the Heat.
The task of stopping Millsap will likely fall to Jabari Parker. Giannis Antetokounmpo is a better defender, but coach Jason Kidd has seen fit to ask more of Jabari on the defensive end this year.
Besides, Millsap's body type is much closer to Jabari's than Giannis'. The challenges for Jabari keep rolling this season, but there's no better way to improve than to push yourself as hard as possible.
If Jabari can at least impede Millsap somewhat, it could result in the Hawks shutting down. He's Atlanta's most important player, and the team fails to function capably without him. Jabari will hold a lot of Milwaukee's fortune in his hands when the Bucks take on the Hawks.
Major Key For Atlanta: Force Turnovers
Only the Golden State Warriors record more steals per game than the Atlanta Hawks. Atlanta is also 12th among NBA teams in blocked shots per game, meaning the Hawks have done well at forcing turnovers.
Milwaukee's defense is strong, but no team holds up very well in transition. If the Hawks can force Giannis and Matthew Dellavedova to make mistakes handling the ball, they can capitalize on them by blowing past the Bucks and scoring easy baskets.
Millsap will be vital to Atlanta forcing those turnovers, but it will be especially important to the Hawks to record steals and blocks while he's on the bench. In three games without him this year, the Hawks scored 107 (against the Phoenix Suns in a loss), 85 and 84 points.
Atlanta needs Millsap, but the Hawks also need to find ways to survive without him. Forcing turnovers can be a gamble sometimes as it leaves the defense vulnerable if a player misses a steal or block, but the Hawks need some way to get a boost against Milwaukee.
Player To Watch: Paul Millsap
He's been talked about a lot already, but there's no way to overstate how vital Paul Millsap is to Atlanta. Millsap has been asked to step up since Al Horford left for the Boston Celtics in free agency, and he's done so marvelously.
Millsap is averaging 16.7 points, 8.0 rebounds, 3.5 assists, 1.8 steals and 0.9 blocks per game. He's shooting 45.5 percent from the field and 30.6 percent from three-point territory. Giannis and LeBron James might eat up the starting forward spots on the All-Star team, but Millsap deserves to be included on the roster as well.
He's been fantastic, and the Hawks have needed nothing less. Dwight Howard is effective at rebounding and remains a strong pick and roll player, but without Horford and Jeff Teague it's been Millsap as the stable force holding the Hawks together.
If Jabari manages to slow him down, it might be sad for the Hawks. That's a ton to ask from a young player though, and it's doubtful that Jabari has much answer for Millsap unless he's quickly turning a corner as a defender in the NBA.
Finale
The Milwaukee Bucks are being recognized as a good team. This is a game that should be winnable for a good team. It's almost hard to accept that the Bucks are at this level, but it does make sense.
The potential of Giannis and Jabari has been mentioned forever, but it's finally coming true. Even without Khris Middleton, this team is looking very strong thanks to the young franchise cornerstones.
The Hawks are talented and well-coached, but Atlanta is struggling to find a true new identity in an era without Teague and Horford. The Bucks should capitalize on the Hawks recent struggles and try to slow Atlanta's offense to a halt on Friday.
Predictions and Leaderboard:
Tom Pheister: Bucks by 5 — 14-6, 213 point differential
Jordan Treske: Bucks by 7 — 14-6, 231 point differential
Lukas Harkins: Bucks by 5 — 13-7, 195 point differential
Ti Windisch: Bucks by 5 — 12-8, 199 point differential
Adam McGee: Bucks by 5 — 12-8, 221 point differential
Tim Wray: Bucks by 7 — 12-8, 225 point differential
Adam Coffman: Hawks by 3 — 14-5, 205 point differential
Rohan Katti: Hawks by 7 — 14-5, 210 point differential
The game is on Friday night at 7:00 p.m. CT, and will be televised on Fox Sports Wisconsin.
This article originally appeared on