Milwaukee Bucks: Five Potential Trade Partners To Take A Center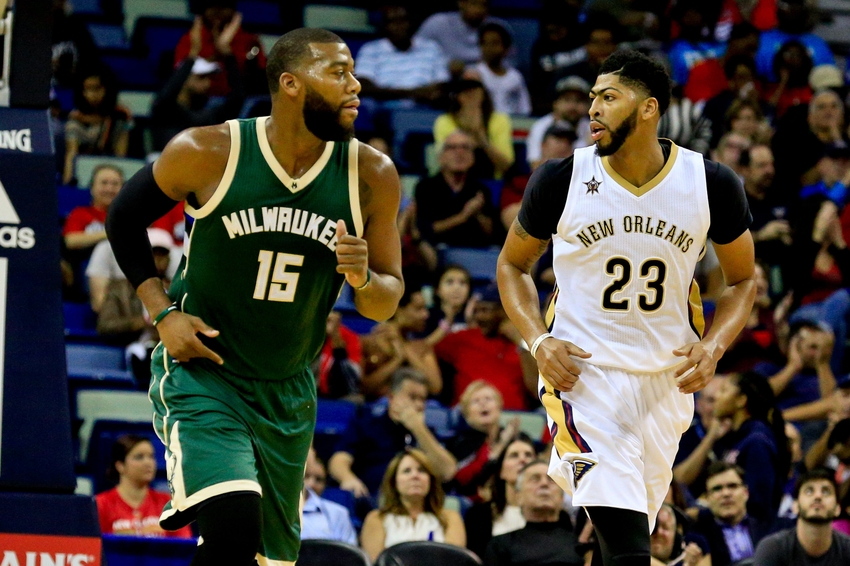 The Milwaukee Bucks have too many big men, both in terms of salary and playing time purposes. These five teams may be able to help out.
It's fairly obvious through just nine games this season that the Milwaukee Bucks erred by signing Miles Plumlee to a $50 million deal after paying both John Henson and Greg Monroe significant amounts for this season, and possibly next season as well.
Plumlee was good in his last several games with Milwaukee last season, but is there any way a player averaging five points per game can be worth over $12 million a year? Even if the answer to that is yes, there is no way three players who cannot split time and who aren't essential to the team can be worth a combined $41,913,444.
And yet here we are, with Plumlee, Monroe and Henson making that much this season, as per The Vertical. That's nearly half of the $94 million salary cap this season. The number stays roughly the same next year–Henson's deal goes down, but Monroe's goes up. And he might not opt out after all.
The salary cap next season is up in the air pending the revision of the NBA collective bargaining agreement, but it's projected right now at around $100 million. Between the three centers and Giannis Antetokounmpo's deal, the Bucks are at over $60 million between four players.
Throw in money guaranteed to Khris Middleton, Mirza Teletovic, Matthew Dellavedova and Jabari Parker, and the Bucks are over $100 million after factoring in just eight players. Clearly, something (or more than one something) needs to change.
The most likely scenario involves the Bucks dealing a center and still ending up over the cap next season. Only two of these players are truly necessary, and truthfully Milwaukee could get by with one of them and a cheaper alternative on the bench.
To that end, we've looked at five teams who could provide relief to the Bucks by trading for one of their centers. Keep in mind that Plumlee can't be dealt until January, so for now only trades including Monroe and Henson make sense to consider until the New Year.
Boston Celtics
Right now, the Boston Celtics are without a true rim protector. Al Horford is a good defensive center, but he can't play with the verticality required to both block shots and grab tons of contested rebounds in close games.
Greg Monroe doesn't do that either, but John Henson sure does. With his deal cheapening as it goes on, it's just the kind of contract that Danny Ainge would love to have on his books, even if Henson is a little pricey.
This is one of the easier places to imagine something happening. The Celtics are supposedly trigger-happy, and they have assets to make about five different deals feasible.
Amir Johnson's salary matches Henson's perfectly, and he's on an expiring deal. Avery Bradley makes too little to be traded directly for Henson, but the Celtics have a lot of cheap deals they could throw in.
I don't know that Boston wants any part of Henson for Bradley, but in the words of great former Celtic Kevin Garnett "Anything is Possible!"
Charlotte Hornets
The Charlotte Hornets currently have two centers on their roster who are worse than any of the three Milwaukee has: Roy Hibbert and Frank Kaminsky. The Hornets have still found success early in the season, but they could be much better with a stronger man in the middle.
Either Monroe or Henson would help this team out, and both of them would be in good positions going forward with a young, well-coached team. This would likely be a win-win situation, if a deal could be worked out.
Unfortunately, the Hornets don't have anybody making what Henson or Monroe makes who they would want to give up. The only Hornets making more than $7 million are Nicolas Batum, Michael Kidd-Gilchrist, Marvin Williams and Kemba Walker.
That means more than one smaller contracts needs to be involved in any trade, automatically making things tricky. The Bucks can't trade most of their end-of-the-bench guys, because Jason Terry and Steve Novak were recently signed and can't be moved until December.
That means Milwaukee either has to release somebody and take an extra Hornet, or a third team needs to be involved. Charlotte could certainly use another big man, but working out a deal here is not exactly easy.
New Orleans Pelicans
The New Orleans Pelicans have long been rumored to be interested in Greg Monroe, because they want a center to allow Anthony Davis to do less dirty work down low. A trade would be easier to work out with John Henson, but either one could end up in New Orleans.
The problem here is that although the Pelicans would like a better center to go with Davis, they don't exactly have enough guards or wing players to give one up and survive. Assuming Jrue Holiday and Tyreke Evans both return and play most of the season, New Orleans still needs both of them.
An Evans-for-Henson swap works, and that may be the most likely scenario here. Henson would start next to Davis and the two of them would work wonders protecting the rim together, and even if Evans hardly plays at least he'll be off the books after this season.
If New Orleans has their heart set on Monroe, it becomes harder to make something work. The Omer Asik contract could be included with somebody else, but there's no way Milwaukee wants to handcuff their books with that deal for the next four years.
Phoenix Suns
The Phoenix Suns aren't an ideal trade partner, but they're currently just above the salary floor, which means the Suns have a ton of cap space to play with. They could easily absorb Greg Monroe or John Henson in exchange for one of several players on the roster.
The Suns could offer any of the following players in a one-for-one swap for either Monroe or Henson: Eric Bledsoe, Brandon Knight, Tyson Chandler, P.J. Tucker and Alex Len. After December 14, Jared Dudley joins that group as well.
Any of those players are real additions to the Bucks that could play. Chandler is too expensive to make sense–why would the Bucks want to get a worse player on nearly the same deal as Henson?–but grabbing Tucker or Len for one of those huge center contracts Milwaukee gave out is essentially a salary dump.
Both of those guys are on expiring deals. Tucker is owed $5.3 million this year, while Len is getting $4.8 million. If Milwaukee so chose, both of them could be gone after the year, saving the Bucks a ton of cash in the process.
The prospect of getting Jared Dudley back is interesting. He just lost his starting spot to Marquese Chriss, and he doesn't do much on offense in Phoenix. That couldn't happen until mid-December, but most of the time trades don't go down in November anyway.
Brooklyn Nets
The Brooklyn Nets don't have much to offer apart from Bojan Bogdanovic, but they've got more cap room than anybody in the NBA. Brooklyn could absorb any of the Bucks' three centers without offering anything in return, which makes them the premier salary dump team.
The Nets could try to make a real deal for Monroe or Henson by offering up Bogdanovic, one of their first- or second-year players, or a veteran they signed this summer once those guys can be traded.
More from Behind the Buck Pass
Or, if things continue to go horribly for Miles Plumlee, the Nets could straight up eat his contract. That kind of service is not free–the Bucks would probably have to give something else to get rid of Plumlee's deal.
But if there was ever a team that would love to trade away cap space for draft picks, it's the modern Brooklyn Nets. They have a ton of space, and almost no picks. Hopefully Plumlee redeems himself and his deal before then, but the worst-case scenario might be convincing the Nets to take his deal–and a pick–off Milwaukee's hands.
These are all merely suggestions, not rumors or anything like that. It's also important to remember most of the time, trades don't happen in November because of the sheer amount of players that cannot be traded yet.
These teams are all ones to keep an eye on though, when the time comes for the Milwaukee Bucks to deal a center to free up both the rotation and cap sheet.
This article originally appeared on