Milwaukee Bucks: Early Season Awards Watch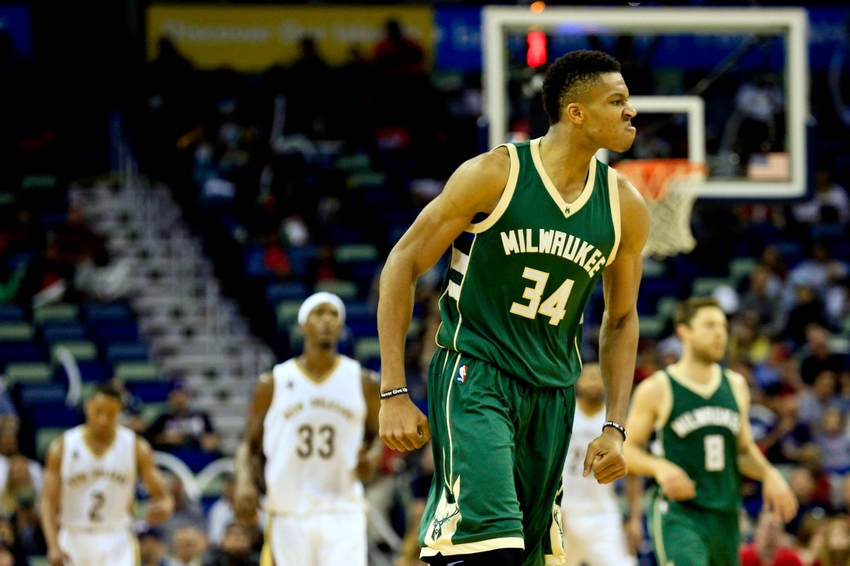 Through 11 games of the season, how have various Milwaukee Bucks' players started in terms of the NBA's awards picture?
It's been over two decades since a member of the Milwaukee Bucks took away the hardware for one of the NBA's annual awards.
It was "Big Paper Daddy" Ricky Pierce who won the NBA's Sixth Man of the Year award for the 1989-90 season. It was Pierce's second time being named the league's best bench player, he won the same award just two years earlier.
Prior to that, NBA Hall of Famer Kareem Abdul-Jabar won a pair of MVP's in Milwaukee and another MVP and Rookie of the Year as Lew Alcindor.
Since then, the Bucks trophy case has looked barren. The team's greatest accomplishments include a trip to the Eastern Conference Finals in 2001 and a pair of number one overall picks in the NBA Draft, neither of which (Glenn Robinson and Andrew Bogut) came close to touching the legacy left by fellow number one pick Kareem.
Prior to a pair of ugly losses on a back-to-back this week, the Bucks had gotten out out to a surprising 5-4 start to the season. With the roster boasting a number of great individual performers thus far, a lot of fans are wondering if this might be the year a Bucks player gets his moment in the national spotlight and a trophy with their name on it.
Here's a look at a few players who could contend for one of the NBA's annual awards and what might keep them from being crowned.
What more can be said about the cool and collected Brogdon? The Virginia product has made an immediate impact in his short tenure in the association, cracking the top five in points, assists, steals and minutes among all rookies. Recently, POTUS shot up the weekly 'Rookie Ladder' rankings on NBA.com.
The second-rounder's play has earned him minutes from Jason Kidd and praise from Giannis Antetokounmpo. And unlike some rookies who are simply getting minutes due to injury, Brogdon has earned every second on the floor and has looked completely unfazed by the bright lights of the National Baskeball Association.
So what stands in Brogdon's way? Well in this case, it's a 'who' is standing in the way of Brogdon's path to glory. That 'who' is the Sixers' Joel Embiid, who has been even better than advertised. Barring injury (which is a legit concern for Embiid), it's his award to lose. But if Brogdon continues to play meaningful minutes and contribute at a high level, he could easily find himself garnering second and third place votes. At the very least, a place on a rookie team would seem very much within reach.
Sixth Man of the Year: Greg Monroe
What a strange turn of events in the Greg Monroe-Milwaukee saga. After spending the majority of last season looking like a square peg in a round hole, Monroe has looked like a completely different player in 2016. Moose reportedly spent the offseason working on his game and dropping a few pounds. So far the results have been astounding.
Monroe continues to be a consistent scoring threat in the paint and has spent the better part of the young season feasting on backup bigs. Monroe is averaging nearly a double-double off the bench and is the best player on one of the league's elite benches. Yes, the Bucks have a top seven bench in almost every statistical category, including a fifth overall in offensive efficiency and sixth overall in defensive efficiency. Those numbers begin and end with Monroe. He's consistently consistent on the offensive end and is now turning heads with his defensive effort. Monroe's great play might just be the main reason for a Bucks team that looks significantly more competent compared to last season's woeful play.
So what stands in Monroe's way? A lot. Monroe's attitude has drawn criticism in the past and it's possible he might still envision himself as a starter in the league. With the Bucks already making a switch to John Henson over Miles Plumlee in the starting lineup, there's a real chance that Monroe might end up working his way back into the starting rotation if Henson struggles.
Another obstacle, voters tend to look for high-energy, high-scoring guards for 6MOTY. The Warriors' Andre Iguodala learned this lesson the hard way last year when Clippers guard Jamal Crawford took home the prize under a decent amount of criticism.
The latest obstacle comes in the form of Monroe only playing seven minutes in Wednesday's loss to the Hawks, before registering a DNP on Thursday in Miami. It's hard to see why Jason Kidd would see a reduced role for Moose as an option, but it's a trend now worth monitoring.
Monroe winning Sixth Man of the Year is about as likely as a player known as a defensive liability becoming a plus defender, but stranger things have happened.
Most Improved Player of the Year: Jabari Parker
Now the second option on a competitive team, Jabari Parker is no longer flying under the radar. One of the league's most explosive players is now being recognized for his polished offensive game and solid chemistry with Giannis Antetokounmpo.
The former number two overall pick has always been able to score near the basket, with excellent body control and thunderous dunks. This year Parker is getting buckets from every corner of the court. The young forward, once afraid to pull the trigger from beyond the arc, is now shooting from three at a significantly higher rate and making those shots at an above average clip.
Parker has made nine threes in 11 games this season. He made nine total last season. His new found range has kept defenders on their toes and helped space the floor once congested by below average shooters.
Parker has increased his scoring by five points from last year, he's averaging career highs in assists and rebounds and he's getting to the line twice as often as last year. There, Parker is making 87 percent of his free throws. The man once considered to be one of the most NBA-ready players in years appears to finally be tapping into his pool of unlimited potential.
What's standing in Parker's way? Other players. T.J. Warren, Harrison Barnes, Julius Randle and Zach LaVine are all off to very impressive starts and all came into this season with lower expectations or questions marks. Parker on the other hand has been turning heads since last season's All-Star Break.
Jabari may have improved too much in the latter half of the 2015-16 season, overshadowing this year's progression. But if Jabari continues to increase his scoring and keeps up his solid efficiency, voters will have to take notice. Jimmy Butler improved his scoring by seven points when he won the award, something that is not out of the realm of possibility for Parker.
Most Improved Player/Most Valuable Player: Giannis Antetokounmpo
From rebooting the Fantastic Four to McSpaghetti, some experiments never work out the way you hoped. The same cannot be said for the 'Point Giannis' experiment. Since becoming the primary ball handler for the Bucks in the middle of the 2015-16 season, Giannis has been nothing short of incredible.
Now the undisputed leader of the team and the offensive focal point, the Greek Freak has proven there's nothing he can't do. Antetokounmpo is averaging career per-game highs in points (21.1), assists (5.4), rebounds (8.7), steals (1.7) and blocks (2.2) and doing it all on good efficiency with an effective field goal percentage of .535 percent. Giannis by all intents and purposes is an All-Star player so far this year, and he keeps striving to get better.
Recently, Giannis was named the league's best international player by the league's General Managers. He is firmly entrenched in the Most Improved Player discussion and could realistically ride the momentum and push for MVP votes. His season so far is not unlike the MVP season of Derrick Rose, with fewer points but more rebounds and better efficiency. Rose is the youngest player to ever be crowned the league's Most Valuable Player, but if the Bucks finish as one of the best teams in the Eastern Conference (unlikely), the whispers about Giannis' MVP candidacy will become shouts and he might just barely edge out the former Bull.
With voter fatigue for LeBron and with Durant and Curry stealing votes from each other, there's no better time for a surprise candidate to steal the MVP award. Why not Giannis? Why can't the league's most surprising player surprise everyone again?
What's standing in Antetokounmpo's way? Wins. Wins, wins, wins. He has no chance of winning the MVP if the Bucks finish any lower than third, maybe even second, in the East. It is extremely unlikely it will happen, but the small sample-size numbers speak for themselves. If Giannis continues to rack up near 5×5's, the Bucks may just have to slide one of Kareem's trophies over to make room for the franchise's next great talent.
Of course, it's still unlikely that any of these players are recognized at the end of the year, and it's extremely early to project how this season turns out, but this might just be the best chance a Bucks player has had since Ricky Pierce wrote his name in the history books so many years ago.
More from Behind the Buck Pass
This article originally appeared on