Milwaukee Bucks: Breaking Down the Bucks' Pick and Roll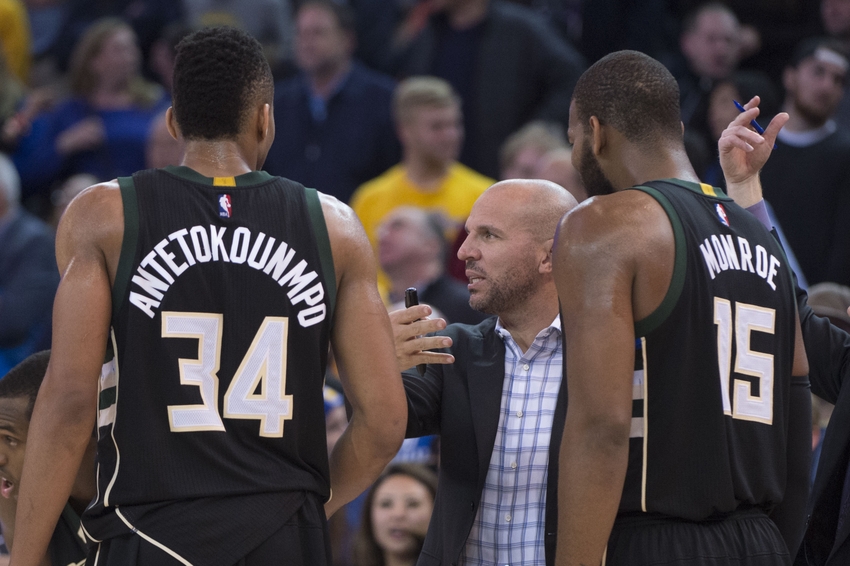 With new signings arriving and core pieces expected to improve, how will the Milwaukee Bucks fare in executing the pick and roll next season?
Run at even the most basic levels of youth basketball, the traditional pick and roll may seem a remedial concept to most NBA fans. However, this simple screening action is largely the basis for most offense run today.
Dynamic combinations of yesteryear such as Steve Nash and Amar'e Stoudemire dominated defenses during the early 2000's while today's combination of Steph Curry and Draymond Green form an almost unstoppable force.
Given that the pick and roll is such an essential part of a successful offense, it's important to explore what role it plays within the Bucks' offense and how it can be best utilized.
Last season, the Milwaukee Bucks ranked near the bottom of the league in terms of pick and roll frequency, running the action to a finished result on just 12.5 percent of possessions. When they did implement it however, the results were not good, scoring only 0.74 points per possession, ahead of only the Atlanta Hawks and Philadelphia 76ers.
This is most likely due to a lack of spacing; in the Bucks "traditional" starting lineup consisting of Michael-Carter Williams, Khris Middleton, Giannis Antetokounmpo, Jabari Parker, and Greg Monroe, only Middleton demands defensive attention on the perimeter, allowing for opposing players to sag off and help on a pick and roll run by Carter-Williams or Antetokounmpo.
Navigating the screen game as a ballhander without a capable outside shot is increasingly difficult, as defenses can simply sag under the pick and close off any open interior passing lane, forcing an awkward shot or ill-advised pass.
This may shed some light on why MCW has drawn so much ire from Bucks fans for seemingly dominating the ball too much despite the fact that his usage rate ranked fourth on the team – his failures are "louder" than his successes, as evidenced in his team-leading 2.8 turnovers per game.
Neither is the oft-embattled Monroe ideal for a pick and roll attack, due more to skill-set than pure lack of ability. Most successful roll men are larger and athletic, such as Stoudemire or Dwight Howard, so Moose's lack of athleticism and relatively ground-bound 6'10", 265 pound stature do him no favors in this regard.
Much, if not all, of the Bucks' focus this offseason has been on improving their perimeter shooting, both through free agency and the draft, which by itself will increase the effectiveness of a four-out one-in pick and roll, but the re-signing of Miles Plumlee also shows a specific dedication to improving a lacking ball-screen attack.
On the surface, Plumlee seems to be nothing more than the rotation big he was considered to be when the Bucks received him in the Brandon Knight trade, and his basic numbers certainly don't paint the picture of a $50+ million dollar player (14.3 minutes, 5.1 points, and 3.8 rebounds per game).
However, when we get a little more specific, we see that Plumlee saw an increased role post-All-Star break, upping his per-game averages to 19.9 minutes, 7.7 points, and 5.3 rebounds. While some of this run was due to injuries affecting Henson and Monroe, Plumlee's effectiveness as a rim-roller cannot be overstated.
As the roll man, Plumlee scored 1.44 points per possession last season, the most efficient mark in the league for anyone with over 60 such possessions. This puts him ahead of max contract players such as DeAndre Jordan, Hassan Whiteside, and Tristan Thompson.
In a space-heavy NBA, Plumlee fits the model of a low-usage, athletic big who can go and get lobs, and his contact represents his skill-set.
Obviously a roll man is nothing without a skilled distributor to run the action, and it should be taken as no coincidence that Plumlee's rise to prominence occurred in virtually the same time frame as the dawn of Point Giannis.
By the numbers, Antetokounmpo was the best pick and roll distributor who will be on the roster next season, scoring at .87 points per possession. Because this Antetokounmpo/Plumlee pairing projects to be the most effective for the Bucks pick and roll game, it becomes more clear why we may see Plumlee start games or play minutes over Henson and Monroe. 
With an offseason to work on developing his facilitating acumen, Bucks fans should also expect to see marked improvement on already-encouraging play from Giannis in the pick and roll and ballhandling in general.
Other options in the pick and roll are not as appetizing, though there are some notes to consider before one deems the following numbers hopeless.
Roll Man
Ball Handler
Freq
PPP
Freq
PPP
Miles Plumlee
20.3
1.44
Giannis
10
0.81
Greg Monroe
21.9
1.09
Khris Middleton
18
0.78
John Henson
10.8
1.07
MCW
32.5
0.71
Delly
46.7
0.68
None of the Bucks' ballhandlers ranked above the 60th percentile league-wide in terms of efficiency, and in particular, Matthew Dellevedova's numbers may stick out as problematic. However, Bucks fans have several reasons to be more optimistic than the numbers suggest.
For one, Delly was playing with the Cavs' second unit the majority of his court time, whereas with the Bucks, he should expect to get extended burn with the first-string, if not start. Also, as we've covered before, Delly's play in the Olympics showcased a mature decision maker with an appealing knack for throwing lobs. Admittedly, his lack of quickness will be an issue in the faster paced-play of the NBA compared to the international game, but all signs point to an upturn in Delly's pick and roll play.
Conspicuously absent from the above chart is Jabari Parker, who began to emerge as a prolific scorer during the second half of the season, scoring 18.9 points per game after the All-Star break. Despite what his numbers may seem to convey, Parker doesn't yet have an aspect of his game that would be considered elite or polished besides his athleticism.
This isn't at all meant as a knock on Jabari; after all, he is still just 21 years old. What is meant is that Parker is almost limitlessly malleable at this point, and could likely develop his game towards any direction that best benefits the team.
Depending on the chosen direction, Jabari could eventually fill either role in the screen game, exploding off a screen for powerful dunks or setting a pick and fading for a pick and pop mid range jumper or three-pointer.
Thus far, Jason Kidd seems to have been content with letting Parker get his touches attacking the basket in isolation or off dump-off feeds, as Parker only finished a possession via a pick and roll 10.9 percent of the time, combining both ball-handling and screening data.
For what it's worth, Giannis could also see himself as capable of filling both roles; after all, at 6'11" and 222 pounds, Antetokounmpo is the size of many NBA centers, and he is certainly not lacking in the athleticism and IQ needed to play the position, but it appears that at least for the foreseeable future Giannis' talents are best put to use handling the ball for the Bucks.
For all that has been (rightfully) made of the Bucks' defensive struggles last year, they were surprisingly good defending against the pick and roll, ranking second in opponent points per possession given up to roll men, behind only the vaunted defense of the San Antonio Spurs, and first in regards to ball-handlers.
Being so long and versatile, this proficiency is most likely because the Bucks are able to switch screens and maintain a basic sense of positional integrity, an ever important trait to have, as evidenced in the Oklahoma City Thunder's defensive performance against the Golden State Warriors in last year's Western Conference Finals.
Not much has changed from last year in regards to the main players involved in the Bucks' offense and pick and roll actions, but the important takeaway from all of this is that, based on what we can infer, the team shows a commitment to involving in the offense those who will run it most effectively, which has to be taken as a good news going forward.
The only thing left to do is make it work on the court.
More from Behind the Buck Pass
This article originally appeared on