Milwaukee Bucks Best and Worst: November 13 – December 6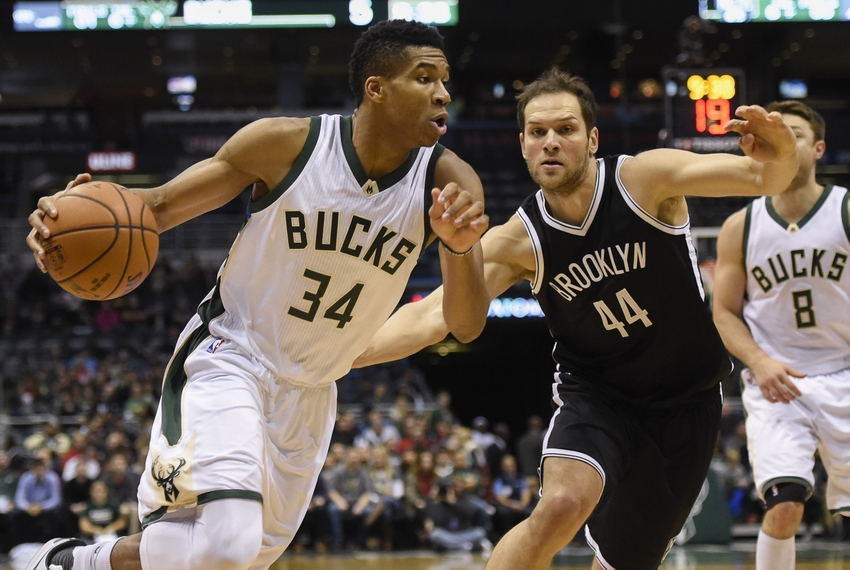 In this edition of the Milwaukee Bucks' Best and Worst, we look at Giannis Antetokounmpo's step up to stardom, the Bucks' strange schedule trends, and much more.
Welcome to the Milwaukee Bucks' Best and Worst, a semi-regular column that will look back on some of the most encouraging and discouraging events we've seen in recent games.
We will focus on more overarching trends and statistical positives and negatives than simple game-by-game analysis. The hope here is that by taking a step back, we can avoid short-term overreaction and focus on more encompassing issues.
We're coming to you a bit later in the week this time, which is due to the Bucks light schedule as of late.
In fact, Milwaukee has actually played fewer games at this point than any other team in the league, so watch for things to begin picking up pace soon.
With some statement victories and star performances, it's a good week to be a Bucks fan, and so below you'll find all the careful trappings of optimism along with a few notes of critique.
Let's get into it.
Best: Giannis the Superstar
It should be no surprise at this point, but Giannis Antetokounmpo is doing some seriously special things this season.
His current stat line of 22.4 points, 8.6 rebounds, 6.1 assists, 2.2 steals, and 2.2 blocks per game has literally never been done before over a full season, and it looks like the national media (see New York Times, FiveThirtyEight, and The Step Back) is finally giving him the attention his play deserves.
Giannis currently leads the Bucks in points, blocks, steals, rebounds, usage rate, and field goal percentage, and sits a very close second to Matthew Dellavedova in assists.
Consider recent stat lines of 23-8-8-4-2 in just 30 minutes versus the Brooklyn Nets, or a 34-12-5-5-2 outburst against LeBron James and the Cleveland Cavaliers, and you see just how unique of a player Giannis is – even his statlines are longer than everybody else's.
It looks like an All-Star bid should be in the works, especially after an Eastern Conference Player of the Week honor.
Oh, and he just turned 22.
We're roughly six weeks into the Bucks' season, and Michael Beasley has become somewhat of a fan favorite. If viewed prior to the season, the previous sentence would have seemed downright insane – true or not, Beasley was seen as a locker room cancer and a shot-happy ball-stopper by many.
With the Bucks, Beasley hasn't improved that much statistically, but he is posting the second-highest field goal percentage and highest three-point percentage of his career. His effect has mostly come in a complementary role, providing a scoring presence off the bench that was severely lacking on last year's team.
Beasley ranks fourth on the team in points per 36 minutes, and it doesn't look like a coincidence that five of his six highest-scoring games have resulted in a Bucks' win.
Between the painted nails, wild hair, foot-on-the-line two point jumpers, and ejections, the Michael Beasley Experience is a wild ride, and Bucks fans looking for a good time should hop on now.
Best: The Bucks Get Up…
As frustrating as the Bucks' last week had been, many fans likely cringed when they saw games against the Toronto Raptors, Golden State Warriors, Cleveland Cavaliers, and San Antonio Spurs looming on the horizon.
These four teams brought a higher level of firepower than the Bucks had seen this season, and the prospects of four competitive games looked dim.
Of course, the only rule regarding this Bucks team is that there are no rules, so it's only fitting that Milwaukee reeled off a blowout win versus the Cavaliers and managed three close losses by a combined nine points in the four games.
This continues a trend from last season, in which the Bucks knocked off the Warriors at home, nearly did the same in Oracle Arena, and defeated the Cavs in double overtime.
Youth is most likely the factor here: it's easy to consider how the more malleable talents of the Bucks would tend to "get up" for tougher matchups as opposed to a team of seasoned veterans.
This tendency makes the team exciting – you can't ever really count out this team early due to a matchup, and it'll be something to monitor as the core pieces mature.
Worst: …And the Bucks Get Down
This is the flipside of one of our bests above and invokes a question the rest of the NBA populous and Bucks fans likely have watching the team's' performances against the Raptors, Warriors, and Cavaliers – why can't they play like this all the time?
Obviously we don't know the answer, but we can point to a definite trend of the team tending to play either up or down to its competition. It seems inconceivable that the same team who fell by a margin of 23 points to the 7-13 Miami Heat could turn around literally two days later and come within a hair of defeating the mighty Golden State Warriors for the second straight year, but that's exactly what happened.
The same Bucks team that handed LeBron James and company an embarrassing 17-point loss also gave the Dallas Mavericks and New Orleans Pelicans their first wins of the season just weeks apart.
Just like "getting up", the Bucks' collective youth is likely to blame here – it's easy to overlook an opponent when you don't have the veteran presence necessary to keep you on track.
Worst: Who is Tony Snell, Really?
Tony Snell was brought to the Bucks to be a Khris Middleton-lite; that is, hit threes, play defense, and generally contribute to the overall culture of length that pervades the roster.
The latter two goals seem to have been accomplished; the Bucks' net rating is 2.1 points higher with Snell on the court and he has started each game but the season opener, but what hasn't shone through is the "three" aspect of "three-and-D".
Snell's scouting report portrayed a capable outside shooter who struggled in driving the lane, but the player the Bucks have seen is almost the opposite.
Snell is shooting just 30 percent from behind the arc on 5.7 attempts per game, but makes up for this with 68.2 percent shooting from two-point range, albeit on just 2.6 attempts per game.
Our own Ti Windisch covered this at length earlier in the season, but it looks like this will continue to be an issue that requires monitoring going forward.
Neither: Giannis at Center? Why Not?
I wasn't sure whether to designate this trend as either as positive or negative, as it has elements of both, so for this week we'll have a new category.
Over the last two weeks or so, the Bucks have rolled out a series of lineups featuring Giannis at the de facto center position, often with Jabari Parker or Mirza Teletovic accompanying.
I wrote about this in the past as a potential Bucks' version of the Warriors "Death Lineup", but considering the limitations of the center position (three players making $42 million combined this season), I never imagined this style of lineup being implemented this season.
Lineups featuring Giannis but absent any of the Bucks' four centers have played a total of 46 minutes so far this season, and although it's a small sample size, it looks like there is definitely something there.
More from Behind the Buck Pass
These lineups have a composite offensive rating of 125, an excellent mark that makes sense when considering the matchups: no center in the league can guard Giannis or Jabari, and sliding a big man over to guard Teletovic will keep them away from the rim, where the aforementioned duo can drive virtually uninhibited.
These lineups also have a defensive rating of 101, an impressive number but one that is more affected by noise or particular matchups.
Of course, this isn't something that is terribly sustainable; truly talented big men will feast on Giannis in the post and keeping $42 million off the court for an extended amount of time can't be considered a great allocation of resources, but like many positive developments we've seen so far, this is a glimpse into the future of the Bucks.
That's it for this edition, make sure to check back soon where we'll look at more positives and negative relating to the Bucks!
This article originally appeared on