Milwaukee Bucks: A Vote For Malcolm Brogdon Is A Vote For The Future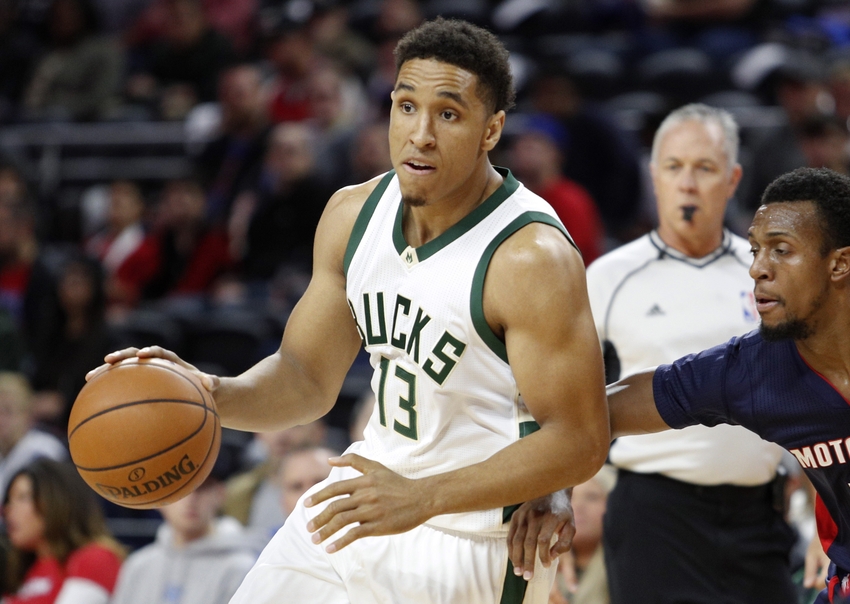 As voters around the country head to the polls, presidential Milwaukee Bucks guard Malcolm Brogdon is deserving of attention.
(Editor's note: This is a satirical piece designed to act as some much needed election day fun. That should go without saying, but on the internet you can never be too sure.)
With the polls open across the country, with the future of this great nation facing more uncertainty than ever before, a new leader has risen to take the reins and guide us bravely into the future.
That man is Malcolm Brogdon.
Yes, the 23-year-old is technically not eligible to be Commander in Chief. And, yes, he has never held political office before (which is seemingly unimportant to voters). But in Brogdon's short tenure on the national stage, the guard has proven to be a calming presence in these trying times.
So while many will say that deviating from the norm and voting for an unknown is a wasted vote, I say: what's the worst that could happen?
If an active professional wrestler can run for congress, why can't the man known as POTUS be the next head of state?
Let's take a closer look at Brogdon's candidacy and credentials to prove why he's just the kind of leader that the United States needs right now.
Experience
Ever since he first cracked the Milwaukee Bucks' rotation, Brogdon has proven to be a dependable, reliable player. And it all began in the blue collar city of Charlottesville, just two hours away from the nation's capital.
Brogdon spent four years at the University of Virginia, honing his skills and guiding the team to a 29-8 record and a number one seed at the NCAA March Madness Tournament in 2016. Malcolm was named the ACC Player of the Year in back-to-back seasons and was a consensus first-team All-American.
He had ample opportunity to jump ship and head for the NBA, but Brogdon did what any good leader would do: he rolled up his sleeves and went back to work. Brogdon finally left Virginia when he felt his work was completed — also he was ineligible to continue playing.
When he finally stepped onto the court at the BMO Harris Bradley Center, Brogdon was already older and more experienced than the team's two stars. That kind of consistency and tenacity is something the young Bucks, and the politicians in Washington, could learn to emulate.
Proven Success
While on the floor, Brogdon is calm and collected; something the Bucks haven't had on their second unit in years.
He was quickly awarded the majority of the team's backup point guard minutes and has flourished in Jason Kidd's system. In fact, the second round pick is among the league's best rookies statistically.
Brogdon is fifth among rookies in points, fourth in assists, second in steals and third in PER. All of those numbers are best among 2nd round picks. Brogdon continually exceeds expectations.
When was the last time any president, save for James A. Garfield, even came close to meeting your expectations?
Overcoming Adversity
The road for second round picks is not easy. Many fail to earn meaningful playing time and some struggle to even make a professional team.
Malcolm Brogdon didn't let his low draft status stop him. He continues to work and strive to be the best. Even at Virginia, when a foot injury stole a year of his college career, Malcolm returned better than ever.
So when the economy falls or when the streets of middle-America are overrun by feral dogs, we know that President Brogdon will right the ship.
Presidential Pedigree
If elected, Brogdon will join the ranks of other successful policy makers from the University of Virginia. The 28th President of the United States Woodrow Wilson was a Cavalier, so were Robert and Ted Kennedy.
Also, Malcolm looks and sounds the part. Literally. He looks like a politician. And that's not a bad thing. He's well spoken, professional and intelligent.
In fact, Brogdon is pursuing his Master's Degree in Public Policy. Brogdon told USA Today that he already has his eyes on his post-basketball life.
"I have dreams after basketball," Brogdon said. "There are issues I want to attack in the real world."
Conclusion
If this sounds like the kind of leader you want on your team, then wouldn't you want this kind of person leading the nation?
After all, what is the United States, if not the world's greatest basketball team?
So this Election Day, when you're struggling to decide which candidate has your best interest in mind, vote Brogdon. And together, we can own the future and our children's future.*
Malcolm Brogdon has not approved this message*
https://www.youtube.com/watch?v=yTcV9IFe25U
More from Behind the Buck Pass
This article originally appeared on