Miked Up: Galo Turns Back To Pumpkin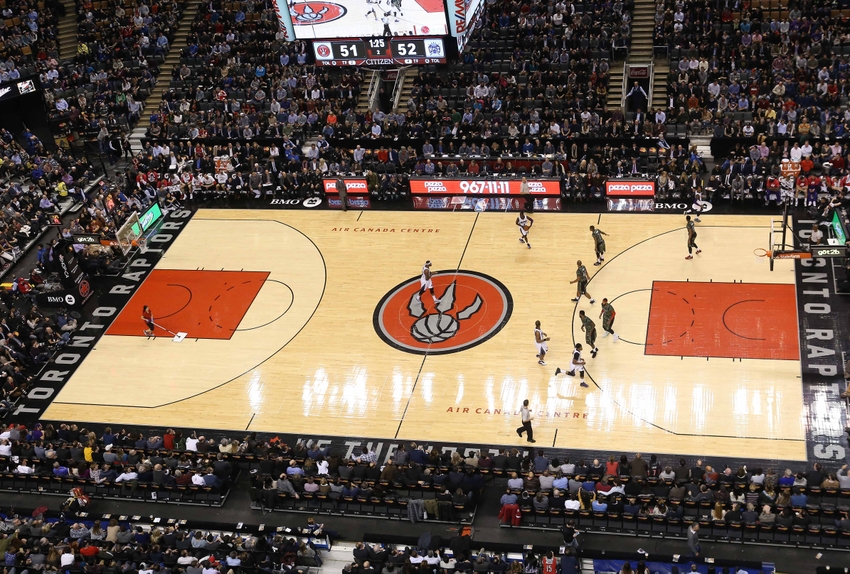 When one thinks of Halloween, one thinks haunted houses.  Filled with red blood and execution. Not Denver Nuggets basketball.
Tonight's Halloween game in Toronto, was more like a lack of execution in the blood red key's of the Air Canada Centre.
(For pun reference, image of court below)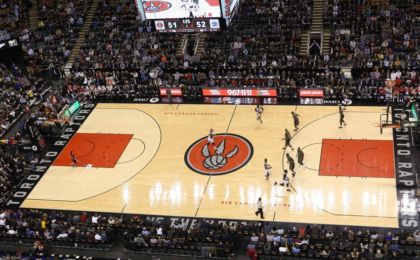 Like Saturday night, Galo failed to execute as our leader down the stretch.  With about 45 seconds left with the game- tied, Galo let Lowry get position and blow past him to take the lead back to the Raptors.
Immediately following, the Nuggets come down to respond and potentially tie the game, Galo goes ahead and takes a DEEP, contended, Curry-like three pointer, which he misses.
I don't want to make it sound like Galo didn't play well because he did.  Was perfect from the free throw line and felt like commanding the team with his confidence.  Players seemed to react to that and equally play aggressively.
Point in case – Mudiay in that blood red paint was the most commanding Mudiay have seen so far this season.  I think Harrison from @BSNNuggets  said it best:
Mudiay driving north-south to the rim for 4 straight points. That's where he's at his best, and in transition.

— Harrison Wind (@NBAWind) November 1, 2016
Who played equally well tonight was one of the Ghosts, Nurkic.  (Fitting for Halloween).  Our exhausted big man played nearly the entire fourth quarter and had a career high 18 rebounds.  Had some clutch blocks on the Toronto stars late in the game.  Was even a moment where he blocked Lowry with about three minutes left in the game, towered over him with a grin, and then was immediately then burned by Lowry who looked right back.  (This writer is going to mentally block that last part out.)
Other thoughts for the night:
-We will continue check in on the status of Barton, who left the game early with a very clearly painful ankle sprain.  Latest update is that x-rays are negative.  Will has been one of our most consistent players since joining the team.  We wish him a speedy recovery.
-Faried seemed to have a lack of energy tonight and offensive presence.  The opposite of the home opener.  We will have to see what Malone has to say about that come post-game.
-Was good to see the fire out of Jamal Murray right off the bench.  Came in to relieve Will Barton.  Was pounding his chest following a charge he took, just minutes in entering the game.  Love that.
-Majority of our second half points came from the paint.  I expect to see most of our points this year in transition and from our bigs.
Overall, Nuggets playing exciting basketball to start the season.  Wish we could have closed out the last two games.  Personally, I point to Galo as our leader and player who we should be able to depend on to execute late.  He owes me some buzzer beaters here on this upcoming road trip.  Like to see more of the rooster than the chicken.  (Low blow, I know.)
This article originally appeared on