Why the 2016 Summer Olympics will be Coach K's toughest coaching challenge in years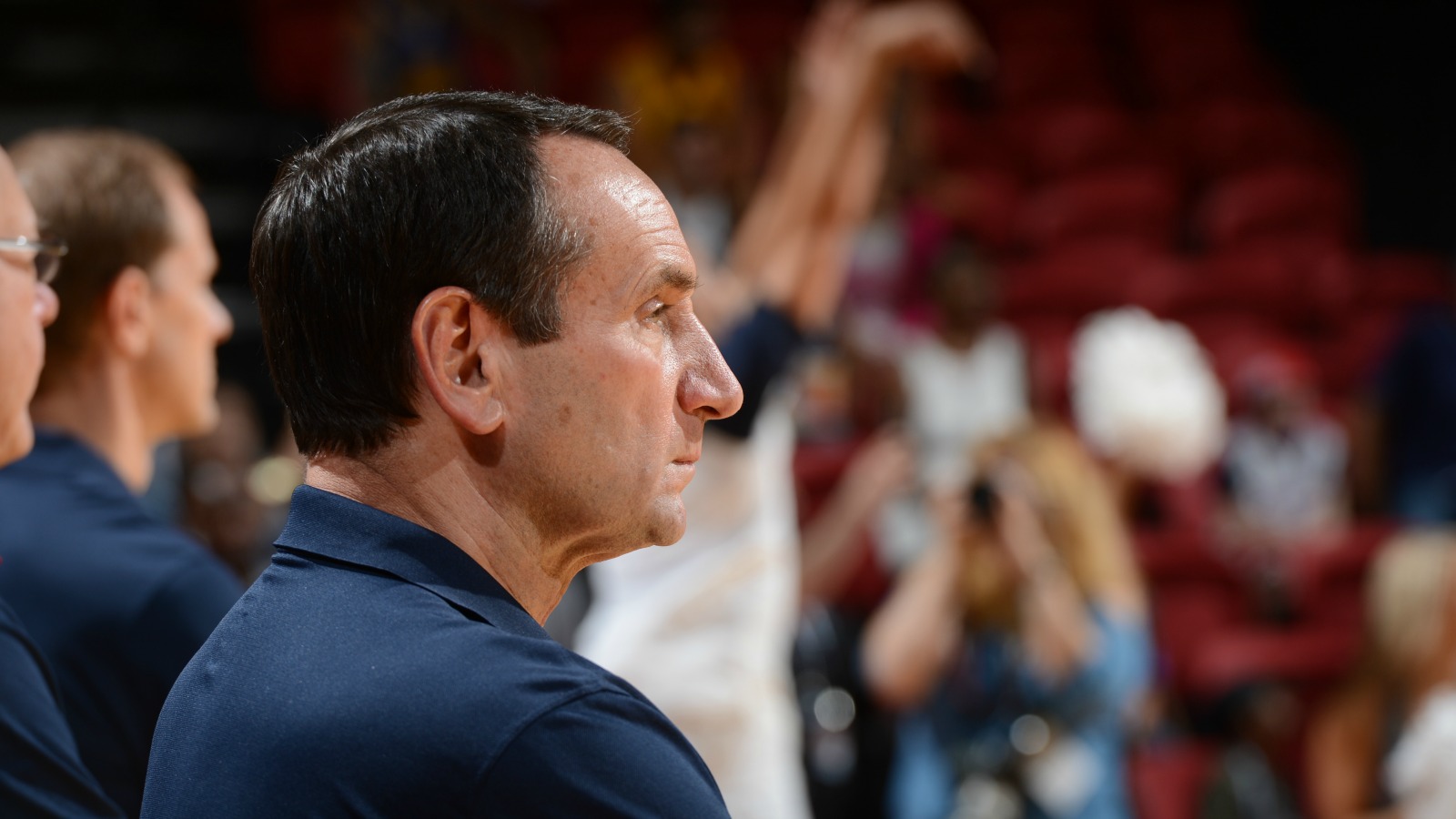 Over the past few weeks it seems like any conversation involving Team USA basketball has focused more on who won't be playing in this summer's Olympics than who will. As announced earlier, LeBron James, Steph Curry, James Harden, Russell Westbrook, Blake Griffin and Anthony Davis are just a few of the high-profile names who've all decided to skip Rio.
But "the games must go on," and that's certainly the case for Team USA basketball, which announced its roster Monday morning. It's a strange group that contains everything from established stars (Carmelo Anthony, Kevin Durant) to highly-paid role players (DeAndre Jordan, Harrison Barnes) and everything in between. It's also a roster which shows just how many big-time players decided to skip these Olympics altogether. In total, there are twice as many players with zero experience playing for the Senior National Team at all (five), as there are players who have actual Olympic experience (two).
It's hard to look at Team USA and not come to one simple conclusion: Coach K doesn't just have his hands full entering Rio, but his final go around with Team USA will likely be the toughest international coaching challenge of his career.
Meet the 2016 U.S. Olympic Men's Basketball Team

Roster: https://t.co/SVpGiA5Dxl#UNITE #RoadToRio #USABMNT pic.twitter.com/hcg1tqPUOX

— USA Basketball (@usabasketball) June 27, 2016
Let's start from the beginning, and while the fact that Coach K has gone 75-1 since taking over as head coach of the Senior National Team in 2005 is incredible, it comes after he took the reins of Team USA right as the best players in the country all got a renewed sense of patriotism following a 2004 Olympic debacle where a Larry Brown coached squad settled for a bronze. Sure, lots of credit goes to Coach K and Jerry Colangelo for establishing a new culture around the program, but you also can't deny he's had virtual across-the-board-commitment from the country's best players over his decade in charge.
The 2008 "Redeem Team" starred a just-entering-his-prime LeBron James, and a still-very-much-in-his-prime Kobe Bryant, who had enough in his tank to win back-to-back NBA titles following his trip to Beijing (heck, that team was so good, Dwyane Wade came off the bench for the Americans that summer). Four years later it was much the same where Olympic vets LeBron, Chris Paul, Kobe and Carmelo were joined by up-and-comers like Kevin Durant and Russell Westbrook. The 2010 and 2014 World Championship teams were loaded with young players like Kyrie Irving, Steph Curry, James Harden and others.
But this 2016 Olympic roster? Man, is it weird. Looking at it from a 30,000 foot view, it almost feels like Coach K is the equivalent of a five-star chef being given a rib-eye, pasta sauce, a slab of salmon and a box of Cinnamon Toast Crunch, and being asked to make a meal out of it.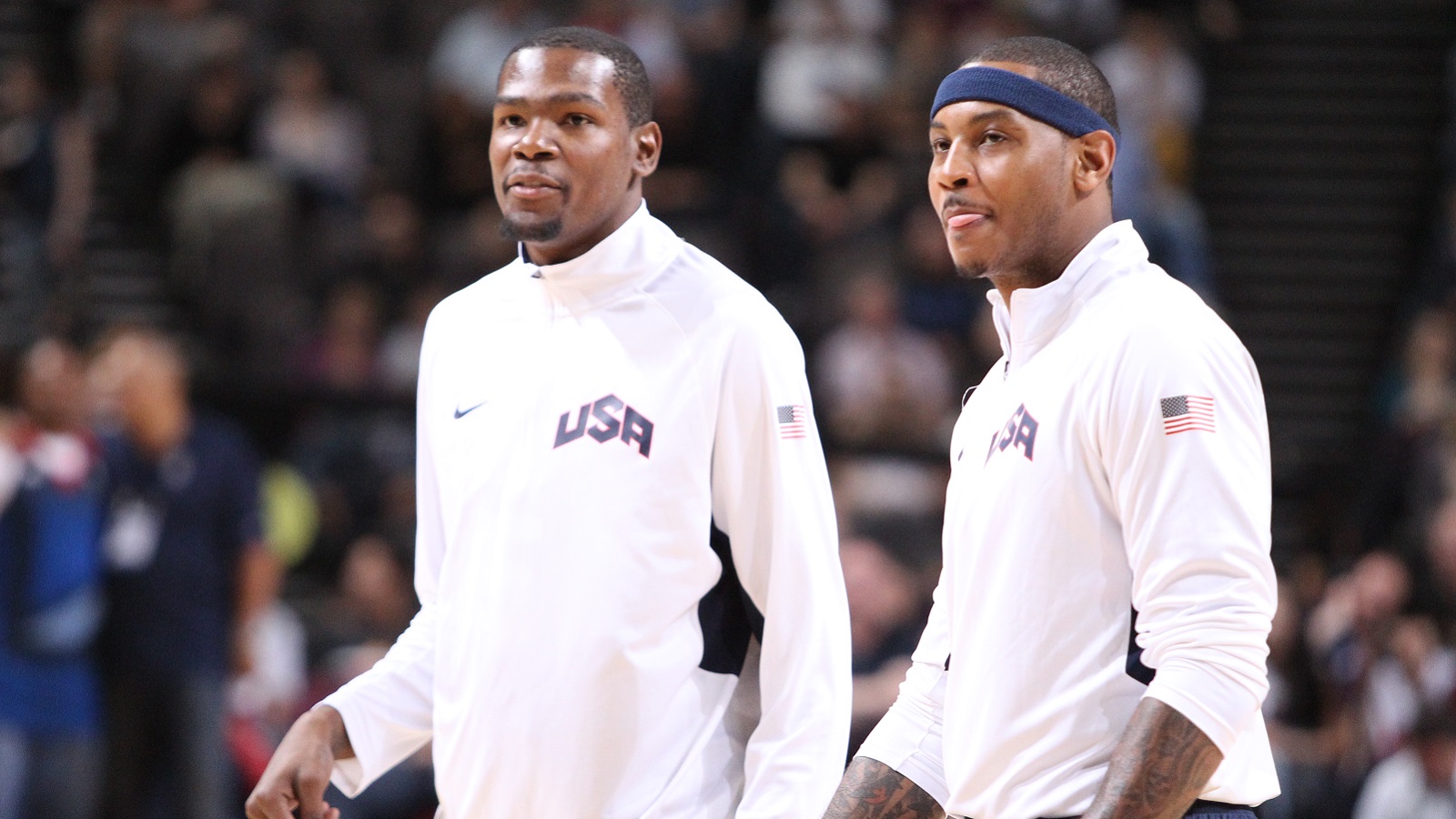 For starters, there is the point guard situation, where after eight years (at least at the Olympic level), the U.S. goes from the calming, steady influence of Chris Paul to the more offensive-minded Kyrie Irving. Look, Kyrie is obviously a great player — just ask the Golden State Warriors — but is he really the best guy for Team USA to run its offense through? And is his back-up (more on him coming) the best player to fill in for him when he needs a breather?
Beyond the point guard situation, there are a bunch of wing players with similar skill-sets (Carmelo Anthony, Kevin Durant and Paul George), and (excluding Klay Thompson) two shooting guards who can't shoot threes (Jimmy Butler and DeMar DeRozan shot 31 percent and 28 percent behind the arc respectively last season). Oh, and then there's the center who can't play in crunch-time because of free throwing shooting. Does anyone know how to say "Hack-A-DeAndre" in French?
And that's only the X's and O's stuff. How the heck is Coach K going to mold all these personalities?
We all know DeMarcus Cousins' past (although in his defense, he thrived with Team USA in the summer of 2014), and during these last playoffs, an emotional Kyle Lowry actually had to go to the locker room to "cool down" because he was getting so emotional. Then there's Draymond Green, an insanely skilled player, but an incredibly emotional one as well. If his playoff behaviors are any indication, what kind of international incidents might he stir up by the end of the playoffs.
How about the fact that the most experienced "leader" is Carmelo Anthony? Even Kevin Durant — the one steadying force on this team — has his own issues, and could be coming off a wild, and potentially controversial free agency period.
As great as Coach K is and has been with Team USA, he will have his work cut out for him. There is no Kobe or LeBron to lead the way, no Chris Paul or Dwyane Wade to lend a calming hand.
Instead he's got a lot of talented players, but a lot of major questions as well.
The #USABMNT is revealed in Harlem! #Unite https://t.co/QkgtsnFHMd

— NBA (@NBA) June 27, 2016
Even if the U.S. is favored heading into Rio, this will be the toughest challenge of Mike Krzyzewski's career.
Aaron Torres covers basketball for FOXSports.com. Follow him on Twitter @Aaron_Torres or Facebook. E-mail him at ATorres00@gmail.com.