Mike Budenholzer Ecstatic for the Hawks to Own D-League Team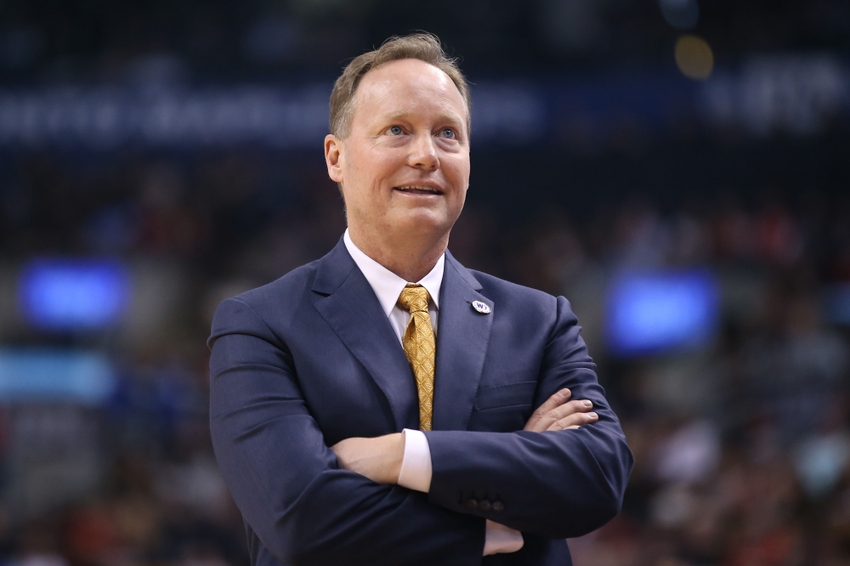 Atlanta Hawks head coach Mike Budenholzer is excited for the opportunity for the team's new D-League affiliate that will begin in 2019-2020.
If you have been wrapped up and overcome with excitement and intrigue while following the Hawks 9-2 start, you may have missed some humongous news. On November 10, The NBA Development League and the Atlanta Hawks announced that the Hawks have acquired the right to own and operate an NBA D-League team that will play in College Park, GA that will begin in the 2019-2020 season.
It's been reported that the city of College Park is willing to spend anywhere from $20 to $40 million dollars on a brand new arena that will consist of approximately 3,500 seats. The new franchise will serve as the primary tenant of the state of the art facility. It will be built at the Gateway Center, a conglomeration of upscale Marriott hotels and office space surrounding The Georgia International Convention Center, connected to Hartsfield-Jackson Atlanta International Airport via light rail. It's scheduled to be completed by summer 2019.
"Securing  a D-League team for the Atlanta Hawks was among our top priorities when our ownership group took over the team," said Tony Ressler, Atlanta Hawks principal Owner and Chairman.

"Coach Bud and Wes Wilcox would agree that having a local D-League franchise will play a significant role in building a championship-caliber team by helping us develop players, like the six now on our roster who have D-League experience. We would like to thank the City of College Park for becoming the host city of what will be another exciting part of our community and the Atlanta Hawks Basketball Club." Ressler continued saying.
President of Basketball Operations and Head Coach Mike Budenholzer will undoubtedly get the most out of the newest member of The NBA Development League family. It was a luxury that he saw benefits from during most of his time under Greg Poppovich with the San Antonio Spurs. The Austin Spurs have molded several players into remarkable professionals for their NBA parent organization, such as Danny Green, Cory Joseph and Austin Daye.
When Budenholzer joined Rick Kamla and John Michaels for his second instalment of On the Court with Coach Bud today on Hawks flagship station 92.9 The Game, you could almost hear the unadulterated joy exuding from him talking about their D-League team. He emphasized how important it is for young players to get game reps and even rehabilitating players dealing with injuries.
"Having our own team will be great because it is in Atlanta and we can maximize player growth and development from a close proximity." Budenholzer said when asked the difference between sharing the San Antonio Spurs D-League Affiliate as opposed to having their own.
The addition of the minor league franchise is yet another step towards building a championship culture for the Atlanta Hawks organization. As much as he has used the D-League for guys like Tim Hardaway Jr., Dennis Schroder and Edy Tavares, it will be good not to have to depend on other affiliates. The only question that I might have is what took so long?
NBA.com was used in this article
More from Soaring Down South
This article originally appeared on