Miami Heat: Why it is time to build around Goran Dragic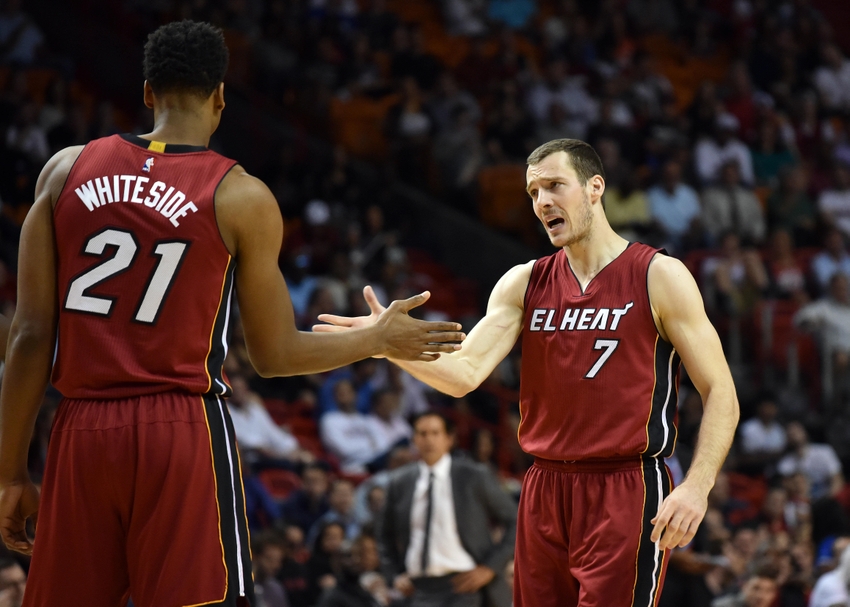 With Dwyane Wade gone and Chris Bosh not yet cleared to return, it is time for the Miami Heat to focus on and build around Goran Dragic.
The Miami Heat made headline after headline this offseason. Between losing Dwyane Wade, signing Tyler Johnson to a 4-year, $50 million contract and dealing with Chris Bosh's continuing health concerns, there was plenty to talk about.
But one name that has not necessarily come up, is Goran Dragic.
Dragic, who was first traded to the Heat in the middle of the 2014-15 season, has been waiting for his time to shine. And now, with Wade gone and Bosh still without a timetable for return, he may finally get a chance to run the team his way.
Having spent the majority of this summer playing for the Slovenian National Team, Dragic recently made it back to South Beach to begin practicing with teammates, new and old; currently, 10 out of the 20 filled training camp roster spots belong to newbies.
He also took some time to speak to media about Wade, Bosh, and what he sees in the team's future.
"When you have D-Wade next to you or C.B., they can take the game in their hands. Now, probably, it's going to be a bit different. We're going to see how [coach Erik Spoelstra] puts the system in. I need to take care of a couple things — try to be more aggressive, try to score and try to get everybody else involved. I already started or felt like that last season in the playoffs. For me, nothing is going to change, basically. I need to be myself and play my game."

"I already felt great last year in the middle of the season, and even this year I'm in way better than shape than I was last year. I was playing all summer. I'm ready."
"We have a young team with a lot of young guys who can run. Of course, it's not on me. But we'll see how Spo is going to set the system. But I'm hoping for it to be that. When I signed here, everybody was telling me that we were going to play like that, so I'm ready."
"Of course, it's rebuilding for us. But that doesn't mean nothing. We can still have a successful season as long as we are on the same page. We have a lot of young talent and we can run all day. Hopefully we're going to prove that on the court."
And Dragic's words should not be taken lightly.
Although some are disappointed with what they have seem from him thus far, they should have faith in the 30-year-old, moving forward. While Dragic may have performed slightly inconsistently up until now, this should be a thing of the past. Besides having had his wife's complicated pregnancy on his mind, the guard also had to worry about figuring out how to fit in. Having always been the one to control the pace of the game and call the shots, with the Heat, Dragic had to take a backseat to Wade.
But now, he can finally take on the role he was always meant for.
Coming off of 2015-16 averaging 14.1 points and 5.8 assists in 72 games on 32.8 minutes of play, Dragic led his country to a 6-0 record in the FIBA EuroBasket 2017 Qualifiers by averaging 17.4 points and 8.4 assists in five games on 26.5 minutes.
In other words, he has used his summer to prepare for the battle ahead.
While there have been arguments made for why Miami should trade Dragic, this is would be the wrong move for the organization. The last thing the franchise needs right now is to lose another superstar. Especially given the Heat have yet to use him to his full potential. And he will be an excellent mentor for guys like Whiteside, Johnson, Josh Richardson and Justise Winslow.
The best thing for Miami to do in 2016-17, is build the team around Dragic. By letting him play the way he wants, and running the offense based on his style, the Heat will at last get to unleash the entirety of their Dragon.
This article originally appeared on