Miami Heat: The Return Of Waiters Island
Luke Duffy/FanSided via Hoops Habit

Fansided
Dion Waiters is playing the best basketball of his career, and you better believe Waiters Island is here to stay as a result.
Few players in the NBA are as polarizing a figure as Dion Waiters of the Miami Heat.
The butt of many an online joke, his inabilities on the court likely kept Vine chugging along past its sell by date. After all, it's easy to poke fun at a guy who isn't all that good, but who carries himself like he's won multiple titles.
Now, although we've seen mini-renaissance's before with Waiters and his career, could it actually be that the world famous Waiters Island is here to stay?
Beyond that, does the 25-year-old have a legitimate shot at being the Most Improved Player in the NBA this season?
Put simply, Waiters has looked like more than a contributing role player in recent weeks. It is also no coincidence that the Heat surged up the rankings in the same span. While moments like the game-winner against the Golden State Warriors will grab most of the headlines (and rightly so), a closer look at the numbers are equally encouraging.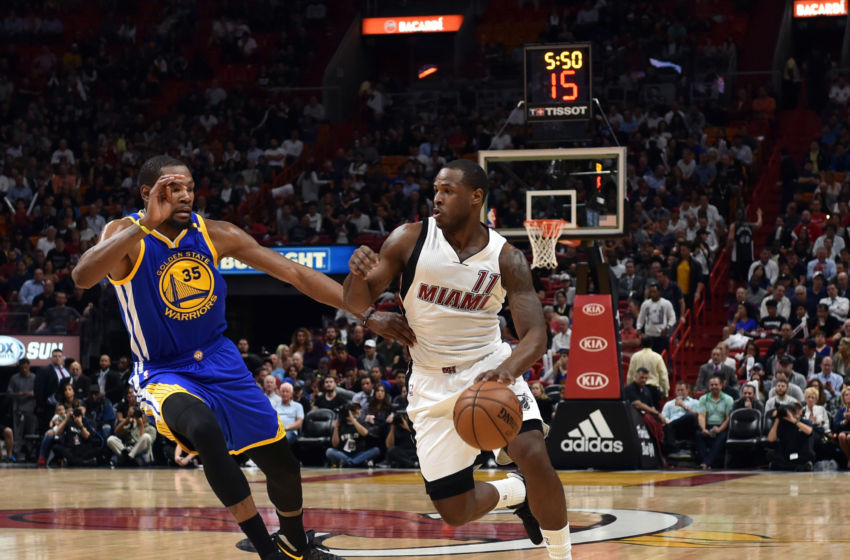 Right now, Waiters is averaging 15.9 points per contest, which ties a career-high. He is doing so with an effective field goal percentage of 48 percent, another career-high — this despite having a usage rating of 26 percent on the court which, you guessed it, is also the highest mark of his career.
Let's make one thing clear: Waiters is never going to be mistaken for Kevin Durant in terms of offensive efficiency.
But he's cut out many of the poor shots and hero ball antics of the past, appearing to embrace the pace-and-space era that he now finds himself inhabiting. So much so that the 38.4 percent he's shooting from beyond the arc is by far a career-high.
He has achieved this by taking 4.4 long range efforts a night, the most he's ever averaged per game. Perhaps starting 31 of the 34 games he's appeared in has given him new life?
Maybe, but playing alongside Goran Dragic and Hassan Whiteside has got to be a positive as well.
However the Heat still only have the 25th best offense in the league right now, and it would be in a worse place without the contributions of Waiters.
As well as the above numbers, his 14.2 Player Efficiency Rating is another career high, but it's his ability to include others that may be the secret to the long-term survival of Waiters Island.
As of right now, Waiters assists on 23.1 percent of all of his team's points when on the court. That number was 10 percent while with the Oklahoma City Thunder last season.
That's a tremendous rise in this category, and it should come as no surprise that his 4.3 assists per game are a career-high, and also twice as high as his previous best output (two assists per game).
Clearly then, Waiters Island is no longer a reclusive, all-inclusive resort marooned in the midrange area of a basketball court.
Sir Charles In Charge

16h
NBA All-Star Break Roundtable: Surprises, Predictions And Trades
It's also shown up in the box score as well, with Waiters leading his team in assists in their last two games.
He's becoming more than just a streaky shooter, but he still knows how to get his. After all, that's the Waiters way. In the recent loss to the Orlando Magic, Waiters had a team high 23 points, on 10-of-19 shooting.
He's already made 58 three-point efforts on 151 shots. In his rookie campaign, he made 63 all season, hoisting up 203 attempts.
Waiters has always had offensive talent, but it looks as if he has found ways to channel his shot making ability, and tone the madness down.
This is something we've seen before, with guys like J.R. Smith and Nick Young bottling up their more dubious sides and only letting them out in concentrated blasts.
The great irony in the maturity of Waiters, of course, is how a team like the Cleveland Cavaliers could desperately do with a player like him right now.
This comes as a result of drafting the player and tossing him into the ocean after less than three years with the team.
From there he washed up on the Thunder's roster, another team who could do with floor spacing and another player to carry some of the offensive burden right now.
But no, both teams cast Waiters Island aside, and now it has taken up a life of its own down in South Beach — so much so that memes and spoof Twitter handles have become the norm around this guy. Dion Waiters isn't a player, he's a way of life.
Waiters Island isn't a destination, it's an institution. The part that everybody seems to leave out is the fact that he's quietly redeemed himself substantially with the Miami Heat.
Could he win the Most Improved Player of the Year? Most likely not, but in some ways he's bigger than the award.
Here is a guy who really could (and should) have been out of the league. Instead he's having the most efficient offensive year of his career, and is second on the team in assists each night. The one number that truly points to this being an island in which you can lose yourself however, is also the most unimpressive one: -0.7.
That is the defensive plus-minus score that Waiters is posting this season. It is just about level with the best number of his career in this category (-0.6).
It's also worlds better than the worst numbers he's posted (-2.7), and it points towards a guy who is trying — trying to become a better defensive player within the framework of the team. He's also doing so against starting-caliber players.
Even more impressive is the fact that the Heat currently boast the sixth-best defensive rating (104.3) in the league.
Yes, Dion Waiters has not been integral to that. But he also hasn't been detrimental to it either, which is something that wasn't always the case.
Condos sold out on Waiters Island long ago, so unfortunately you won't be able to buy any property there.
But whereas people invested before because he was seen as a joke and a player to be ridiculed, times have changed. Casual fans, hardcore fans, even analytic heads, they all want a piece of the action now.
Welcome to the new and improved, more controlled Waiters Island: Where intelligent basketball and defensive effort have become the new norm.
This article originally appeared on