Miami Heat's Justise Winslow starting to figure out his offensive identity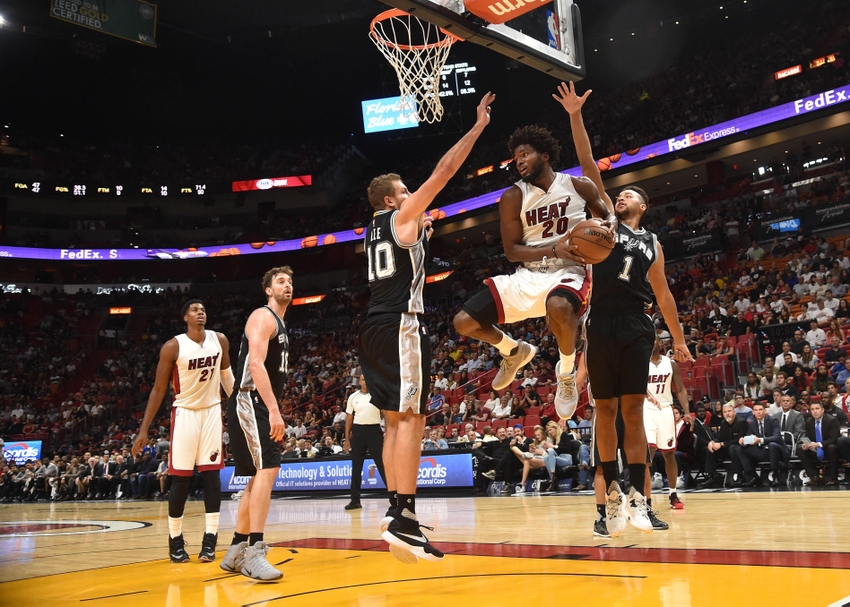 In rejecting three-pointers, Justise Winslow may have done himself his biggest favor in his offensive development.
Let's check in on the Miami Heat's experiment to make Justise Winslow the new face of the franchise. The former No. 10 overall pick is playing under shifting expectations. He can't just be a guy who defends really well while providing whatever he can muster on offense. He's been tasked with becoming Miami's best two-way player and so far the results are reassuring.
The Heat (1-2) have outscored its opponents by 10 points with Winslow on the court, according to NBA Wowy. A lot of people will hone in on the fact that he's made just 1-of-11 three-pointers, as that's the focus in his development this season. But Winslow is making the "winning plays" head coach Erik Spoelstra talks so much about whether it be filling the lane in transition, pressuring the basket as a driver or rebounder, or facilitating the offense.
He's also as strong as ever defensively, with a Defensive Box Plus-Minus of 2.0 (higher than last season's 1.6 rating so far). He bugged Kawhi Leonard during nearly all of the Heat's close loss to the chugging-right-along San Antonio Spurs Sunday night, and only after Spoelstra took Winslow off Leonard due to foul trouble did Leonard score the bulk of his 16 fourth quarter points for San Antonio.
Defense isn't the concern here, though. It's on the other end, where Winslow will need to make a quantum leap if the Heat are going to make a run at the playoffs. The coaching staff is giving him the opportunity. Already Winslow is taking more than twice as many three's per game (3.7) while his usage rate has climbed from 12.5 percent to 22.6 percent.
Despite his struggles from beyond the arc, Winslow's found a couple of sweet spots from mid-range, where he's shooting 45.5 percent (5 of 11). He's also converted on 60 percent (9 of 15) in the restricted area. He's created for himself in a lot of these situations with moves like this one:
Against the Spurs, Winslow seemed to have turned a corner. After going 1-for-6 from three-point range in a loss to the Hornets, Winslow started shooting three's again early against San Antonio, forcing up two in the first quarter that he missed. After that, he ignored the three-point line and focused instead on getting to the rim and drawing contact for three points the hard way. He took five free throws in the game, compared to just three combined in the first two.
Opponents have already started playing off of him, as you'll see here.
Opponents will go under picks when Winslow is the ball handler, daring him to shoot the jumper. Winslow probably would have taken the bait in the first two games–or even the first half. But not here. Just look at how much space he has when he first gets the ball from Tyler Johnson. Expecting Willie Reed to move up to set the high pick, the Spurs play off. Instead, Reed settles in at the free throw line and Winslow probes along his comfort zone, eventually sinking a jumper off the dribble.
After halftime of the Spurs game, it seemed as if Winslow said "the hell with the three-pointer, I can score in other ways." He only took one three in the second half and that was in desperation with a minute left with the Heat significantly down.
This might be why Spoelstra was adamant about not focusing on Winslow's three-point shot as the only area of development. There are plenty of other ways to score–whether it be at the rim, in transition or in the comfort of the mid-range–and if Sunday night was any indication, Winslow may be starting to figure that out.
If Winslow just does what he's good at and let's the three-pointers come naturally, he may become the offensive weapon the Heat need him to be sooner rather than later.
This article originally appeared on